David Crosby Makes Music With the Son He Gave Up for Adoption 60 Years Ago
If you listen to '70s and '80s folk-rock, you've likely heard of David Crosby. The Crosby, Stills & Nash musician has had a remarkable career and personal life. One highlight was reuniting with the son he gave up for adoption. Now, the two make music together. 
David Crosby made a name in American folk music
Crosby was born in 1941 and started his music career early in life. In 1964, he helped create the group the Byrds. He performed with them through the '60s and beyond. While with the Byrds, Crosby also worked with other folk artists like Bob Dylan. In 1967, Crosby left the Byrds during a tumultuous time in the band. 
Soon after leaving the Byrds, Crosby co-founded another folk-rock group, Crosby, Stills & Nash (CSN). Musician Neil Young eventually joined Crosby, Stills, Nash & Young on tour. CSN performed throughout the '70s and released multiple hit records and singles. The band has reunited multiple times for performances throughout the decades but has not reunited since 2015. 
David Crosby's path hasn't been easy. For one, he has experienced fallouts with bandmates, namely Young. For reasons only the two music icons know, Crosby and Young continue to feud.
In addition, Crosby spent nine months in prison on a drug and weapons conviction and battled addictions to heroin and cocaine.
If all that weren't enough, Crosby also had a last-minute liver transplant in 1994.
Through it all, Crosby continues to be a respected name in folk-rock music. He has been inducted into the Rock & Roll Hall of Fame twice for his contributions to the Byrds and Crosby, Stills & Nash. 
David Crosby reunites with son, James Raymond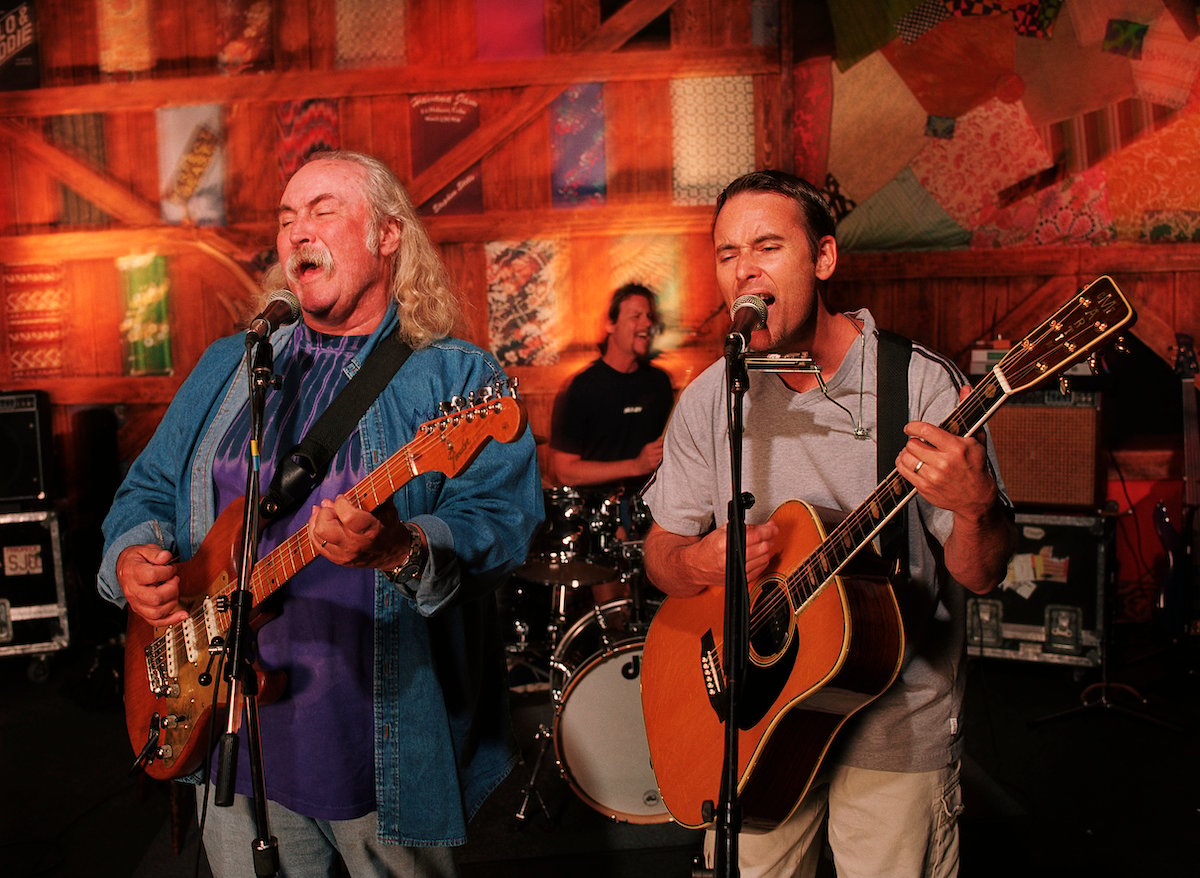 While David Crosby was preparing for his liver transplant in the '90s, he discovered that the child he had given up for adoption in 1962 had been searching for him. Crosby finally reunited with his long-lost son, James Raymond, and as fate would have it, he's also a musician. Raymond is a successful keyboardist and composer. 
Raymond was born when his father was young. Crosby declines to identify the mother with whom he had a fleeting relationship, but he admits they put their son up for adoption immediately. Crosby never forgot the son he gave up. As his health deteriorated while he waited for a new liver, his thoughts drifted to the boy.
"I was in the hospital dying, and I knew that I had a son out there someplace," Crosby told The Baltimore Sun. "I had been beating myself up for years about not being there for this kid." 
However, Raymond had already made a name for himself in music, having pursued classical and then jazz from a young age. He was the musical director for a successful Nickelodeon series and a sideman for acts including Chaka Khan. From an early age, Raymond knew he was adopted, but he didn't seek out his birth father until he was living on his own. Discovering his dad was David Crosby came as a shock. 
The father-son duo got along well from the start. "He was this nice, decent young guy, and we became friends immediately," Crosby said.
They began playing music together, and soon they formed the jazz-rock band CPR (Crosby, Pevar & Raymond). By January 1997, CPR was touring and performing.
They released an album in 2021
David Crosby's album, For Free, came out on July 23, 2021. Raymond produced and wrote for this album. On his website, James Raymond, Raymond talks about his work on the album.
"Lyrically, where I started was this visual of agricultural workers in the Central Valley of California, truck drivers, laborers starting their workday early in the cold of morning … knowing that it would get hot as hell as the day wore on," Raymond said. "I wanted to speak of their resiliency and spirit and that of so many other working folks across the USA." 
Crosby added his storytelling and voice, and the results are an iconic father-son collaboration.