David and Victoria Beckham Have a Matching Hebrew Tattoo — Here's What It Means
David and Victoria Beckham have matching tattoos in Hebrew.
David Beckham and Victoria Beckham are one of pop culture's most high-profile power couples. They have been together through thick and thin, weathering the highs and lows of fame together, all while raising their four children.
David Beckham and Victoria Beckham both have their own careers and very busy schedules, but they always take time out to prove their love for each other — and early on in their marriage, they made their immortal by getting matching tattoos. 
How many tattoos does Victoria Beckham have?
Victoria Beckham was born and raised in England. As a young woman, she turned to modeling and singing as a way to express herself creatively.
In 1994, she joined an up-and-coming girl group that became known as the Spice Girls. The girl group rose to fame quickly, with their hit single "Wannabe" breaking records all around the world and earning them legions of fans. The Spice Girls broke up in 2000, but have since reunited several times over the years to perform for their fans.
As a solo artist, Victoria Beckham has released several songs. However, her real focus in recent decades has been on business, and she has curated not only fashion lines but skincare and beauty products as well.
An international beauty icon, Victoria Beckham is known for her classic style and slender figure. Beckham also rocks several tattoos, reportedly six in total. Most of her tattoos are symbolic in nature, Latin phrases that represent her relationship with her husband, soccer star David Beckham. 
How many tattoos does David Beckham have?
David Beckham rose to fame as a top soccer star in England. By the mid-'90s, he had achieved international renown, known to sports fans all around the world.
Around that same time, David Beckham and Victoria Beckham's relationship started making headlines. The two got engaged in 1998 and welcomed their first child around one year later, just before their highly-anticipated wedding. They were married in July 1999 and have been together ever since, beating all the odds.
While many things have changed over the years, David Beckham's love for tattoos has seemingly only increased. Reportedly, he has around 44 tattoos, from ink of his children's artwork and various Latin scripts to various family names and sports symbols. He often shows off pictures of his ink on Instagram, and to this day, he seems to be as much of a fan of tattoos as ever before. 
David and Victoria Beckham have a matching tattoo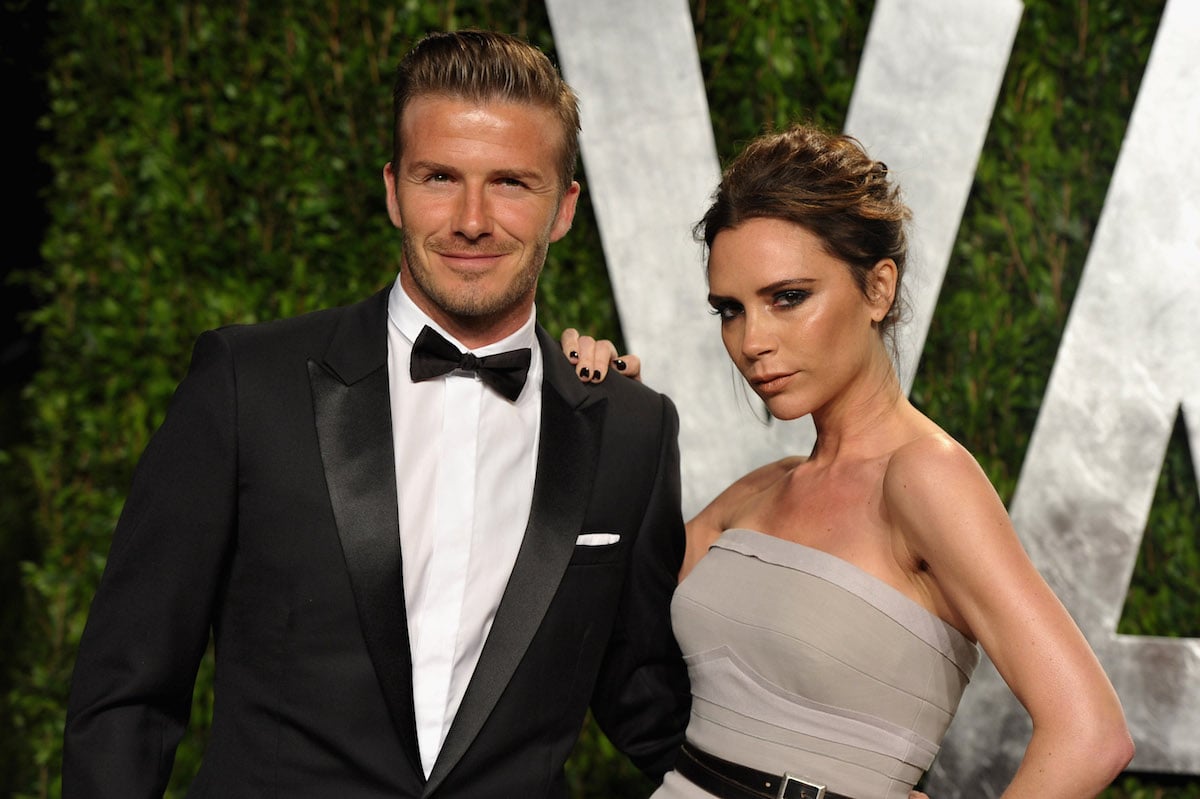 David Beckham and Victoria Beckham have been married for over 20 years and have welcomed a total of four children, but when their marriage was still in the early stages, they decided to document their love for each other in a semi-permanent way — by getting matching tattoos. According to a report by Insider, the couple got matching tattoos around the time of their sixth wedding anniversary, getting the words "I am my beloved's and my beloved is mine" inked in Hebrew.
David Beckham got his tattoo done on his left arm, while his better half got her ink on the base of her neck, running down her spine. While the couples lives a lower-key life these days than they did in years past, there's no reason to assume that their love for each other has lessened — and many fans believe that these two will be together forever.