'Days of Our Lives' Star Greg Vaughan Says 'Daytime Has Opened the Doors to Many Talented Actors'
Days of Our Lives star, Greg Vaughan, is a soap opera veteran with deep roots in the industry. Recently, the actor appeared on the ABC primetime special, The Story of Soaps, to share valuable insights about the sensational world of daytime dramas.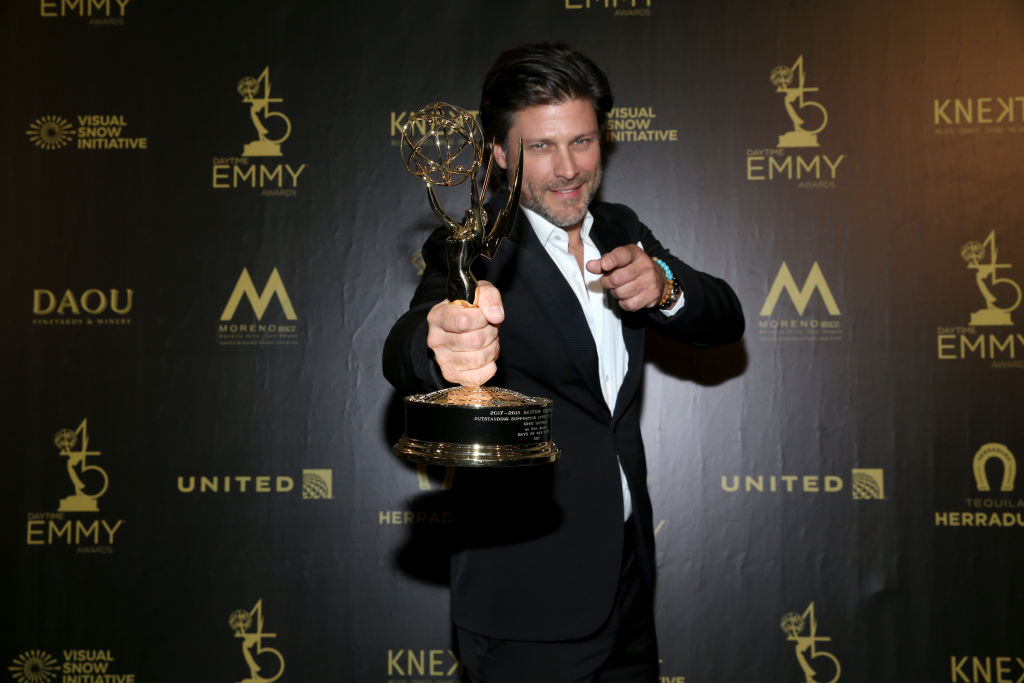 Greg Vaughan began on 'Baywatch' in the '90s and has been on TV ever since
Vaughan made his television debut in 1996 as a guest star on the David Hasselhoff-led series, Baywatch. The actor quickly landed several more on-screen gigs on shows including, Beverly Hills, 90210, Buffy the Vampire Slayer, and a notable stint on Charmed.
In 2002, Vaughan hit the daytime airwaves with a recurring part on the long-running soap, The Young and the Restless. From there, he moved to ABC's General Hospital, where he tackled the juicy role of Lucky Spencer, the son of the soap super-couple, Luke and Laura.
After six years as Lucky, Vaughan moved on from General Hospital. He appeared in a string of projects ranging from comedy, to romance, to fantasy.
RELATED: 'General Hospital': Why Genie Francis 'Won't Justify' the Luke and Laura Storyline Anymore
It was in 2012 that the performer snagged his current long-term soap opera role, this time on NBC's Days of Our Lives. And while starring as a central character on the show as Eric Brady, Vaughan expertly juggled a gig on OWN's primetime drama, Queen Sugar, opposite Rutina Wesley.
Vaughan has gained an impressive amount of experience in various genres of entertainment. With that in mind, he was an ideal contributor to ABC's The Story of Soaps, a retrospective program that gave fans a peek behind the scenes of daytime dramas.
Like Vaughan, many notable Hollywood stars started out working in soap operas
RELATED: 'General Hospital': Which 'Carly Corinthos' Actress Has the Highest Net Worth?
"Daytime is the foundation of television. Everybody wants romance. Everybody wants that bad guy," reflected Vaughan about the allure of soap operas during his interview on The Story of Soaps. He continued, saying, "Daytime television has opened the doors to many, many successful and talented actors."
Reality show producer, Andy Cohen, another contributor to the program, noted the star power that has come out of soaps. He dished that Julianne Moore, Kelly Ripa, Meg Ryan, Demi Moore, and Brad Pitt all began on soap operas. What's more, many of the A-listers, including Alec Baldwin, who granted interviews on The Story of Soaps, started their careers as soap stars.
RELATED: 'One Life to Live': Would the Todd Manning Story Work Today? (Not a Chance)
Vaughan explained the unique appeal of working in soaps. He beamed, "Daytime can offer a great environment, a playground if you will, to expand yourself and stretch your skills to see how far you're willing to go."
Daytime icon Erika Slezak, who starred on One Life to Live for 43 years, agreed with Vaughan's sentiment, declaring, "It was one of the best jobs an actor can have."
RELATED: 'The Story of Soaps': Fans Want 'All My Children' and 'One Life to Live' Back on ABC