Dean Unglert Just Fired Back at a 'Bachelor' Fan Who Said He Pushes Caelynn Miller-Keyes Too Much
We've been following Caelynn Miller-Keyes and Dean Unglert's love story since season 6 of Bachelor in Paradise. The two left the show to be together, and while many doubted them at first, they've come a long way. Now, they're frequently traveling in Unglert's van, taking trips across the globe, and planning out their future together.
Unfortunately, not everyone's on board for their romance. One fan thinks Unglert pushes Miller-Keyes outside of her comfort zone too much. Here's how Unglert responded.
Caelynn Miller-Keyes has grown a ton as a person since dating Dean Unglert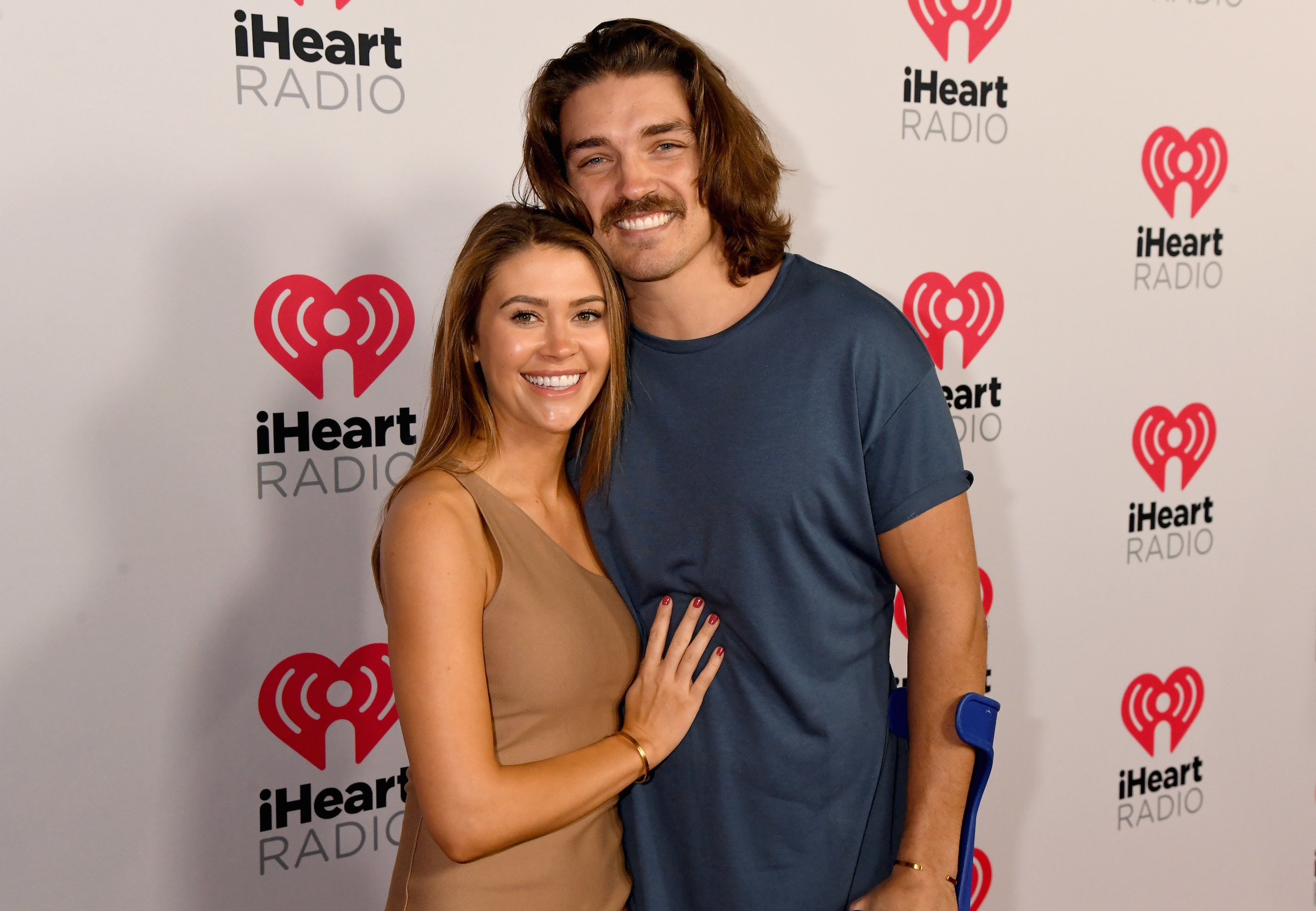 Miller-Keyes and Unglert didn't seem to be the perfect match when they first started dating. Miller-Keyes is a pageant girl who loves the finer things in life, and Unglert was living out of a van. It seems Miller-Keyes was into Unglert's lifestyle, though. She gave it a go and seems to be loving her more adventurous side.
"I'm a pageant girl … but the Miller side of my family … they're very adventurous, they're hiking, they live in, like, Airstreams, you know?" Miller-Keyes explained to Access at the beginning of her relationship. "And so, I'm kind of embracing that side of myself that I never have before, and it's been great."
Not only is Unglert challenging Miller-Keyes in regards to her way of life, but he also challenged her to ditch makeup for the Bachelor in Paradise finale. To everyone's surprise, she did just that.
Unglert noted that he's actually gotten more complacent in his looks because of Miller-Keyes
While Unglert pushes Miller-Keyes to be the best she possibly can be, it looks like he doesn't always get the same push in return. Recently, Unglert chose to shave his head for charity. And he talked on his podcast, Help! I Suck at Dating …, about how Miller-Keyes is always happy with how he looks no matter what.
"Caelynn tells me I'm hot no matter what I do, which is like, good and bad. It's a great confidence boost," Unglert said. "But it's breeding a little bit of complacency in me a little bit, and it's not striving me to hit the gym. But you're right, as long as your significant other is happy with the way that you look, that's basically what matters most."
Even with the "complacency," Unglert is definitely growing closer to Miller-Keyes. "I'm getting more and more comfortable with who I am, so that allows me to be more confident and transparent, I guess," he said again on his podcast.
One of Unglert's followers thinks he pushes Miller-Keyes too much
On June 17, Unglert posted a photo of Miller-Keyes rock climbing outdoors. "Few things make me happier than seeing @caelynnmillerkeyes push herself outside of her comfort zone," he captioned the post. While many loved the photo and agreed with the caption, not everyone was happy.
"Pics are sick but the caption is sad," a follower commented. "Like … just accept each other for who you are or maybe find someone else. It's cute now, but 10 years down the line when you both settle back into what makes you happy, the marriage will dissolve."
"I'm glad you enjoy staying in your comfort zone," Unglert fired back. "There's nothing wrong with that. Some people like pushing themselves, and you're not responsible for deciding whether they enjoy it or now. Enjoy living the same life for 50 years. We will enjoy growing and changing as time moves on."
The original follower then added, "My qualm with the caption was that it felt like a devaluing of letting your partner just be themselves."
To that, Unglert concluded, "Thanks for the input. Agree to disagree."
Usually, Unglert doesn't get too serious with his followers, but this one seemed to strike a nerve. No matter what, we know he's pushing Miller-Keyes to be the best version of herself possible.
Check out Showbiz Cheat Sheet on Facebook!