Debbie Reynolds Thought 'Star Wars' Defined Her Career as Much as It Did Carrie Fisher's
Carrie Fisher's career was defined by Star Wars. She frequently (and hilariously) lamented Princess Leia's dominance over her life in memoirs, speeches, interviews, and even an HBO special. But even though the sight of her head on top of a Pez dispenser chilled her, Fisher truly loved Leia and everything Star Wars did for her life.
Fisher's mother, Debbie Reynolds, was also a film icon, although she didn't have one role that defined her. She starred in some of Hollywood's most beloved films, mind you (Singin' In the Rain is one of the greatest movies of all time), but there have been few film characters that have made as lasting and impervious marks as Princess Leia, Han Solo, and Luke Skywalker.
Even Reynolds knew this to be true. In a 2011 interview, the late star acknowledged that Star Wars affected public perception of her as well.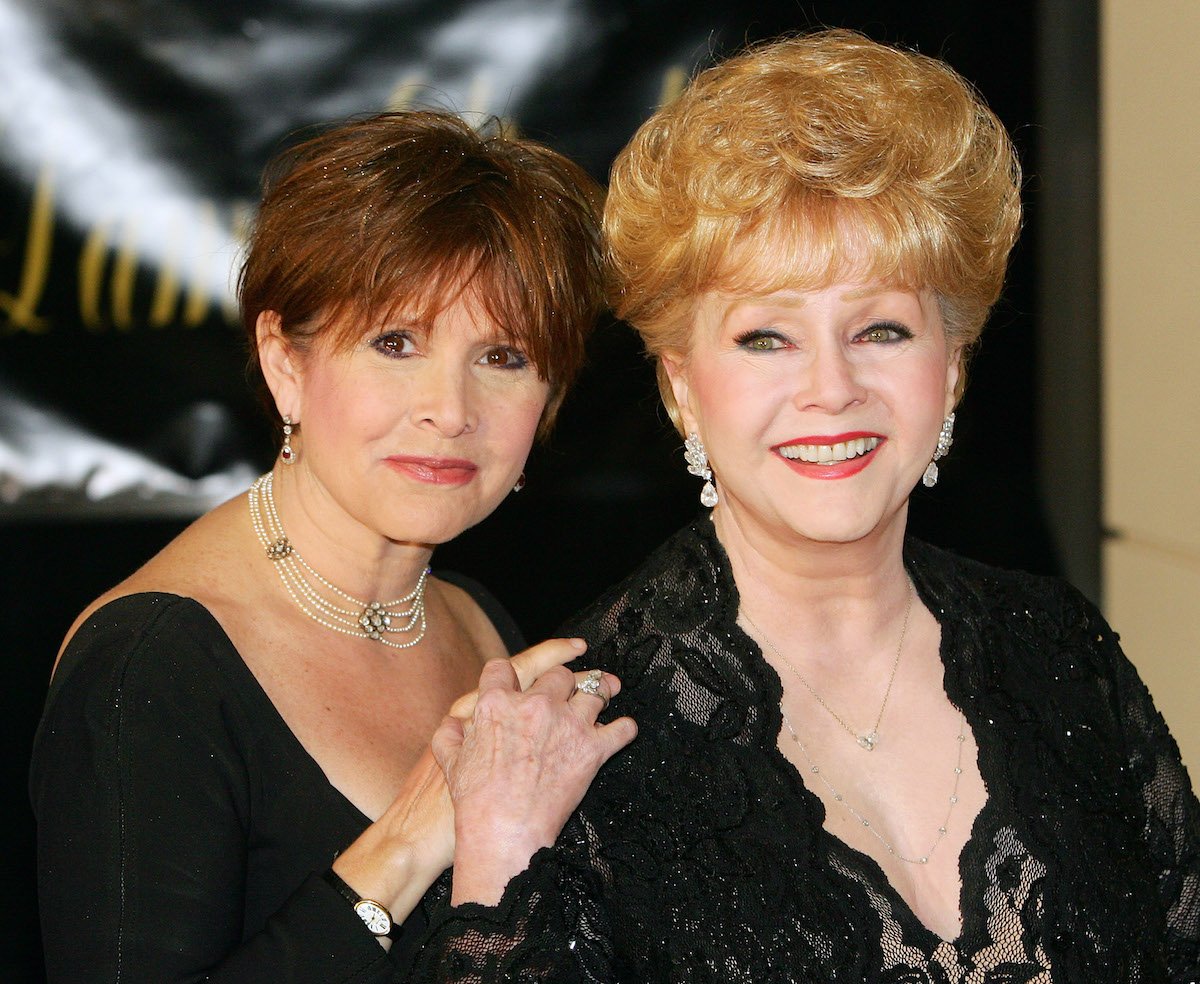 Debbie Reynolds' life made Carrie Fisher famous, but 'Star Wars' took her to new heights
Reynolds was one of the biggest stars of the Golden Age of Hollywood. She landed a contract with Metro-Goldwyn-Mayer after winning a beauty pageant at age 16, and she went on to star in over 30 movies throughout her life, most of them being movie musicals.
Her personal life was just as famous as her professional. Reynolds married singer Eddie Fisher (despite Frank Sinatra warning her not to) in 1955, gave birth to her daughter in 1956, and then her son in 1958. The same year Todd Fisher was born, Eddie left Reynolds for her close friend, Elizabeth Taylor. It was one of the most salacious stories in Hollywood at the time, one that Todd described as an "insane tabloid feeding frenzy" in his 2018 memoir, My Girls: A Lifetime with Carrie and Debbie.
Just as Reynolds lived her life in the spotlight, so did her daughter. Fisher only had a supporting role in a film called Shampoo before booking the coveted role of Princess Leia in Star Wars Episode IV: A New Hope. Before Shampoo, Fisher and her brother frequently appeared in their mother's stage shows, which Reynolds performed for a large chunk of her life after her second and third marriages led to financial ruin.
As if she wasn't famous enough thanks to her parents' infamous love triangle, Fisher became a pop culture icon in her own right when she donned those famous space buns.
RELATED: Carrie Fisher Wrote a Heartbreaking Poem About Her Affair With Harrison Ford While Filming 'Star Wars'
'Star Wars' defined Carrie Fisher's career, as well as her family's legacy
Reynolds was basically Hollywood royalty in the 1950s and 1960s. Throughout her career, she collected Oscar, Golden Globe, and Tony nominations, and won the Jean Hersholt Humanitarian Award at the 2017 Oscars. She even won an award for her extensive collection of Hollywood costumes in 2005—a collection that included Marilyn Monroe's infamous white dress from The Seven Year Itch and Taylor's Cleopatra headdress. (She dreamed of making a museum for her collection that never came to fruition.)
In the later years of her life, Reynolds had a successful guest role on Will & Grace as Debra Messing's mother, which was basically a caricature of herself. In 2014, she appeared in the Emmy-winning HBO series Behind the Candelabra. And she even found a way to make herself known and beloved by younger audiences who didn't grow up during the Golden Age—the first time many millennials ever saw Reynolds was as Grandma Aggie in Halloweentown on Disney Channel.
And still, even with her decades worth of successes behind her, Reynolds said in a 2011 interview with The Daily Beast that Star Wars defined her legacy as well.
"I'm Princess Leia's mother," she said.
RELATED: Debbie Reynolds Said Her Friendship With Elizabeth Taylor Was 'Worth More' Than Eddie Fisher
Debbie Reynolds defended Carrie Fisher after she revealed her affair with Harrison Ford
Indeed, Star Wars really was a family affair for them. And A-list affairs were another thing the mother/daughter duo had in common.
In 2016, when Fisher revealed her affair with Harrison Ford in her 2016 memoir, The Princess Diarist, Reynolds came to her daughter's defense, poking fun at her past Eddie Fisher drama.
"Why all the fuss about Carrie's admitting she had an affair with Harrison Ford?" she tweeted. "I have to admit I slept with her father! New book on 11/22!"
There really was no doubting that Carrie Fisher was, indeed, Debbie Reynolds' daughter.