Debbie Reynolds vs. Eddie Fisher: Who Had the Higher Net Worth When They Died?
Debbie Reynolds and Eddie Fisher were only together for four years, but they were tied together forever. The actor and singer got married in 1955, and divorced in 1959, but their children—Star Wars legend Carrie Fisher and Todd Fisher—meant they were forever connected.
Sharing two children didn't mean they were amicable exes. Reynolds and Fisher both slammed each other in interviews for the remainder of their lives following the messy divorce. But which one of them had the higher net worth?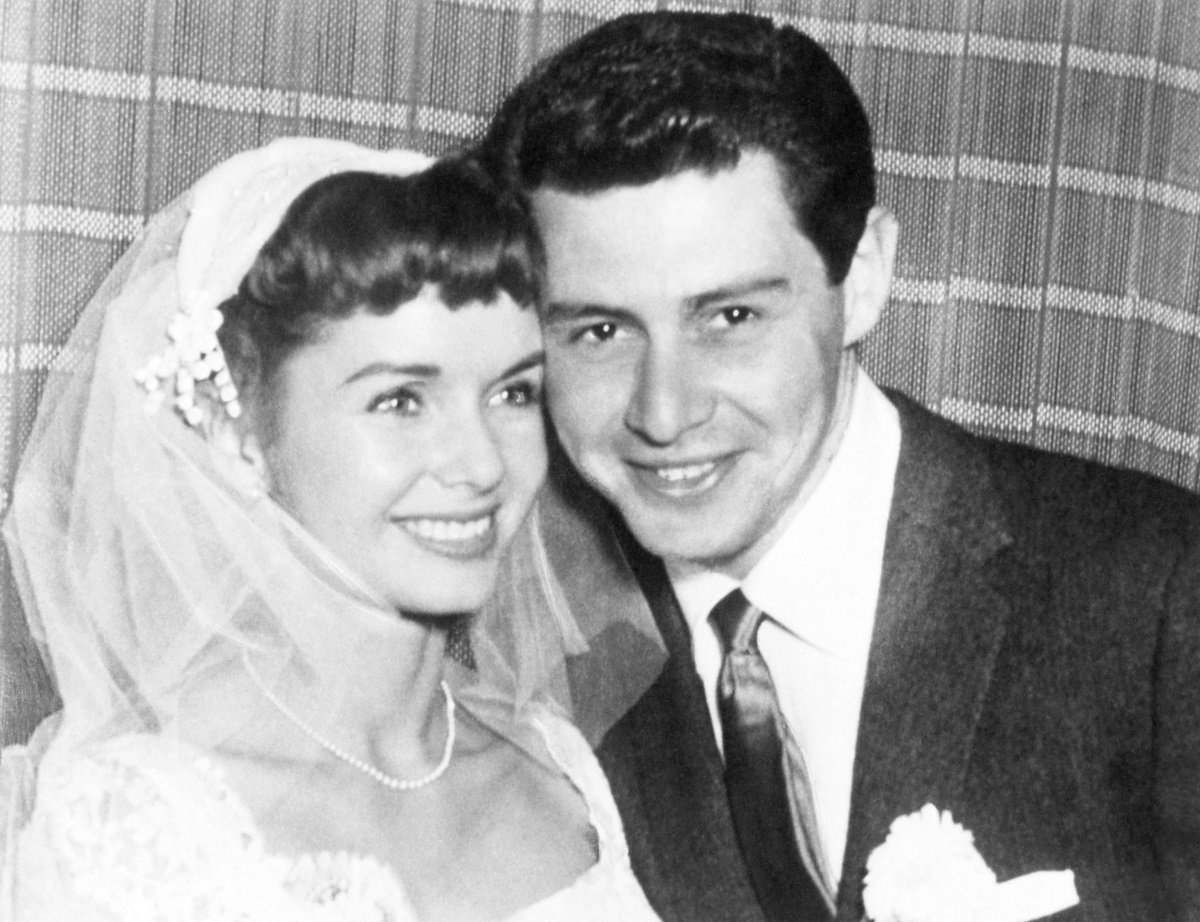 How long was Debbie Reynolds married to Eddie Fisher?
Reynolds got her start in acting after she won the Miss Burbank beauty contest in California when she was 16 years old. That win led to a contract with Metro Goldwyn-Mayer (MGM), and so began her decades-long acting career. (She dreamt of being a P.E. teacher.)
It was after she got signed by MGM that Reynolds met Elizabeth Taylor, who was also signed by the studio. Through their shared high school education on the MGM lot, they became close friends. They both worked a lot (Reynolds starred in Singin' in the Rain when she was just 18), but they remained close.
Reynolds married Fisher—one of the most famous singers of the time—in 1955. All the while, the couple was close friends with Taylor and her beaus, especially film producer Mike Todd, whom Taylor married in 1957. Reynolds and Fisher were the matron of honor and best man in their wedding, and they named their son, Todd, after the producer.
Todd died in a plane crash in 1958, leaving Taylor widowed with their daughter, Liza Todd. In her grief, Reynolds sent Fisher to go comfort their friend, and it didn't take long for an affair to begin between the Cat on a Hot Tin Roof star and Fisher.
RELATED: Debbie Reynolds Said Her Friendship With Elizabeth Taylor Was 'Worth More' Than Eddie Fisher
Why did Eddie Fisher leave Debbie Reynolds?
Fisher and Taylor's affair was salacious and the main topic of tabloids for the entire first year of their relationship. Carrie was only 18 months old when her father left Reynolds for Taylor, and Todd was even younger. Fisher's popularity plummeted because of this.
Reynolds was seen as the single mom who was wrongfully burned by the cheating ex-husband, and Taylor was seen as a home-wrecker. Fisher and Taylor were married in 1959, the same day Reynolds and Fisher's divorce was finalized.
Fisher's career was the really the only one to take a hit in this love triangle. Reynolds had no issue booking work, and neither did Taylor. In 1961, Taylor started filming Cleopatra, where she met Richard Burton—the real love of her life. During this time, Fisher's variety TV show had already been canceled and his work was less and less frequent, so he went with Taylor to Rome when she left for filming.
Taylor and Burton conducted their affair on set and in her and Fisher's Roman home. Fisher reportedly once called the house in Rome only for Burton to pick up the phone.
"What are you doing in my house?" he asked, according to Vanity Fair.
As Burton replied, "What do you think I'm doing? I'm f*cking your wife."
RELATED: Carrie Fisher vs. Debbie Reynolds: Who Had the Higher Net Worth?
What were Debbie Reynolds and Eddie Fisher's net worths when they died?
Fisher and Taylor were married longer than Reynolds and Fisher, but they divorced in 1964. Taylor married Burton the same year and stayed with him for a decade before divorcing, and then remarrying him, and then divorcing him again.
As for Reynolds, she kept hustling with her work, and she remarried twice. Both her second and third husbands caused her dreadful financial hardship, resulting in her going bankrupt. She was able to pick herself up by the bootstraps and completely replenish her fortune by selling her collection of Hollywood memorabilia for a hefty $25 million, and by working her a** off performing.
Fisher's career stayed stagnant for the rest of his life. He performed at clubs and released some music, but his career never returned to its former glory after he left Reynolds. (He once had more hits than Elvis Presley and The Beatles.) He wrote two memoirs, once of which slammed Reynolds (and he, yet again, was criticized for that). Reynolds wrote a memoir herself, but the majority of her money came from selling her assets, acting, and performing.
Fisher died on Sept. 22, 2010, following surgical complications. Celebrity Net Worth estimates his net worth when he died to be $30 million.
Reynolds died the day after Carrie on Dec. 28, 2016. Celebrity Net Worth estimates her net worth when she died to be $85 million.
Carrie died on Dec. 27, 2016 with a net worth of $25 million, just shy of her father. Todd is still living, and is estimated to be worth $15 million. Billie Lourd, Carrie's daughter, inherited Carrie's entire estate and is worth an estimated $20 million.