Demi Burnett Might Be Dropping Hints She's Hoping to Head Back on 'Bachelor in Paradise'
Could Demi Burnett attempt to find love again on 'Bachelor in Paradise'? She might be dropping hints that she's willing. Here's what she posted.
Peter Weber's season of The Bachelor is already proving to be a hot mess. With the drama surrounding Victoria Fuller and the rest of the chaos that occurred at the beginning of the season with Hannah Brown, many fans are ready for Weber to call it quits. And we're all interested in seeing who from Weber's season will end up on the beaches of Paradise.
There are still quite a few Bachelor in Paradise contestants we love keeping up with. And Demi Burnett remains a fan favorite. While she got engaged at the end of her season of Paradise, she now appears to be single. And she may be dropping some subtle hints that she'd head back to the beaches of Mexico in the future. Here's what we think.
Demi Burnett is still staying relevant through Peter Weber's 'Bachelor' season
While many Bachelor contestants of the past lose their fame over time, such is not the case for Burnett. While she solidified her legacy by being the first openly bisexual contestant in the franchise with her appearance on Bachelor in Paradise, she's also good friends with Weber. And she led one of the early group dates on Weber's season.
Burnett may have made an appearance, but she noted she's not a fan of the women fighting for Weber's love. "I would never want to be stuck in a house with these girls," she tweeted on Feb. 3. And she also took to her Instagram Story while watching the show to share how she really feels.
"This season of The Bachelor reminds me of my high school volleyball senior year season," Burnett said on her Instagram Story during Episode 5. "Like, after my class graduated, it became s***. And this is what's happening."
Many are rooting for Burnett to be the first bisexual 'Bachelorette'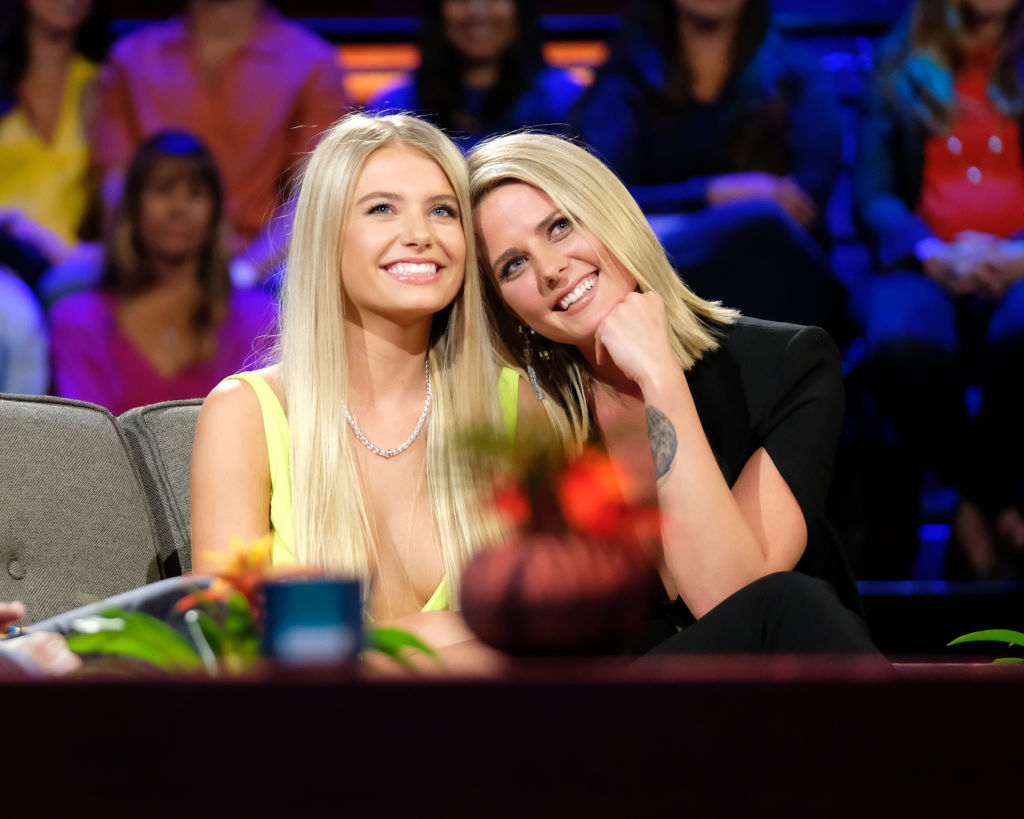 While Burnett has managed to stay in the spotlight for Weber's season, many are still rooting for her to be the next Bachelorette. And Nick Viall of Bachelorette and Bachelor fame also noted that he thinks Burnett would be extremely fun to watch.
"I'm a big fan of Demi and if they were to cast her, it certainly could be an interesting element knowing that she is attracted to both men and women," Viall told Us Weekly. "That would be an interesting element to potentially incorporate. I would be a fan of that, but I guess we'll have to wait and see."
Not everyone agrees, though. Bachelor alum Bekah Martinez noted on her podcast, Chatty Broads with Bekah and Jess, that a Bachelorette season with Burnett would be too sex-positive for the average audience.
"There's too much sex happening in the house. That's the issue with it. That's why it's never gonna happen," Martinez mentioned.
Burnett might be dropping hints that Paradise is in her future again
We're not sure if Burnett will ever be The Bachelorette. What about another go at Paradise? It's clear Burnett loves the spotlight, as her appearance on Weber's season and her Instagram influencing made that clear. And she might also be dropping hints on the 'gram that it's on her mind.
On Feb. 15, she posted a photo with her BIP co-star, Katie Morton. Morton fell in love with Chris Bukowski while in Mexico, but they couldn't make their relationship last. And now that both ladies are single, Burnett might want producers to see they're ready to mingle again on the beach with other hopeful singles.
Burnett also dropped a hint that she's open to getting in some beach time. "I would like to go back to the Bahamas please," Burnett captioned her Instagram photo of her in a tropical climate on Feb. 14.
"Will paradise suffice?" one follower commented on the photo.
"What about Mexico? Would live to see you on Paradise again!" another noted.
We're not sure if we'll see Burnett in Paradise once again. But considering fans love her and the producers are hoping to stay in the good graces of viewers, we definitely think it's possible.
Check out Showbiz Cheat Sheet on Facebook!