Demi Lovato and Boyfriend Max Ehrich Are Engaged: A Look Back At Their Cutest Couple Moments
Demi Lovato and Max Ehrich are confident they're ready to settle down.
The couple announced on Instagram on July 22 that they're engaged by sharing a slideshow of photos depicting the special moment after Ehrich popped the question on the sands of Malibu beach. Now that Lovato and Ehrich have taken their relationship to the next level, let's take a look back at their cutest couple moments.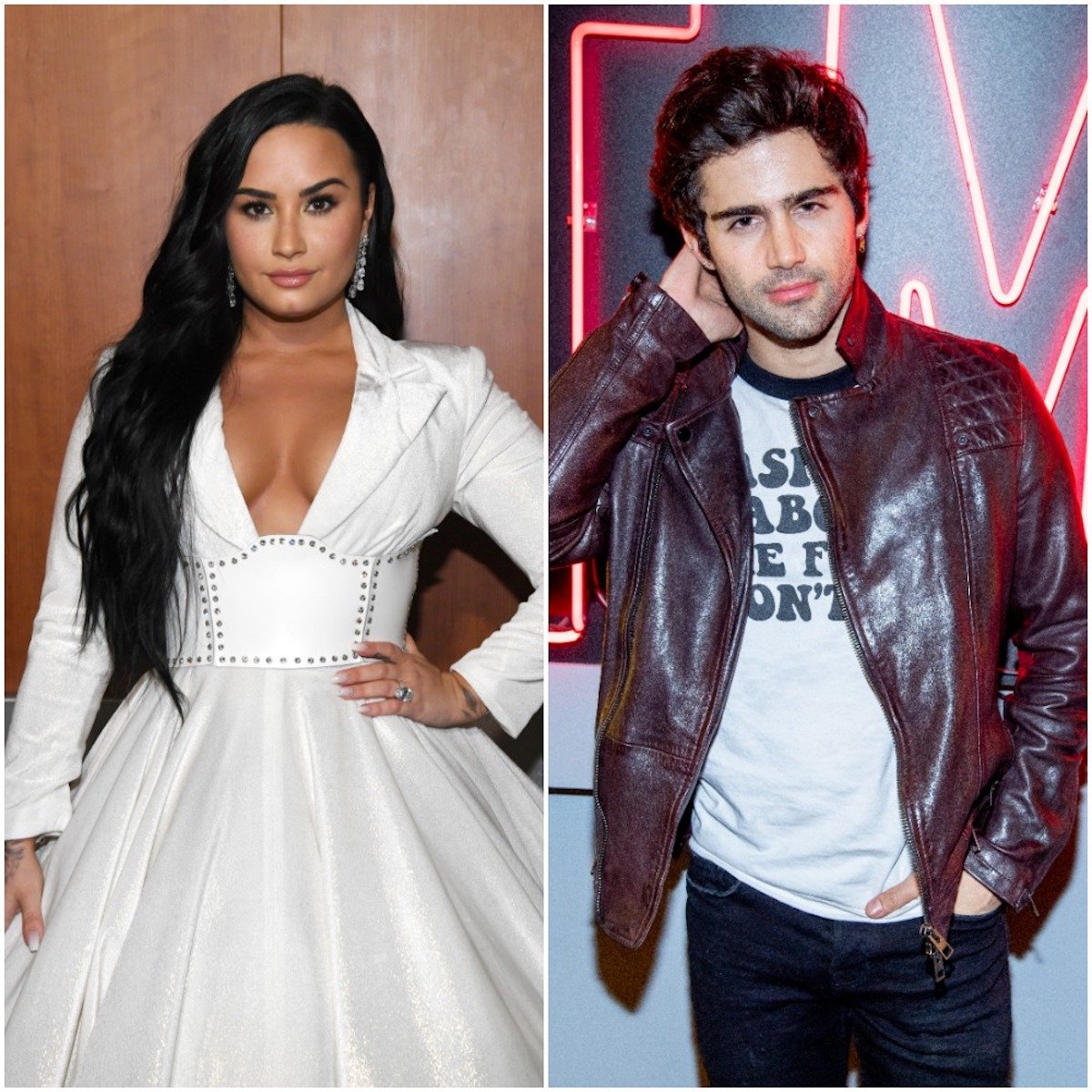 When they watched 'Camp Rock' and 'Camp Rock 2: The Final Jam' together
Most people would be mortified to watch old videos of themselves with their significant others — but not Lovato.
On July 12, the singer took a trip down memory lane with her beau as they rewatched her role as Mitchie in the hit Disney Channel original films, Camp Rock and Camp Rock 2: The Final Jam.
As Lovato documented the experience on her Instagram Story, she and Ehrich could be heard laughing and mocking the movies' cringe-worthy moments.
One particular moment she recorded was Ehrich's genuine reaction to the ending of Camp Rock 2 when the kids lost against Camp Star in Camp Wars.
"It has to be Camp Rock," Ehrich says while intently watching the film before gasping when he sees that Camp Rock loses. "They cheated, right? You guys were better than them so I think that they should really do a recount." 
"I think it's too late, babe," Lovato tells him, giggling.
"It's never too late," Ehrich insists. "I guess you've gotta make a third movie."
Sharing a sweet moment under the moonlight
Since going public with their romance, Lovato and Ehrich haven't been afraid to show everyone just how head over heels they are for each other.
The couple regularly posts adorable snapshots of them packing on the PDA, proving that they are clearly smitten by one another.
Their latest love-filled snap was posted on July 14 and showed Ehrich sweetly kissing Lovato on her head as she looks directly into the camera.
The singer also shared a snapshot from that night with the caption, "Oh man this might be my favorite pic of us so far… thank you for making me the happiest I love yew soooo much."
RELATED: Has Demi Lovato's Boyfriend Max Ehrich Been (Not So) Subtly Tweeting About Her?
As you can see, the couple's totally into each other and don't care who knows it either.
The couple's really enjoying their time together
On June 24, Lovato took to Instagram to share a sweet birthday message for her "BAAAYYBEEE" Ehrich, who turned 29-years-old.
In addition to her heartfelt caption, the "Sorry Not Sorry" singer also shared a series of photos of herself and The Young and The Restless actor commemorating their time together.
"I have so much fun with you and there's so many things I want to say right now but I want to be present and spend this bday with you so I'll be quick: Being with you makes life SO MUCH FUN," she wrote. "We literally act like hooligans on the daily and don't give a F*CK if we're embarrassing ourselves if others are around!! I spend my days with you, bare faced and in a bathing suit… I feel unconditionally loved and accepted by you in a way that I've never felt before.. I can't explain it or you.. you're indescribable, you beautiful, man."
She continued, "Inside and out you are jaw-droppingly gorgeous… You're also such a positive lil beam of light in my life and I can't wait to make more birthday memories together.. here's to the future baby. I love you @maxehrich."
They were in a music video together
In May 2020, Lovato and Ehrich were among the many couples who appeared in the music video for Justin Bieber and Ariana Grande's song, "Stuck with U."
RELATED: What Demi Lovato and Miley Cyrus' Boyfriends Max Ehrich and Cody Simpson Have in Common
Though they only made a brief appearance, the couple didn't shy away from displaying their love for each other as they swayed to the music and shared a kiss under a starry-skied projection.
The clip marked the first time Lovato publicly confirmed their relationship as she shared their cameo on Instagram along with the caption, "Happy to be a part of something so special right now. Like really REALLY happy if you can't tell…"
The time Demi Lovato made a surprise appearance in Max Ehrich's video
Before they confirmed their relationship in the "Stuck with U" video, the couple sparked romance rumors after the singer made a brief (and accidental) appearance during one of Ehrich's Instagram Live sessions.
In the video, the actor was singing and playing the piano for fans when Lovato appeared behind him with a blanket. After Ehrich urgently whispered, "I'm on live! I'm on live!" Lovato quickly covered her face and exited the frame.
Though they kept their romance on the down-low in the days following Lovato's accidental Instagram Live appearance, the couple went public with their relationship later that same month.
Since then, the duo's proven time and time again just how in love they are with each other. And now that they're engaged, we can't wait to see what the future holds for these two lovebirds.