Demi Lovato Called Her Performance in 'Camp Rock' 'Awkward'
Demi Lovato starred in this Disney Channel original movie. Years later, the actor revisited 'Camp Rock,' sharing her thoughts with Instagram.
Although Camp Rock became a favorite original movie of many Disney Channel viewers, upon rewatching her performance, Demi Lovato burst out laughing.
The singer and actor shared her thoughts on Instagram during 2020, calling her teenage-self "awkward." Here's what she told fans.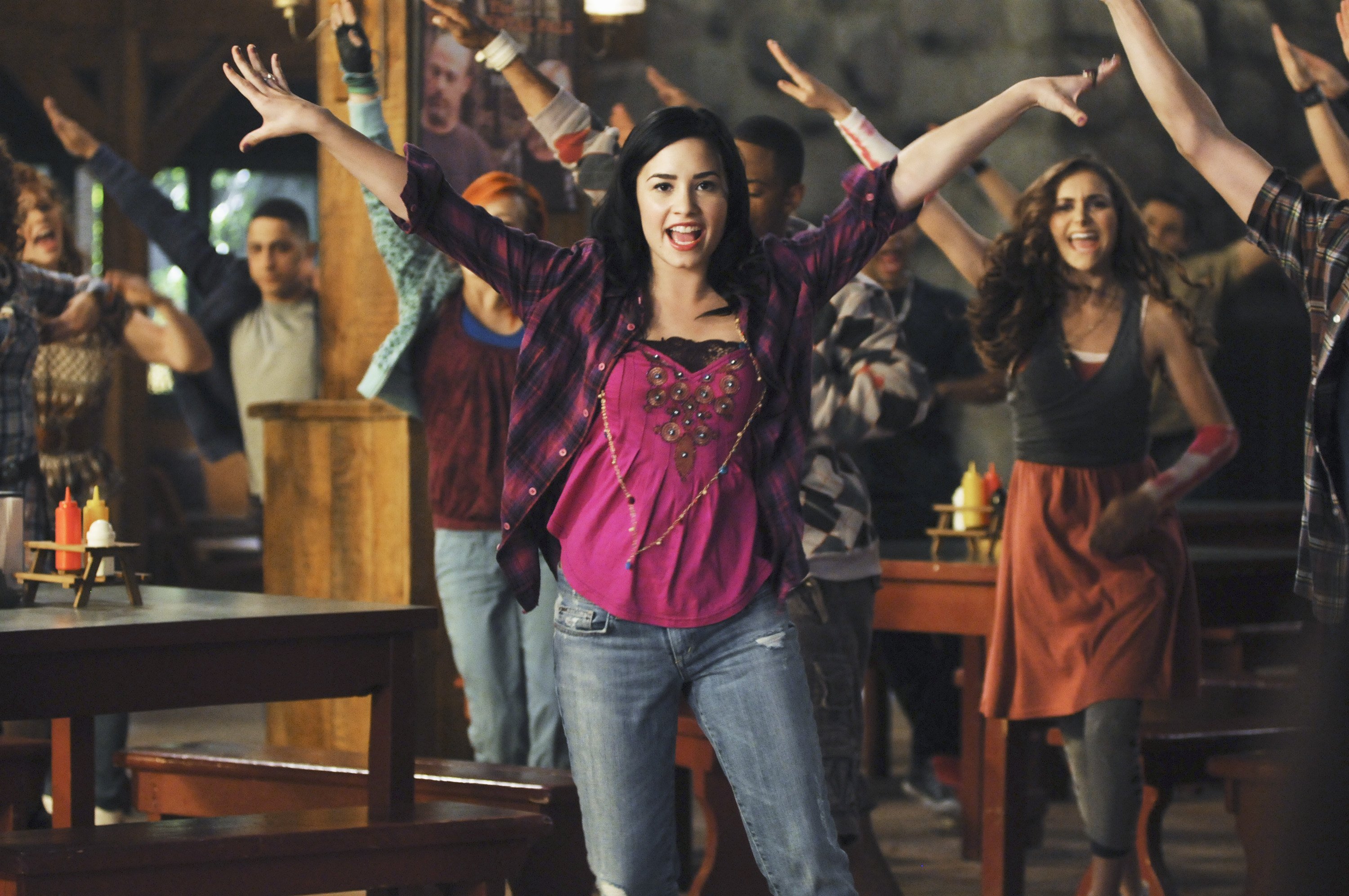 Demi Lovato starred in Disney Channel's original movie, 'Camp Rock'
With songs like "This Is Me" and "We Rock," some fans first met Lovato as the character, Mitchie Torres, the daughter of a summer camp chef who dreamed of a life in the spotlight. Everything changed when she became friends with the "popular" girl at the camp, changing everything about herself to fit in. 
This character, after finding her voice and falling for a handsome rocker at the camp, returned the following summer for Camp Rock 2: The Final Jam. She appeared in even more musical numbers, as did members of the Jonas Brothers — Kevin, Joe, and Nick.
Demi Lovato had a mini-watch party on her Instagram Live
During 2020, Lovato revisited the Disney Channel original movie where she appeared as the main character. After posting a few clips of the film to her Instagram story, the artist concluded that her performance was "awkward," including one scene with Alyson Stoner where she reacted with an "I can't."
For another scene with Lovato and her co-star, Joe Jonas, the actor captioned her story, "I told 'yall – how awkward am I?!!!" In the background of the video, Lovato could be heard laughing at herself. Billboard reports that "Lovato capped off her Camp Rock rewatch by sharing a spunky scene of herself performing the song 'Our Time Is Here' with Stoner and other cast members." 
"This s–t still slaps not gonna lie…," she captioned the clip. This was a bonus song, excluded from the original movie but later added to the DVD and the film's official soundtrack. 
Demi Lovato acted in other Disney Channel projects, including 'Sonny With a Chance'
Aside from her role in Camp Rock and its sequel, Camp Rock 2: The Final Jam, Lovato worked on a few other Disney Channel-related programs. She starred alongside Selena Gomez for the original movie, Princess Protection Program. 
Lovato also starred in the original series, Sonny With a Chance as the title character. She worked on some projects, like Friends for Change and the Disney Channel Games, in addition to the music she released as a solo artist.
All episodes of Sonny With a Chance, including the spinoff series So Random, are available on Disney's streaming platform, as is Camp Rock and Camp Rock 2: The Final Jam. To learn more about Disney+ and to subscribe, visit their website.