Demi Lovato's Toxic Workout Obsession Prompted Her to Stop Living a Lie
Lately, Demi Lovato has been very open and honest about all of the struggles and addictions that she has had to deal with throughout her life. For years, she has suffered from an eating disorder as well as substance abuse issues.  Recently, she has been making great strides in trying to overcome her addictions and …
Lately, Demi Lovato has been very open and honest about all of the struggles and addictions that she has had to deal with throughout her life. For years, she has suffered from an eating disorder as well as substance abuse issues. 
Recently, she has been making great strides in trying to overcome her addictions and lead a healthier lifestyle. She is trying to live a sober life while also eating healthier and exercising regularly. However, she has learned that even things that are supposed to be good for you need to be done in moderation. Here is a look at how Demi Lovato's toxic workout obsession prompted her to stop living a lie.
Demi Lovato's body image issues
When most fans look at the 27-year old Grammy winner, they see a beautiful and healthy woman. However, when Lovato looks into the mirror, she sees a much different picture. According to Lovato, she has struggled with body image issues for almost her entire life. In fact, she told the Huff Post that the first time she ever started to have negative thoughts about her body was when she was just three years old.
"When I started having body image issues I remember being three years old in a diaper and rubbing my hand over my stomach… and I remember thinking in my head, 'I wonder if this will ever be flat,'" Lovato said.
She became even more uncomfortable with her body when she got older and started going to school. According to the Skyscraper singer, she endured relentless bullying at her school and the kids would often make fun of her and call her fat. She claims that the mental torment that she had to endure at school was one of the things that led her to develop an eating disorder. By the time she was a teenager, Lovato developed bulimia, which later led to her engaging in dangerous self-harming acts like cutting.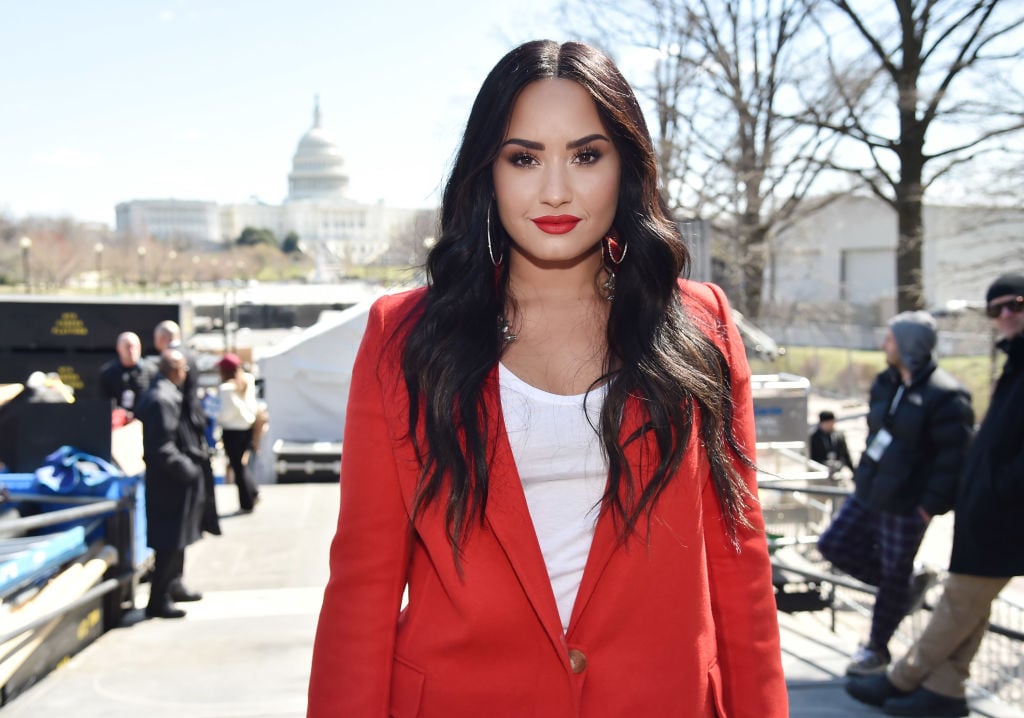 Demi Lovato has a long history with substance abuse
In 2017, Lovato made a documentary entitled Simply Complicated. In the documentary, the former Disney star admitted to being addicted to drugs and alcohol in addition to her eating disorder. She said that the first time she ever tried cocaine was in 2009 when she was just 17 years old. Even though she was currently working for Disney Channel at that time, she found herself partying with her friends a lot and her addictions quickly spiraled out of control.
For the next several years, Lovato would find herself in and out of several different rehabs. In 2010, she was diagnosed with bipolar disorder. And even though she had therapists that worked with her to try to help her manage her symptoms, she says that she found herself constantly trying to self-medicate. 
For a while, Lovato seemed to be doing much better with overcoming her addictions and had reportedly been sober for about six years. Then, in 2018, she shocked her fans when she released her single, Sober, and had admitted in the song that she suffered from a relapse. Not long after that, Lovato was rushed to the hospital for an apparent drug overdose after she was found unresponsive.
While in the hospital, Lovato posted a statement on Instagram that read, in part: "I have always been transparent about my journey with addiction. What I've learned is that this illness is not something that disappears or fades with time. It is something I must continue to overcome and have not done yet."
Demi Lovato realized that her unhealthy obsessions were more serious than she originally thought
Recently, Lovato sat down with Ashley Graham for an interview on her show, Pretty Big Deal. On the show, they had talked about Lovato's eating disorder and Lovato said that she was exercising more and more to ensure that she looked good at her performances. Even though exercising is usually a great way to get healthy, the excessive amount of exercise that she was doing was fueling her eating disorder.
"I was just running myself into the ground and I honestly think that's what led to everything happening over the past year," Lovato said. "Me thinking I found recovery when I didn't. Trying to tell the world I was happy when I wasn't. When I present this next album I'm not going to worry about what I look like … I had to work my a** off in the gym six days a week to maintain that figure, and I don't want to go down that path again. I don't want to destroy my mental health to look a certain way anymore … What I really needed was someone to come in and say, 'Hey, I think you might want to take a look at how much you're working out. Maybe three times a day is excessive. There were times where I lived at the gym and I would take business meetings at the gym on my breaks from my workout. I'd be gross but at least I didn't have to leave and shower and I could go right back into another workout. I'd eat a meal, go work out, eat a meal, go work out. And it's just like that's not happiness to me, that's not freedom. Why live that life if it's a lie? I just decided not to live that life."
Lovato has always said that her little sister and other young girls were her inspiration to try and get better. She wants to be a good role model for the younger generation. With the amount of determination that Lovato has shown so far, we certainly think that she will be able to live a healthier life and stick to it.