Demi Moore's Skincare Routine Involves a $75 Crystal Among Other Odd Products
Demi Moore has been in the public eye for years and years, rising to fame from a teen star to one of Hollywood's leading ladies. She started performing on General Hospital — one of the longest-running television shows of all time — when she was only 19. One of the things that fans always remark on is how the actress, now 57, manages to retain her youthful looks year after year.
No matter how much time has passed, Moore is inexplicably sporting the same flawless skin and glowing smile. Well, it turns out that she has some pretty unique beauty routines that might hold some answers.
Demi Moore has been turning heads for decades
After her initial breakout on television, Moore went on to become a solidified member of the "Brat Pack," the tabloid name for the (sometimes fluctuating) group of teens and young adults who rose to fame through films like The Breakfast Club and St. Elmo's Fire. Since Moore has been in the public eye for so long, her aging (or lack thereof) has been put on display.
She even posted a picture of herself on Instagram captioned "#20yearchallenge — bubble gum edition" showing just how little she has changed over the years and how youthful her looks have remained.
Demi Moore has some unique routines to maintain her beauty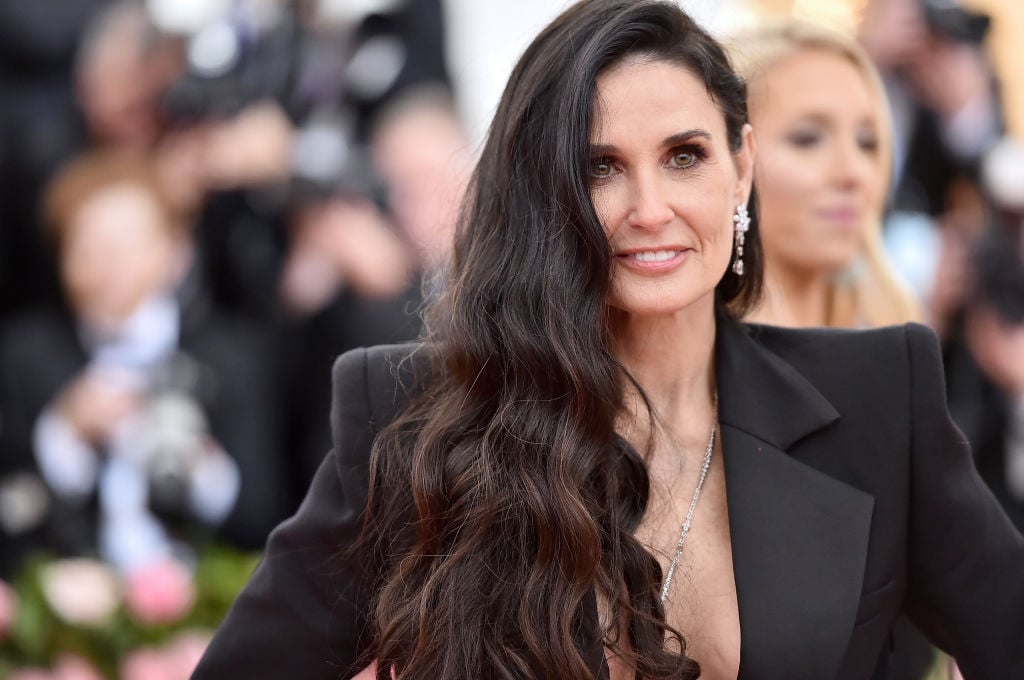 While a lot of her enduring beauty is surely just a matter of genetics, Moore has adopted some unique beauty routines that may be part of the reason for her long-lasting youthful looks. She wouldn't be the first celebrity to turn to some bizarre plans in the name of good looks, but hers are certainly worth deeper consideration. After all, if it can help Moore stay looking so great, maybe the routine holds secrets for non-celebrities as well.
First, she has some guiding principles about her skincare routine that are rooted in simplicity. She makes sure that her products are fragrance-free and gentle. 
"My skin care routine is generally less is more," the actress explains. 
That said, she is also willing to experiment when it comes to finding new beauty products that do the trick. For instance, she gave the Hanacure mask a try, which is known for contouring to users' faces to create an "old lady" appearance. The mask has been making the rounds on social media because of how ridiculous it makes people look while they have it on. Drew Barrymore is one of the many stars who took to social media to show off their "old" Hanacure faces.
This $75 crystal is part of Demi Moore's routine
While she may say that her skincare routine is about simplicity, it also has some almost magical elements to it. This includes a Lift and Sculpt Butterfly Stone from Georgia Louise.
The delicate pink stone is butterfly-shaped "so that it perfectly fits into all facial contours to create a deeply relaxing massage." The hand-cut rose quartz stone looks pretty, but it promises to pack a big beauty punch.
"Regular massaging with this stone will help to drain puffiness and toxins, contour the face and help smooth fine lines and wrinkles," the product description reads.
She pairs the stone with concoctions that include moisturizers and oils that are designed to keep wrinkles at bay and give skin a dewy glowing look. Whether it's the products doing the trick of simply a matter of Moore's fabulous genetics, the nearly 60-year-old actress is demonstrating that aging doesn't have to be something to fear when you are confident in who you are — and have a few beauty tricks up your sleeves to help out.