Denise Richards Said Charlie Sheen Threw a Chair at Her for Wanting to Vaccinate Their Kids
With a seemingly endless string of scandals, poor business decisions, and substance abuse problems, actor Charlie Sheen is the ultimate bad boy of Hollywood. On the other hand, Denise Richards is a graceful former Bond girl who has worked hard over the past three decades to establish her place in the entertainment industry.
In 2002, the unlikely couple married, with Richards calling the Anger Management actor her "soul mate." But their marriage ended in 2006 after a long history of documented abuse. Things got so bad for the RHOBH star that her ex-husband once threw a chair at her for getting their kids vaccinated.
Denise Richards and Charlie Sheen's tumultuous relationship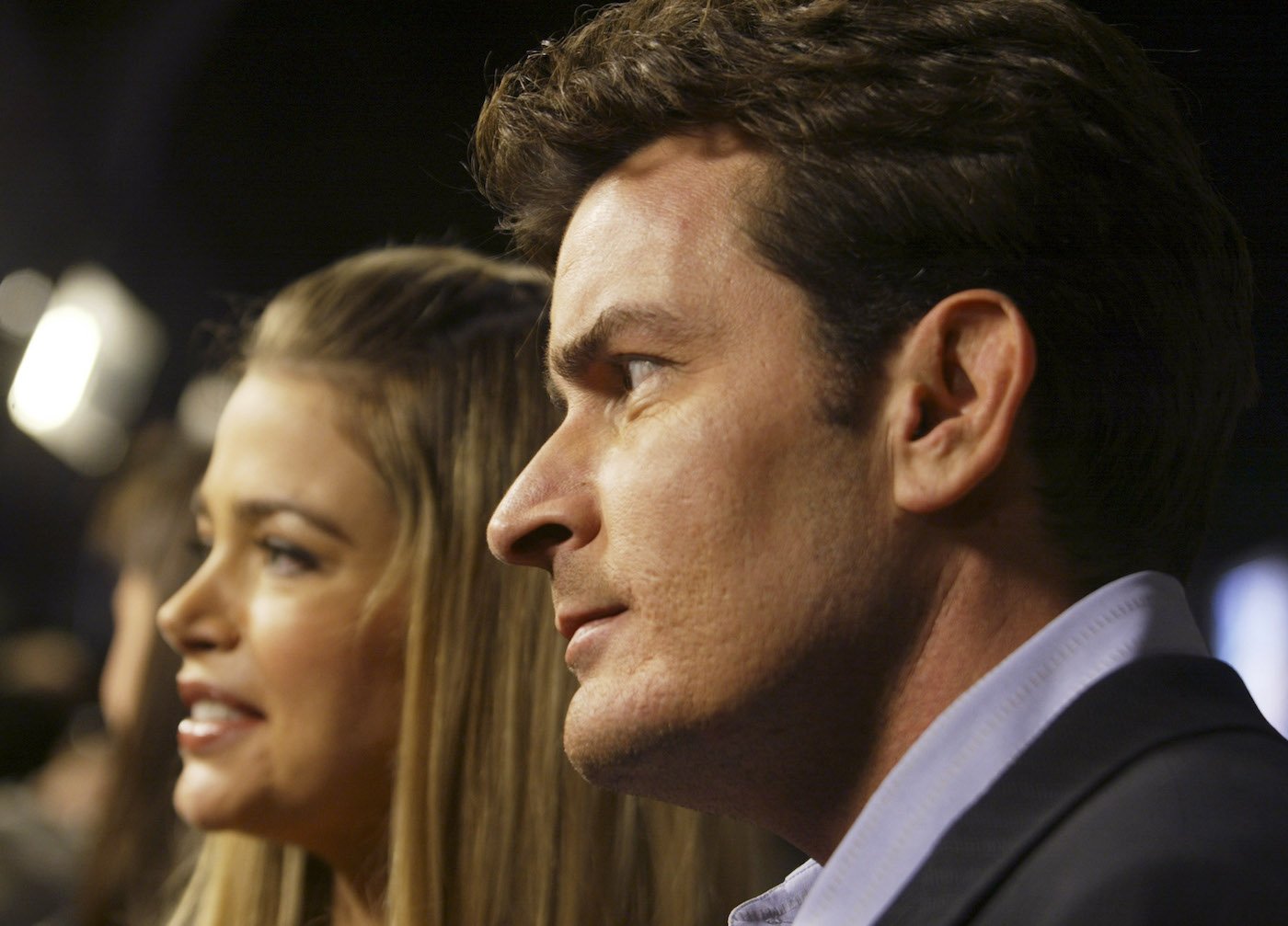 Charlie Sheen is best known for his starring role as the philandering womanizer on the CBS sitcom Two and a Half Men. Once one of the highest-paid TV actors, he has also starred in hit films such as Platoon and Wall Street. Despite a long history of drug and alcohol addiction, Sheen has enjoyed a successful career in showbiz.
According to TV Insider, in 2011, Sheen was fired from Two and a Half Men after unleashing on the series' producer. After eight seasons, he was off the show. Warner Bros. said he was "engaged in dangerously self-destructive conduct and appears to be very ill." 
Richards landed her breakout role in Starship Troopers in 1997 after many guest-starring roles in TV series such as Friends, Melrose Place, and Seinfeld. She went on to develop an impressive résumé, starring in films such Wild Things and The World Is Not Enough. 
She also had a recurring role in 2001 on the sitcom Spin City, where she worked alongside her now-ex-husband. The two worked together again on the film Scary Movie 3 in 2003.
According to IMDb, in 2019, Richards took the role of Shauna on the daytime soap opera The Bold and the Beautiful. At the same time, she became a member of the RHOBH cast, where she remained for two seasons until leaving under less than pleasant conditions, Us Magazine reported.
After the Hollywood actors wed, they enjoyed a short-lived blissful period in their marriage. In 2004, they had their first daughter, Sami, followed by Lola in 2005. By then, the relationship had deteriorated. In her tell-all book, Real Girl Next Door, Richards revealed that her "marriage was crumbling, and fast."
The now-50-year-old star wrote that although Sheen was her children's father, she realized the marriage was over. She felt "hurt, disappointment, confusion, concern, loneliness, sadness, and even fear."
A fight over vaccinating their kids 
The Three Musketeers actor was adamant that his daughters not get their childhood vaccines. Richards wanted the kids to be immunized, resulting in ongoing arguments.
Fox News reported that divorce papers show Sheen did not want the children to have "common vaccinations because he thinks they will be harmed." There is a "chronicled paranoia regarding medical needs for the girls." 
According to Rolling Stone, in 2008, their battle over vaccines grew so heated that Sheen threw a chair at Richards. 
People confirmed the dispute. "When Denise took Sam to receive her vaccinations, Charlie told Denise that she was a bad mother, had poisoned their daughter, and threw a chair at Denise," the magazine reported. "The next day, he called the pediatrician and threatened her on the phone, leading the pediatrician to 'fire' the Sheens."
So, did the kids get vaccinated?
According to Genetic Literacy Project, the seemingly endless confrontations over the kids' vaccinations led to a court battle. Richards eventually won.
After years of scandals, name-calling, and heated disputes, the parents of two daughters have found a way to be civil and are on good terms once again. In 2013, Richards told Oprah: "We enjoy being around each other. We have fun." 
In 2018, Richards remarried. Though not at the wedding, Sheen wished her and her new husband, Aaron Phypers, "nothing but happiness," People reported.
Last year, Richards told Us Magazine: "We are in a great place right now. We have been for a while. It's been wonderful. Much better than it has been in the past, so I'm grateful for that."