Denzel Washington Improvised His Most Iconic 'Training Day' Moment
There aren't many actors in Hollywood who can have just about any movie role they want. Oftentimes, an actor lacks either the power to claim a coveted role for themselves or they might not have the range to tackle it. But Denzel Washington — most would agree — is among the stars capable of delivering a strong performance no matter what. And one of his most famous movies, Training Day, is a testament to his killer instinct on set.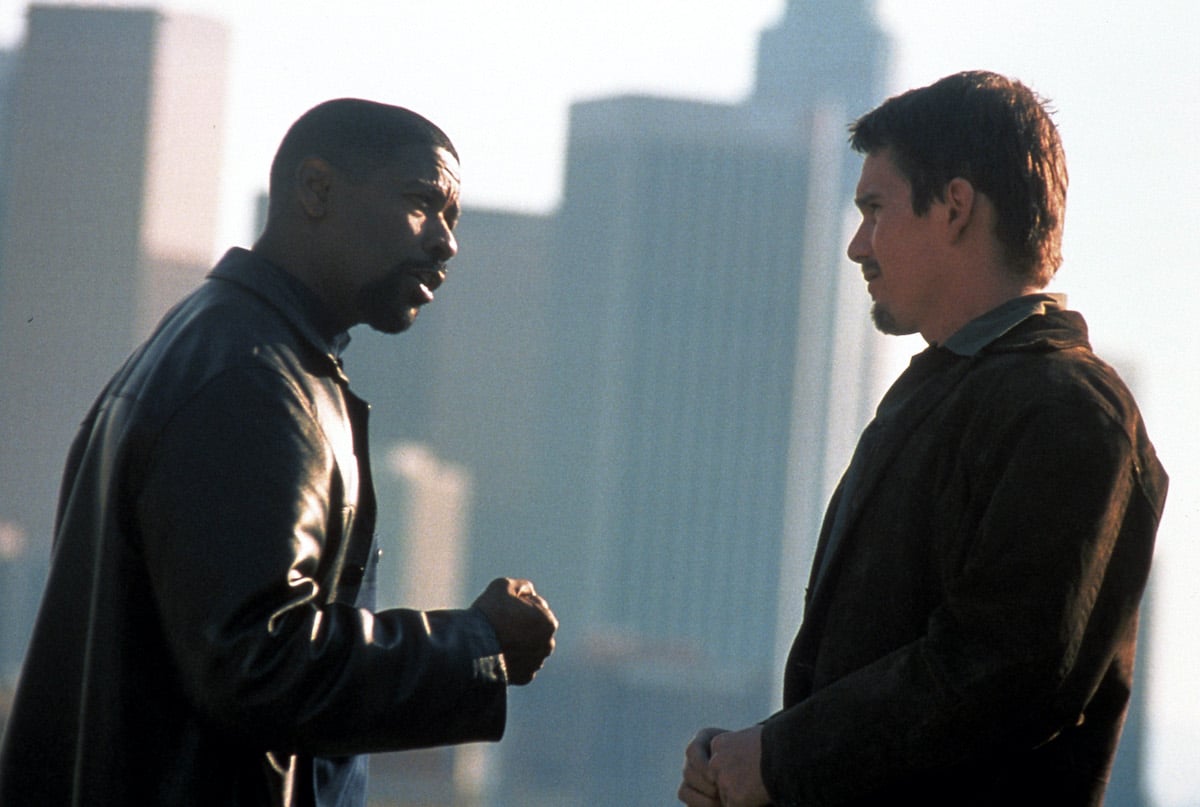 Denzel Washington delivers a visceral, fierce, and Oscar-winning performance in 2001's 'Training Day'
In that 2001 thriller, Washington plays a corrupt cop who spends a single day with a rookie officer (Ethan Hawke). And during the tumultuous events of that day, Alonzo Harris (Washington) finds himself in way over his head. But for the actor playing him, Training Day was an opportunity to chew up the scenery.
Harris is the kind of charismatic, unpredictable figure that actors dream of playing. And indeed, Washington committed to making them character as compelling as he is intimidating. For his efforts, Washington earned his second Academy Award, following his Best Supporting Actor win for 1989's Glory.
RELATED: Denzel Washington Married the Co-Star of His Very First Acting Job
The actor improvised 1 of his character's biggest and most memorable moments
In Training Day, Washington delivers a tour-de-force performance. But one of his moments comes near the end of the film when a defeated Alonzo lashes out. As director Antoine Fuqua told Vanity Fair in 2019, Washington came up with the famous "King Kong ain't got s–t on me" speech in the moment.
"The King Kong moment came out of Denzel. I remember that moment because we were doing the scene, and he just started going off. I remember looking at the cameraman and saying, 'I hope you got that because I don't think we're going to get that again.' Denzel came over to me and goes, 'Whoo, I don't know where that came from.' It was exhausting for him. You saw him just go there in that place.

It was one of those moments where it gave you chills. … The moment I realized it took on a different life was with Ethan Hawke. Ethan was in Harlem doing something one day and he called me and said, 'Wow, I've got a whole new audience. All these people came up to me.' You just set out to make a good movie, and somehow it became a cultural thing."
While Training Day was supposed to have a different ending, audiences really responded Washington's ferocity in this sequence. Alonzo certainly needed to get his comeuppance. And it makes total sense he'd be the type of character to go wild once he realized he couldn't talk his way out of a bad situation.
RELATED: Why Denzel Washington Didn't Kiss Julia Roberts in 'The Pelican Brief'
No wonder Denzel Washington and director Antoine Fuqua have worked together a few more times since
Fuqua certainly must have been impressed working with Washington. Off of the back of Training Day, the two have become frequent collaborators. Thirteen years after their first movie together, Washington and Fuqua reunited for The Equalizer, based on the TV which ran on CBS from 1985 to 1989.
They later re-teamed for 2016's The Magnificent Seven remake featuring Hawke, Chris Pratt, and Vincent D'Onofrio. Most recently, Washington and Fuqua made 2018's The Equalizer 2. All three films were hits in theaters. So it seems like only a matter of time until the director and star work together again.