An In-Depth Look at Michael C. Hall's Must-Watch Episodes of 'Dexter'
The wait is almost over for the long-anticipated Dexter revival. Dexter: New Blood will premiere on Nov. 7 and will pick back up 10 years after the events of the finale in Dexter. It's also been almost eight years since the series finale aired. With that said, some fans might need a little brush-up on Dexter before the revival. Michael C. Hall recently shared some of his favorite episodes of Dexter that fans should definitely make sure they have seen.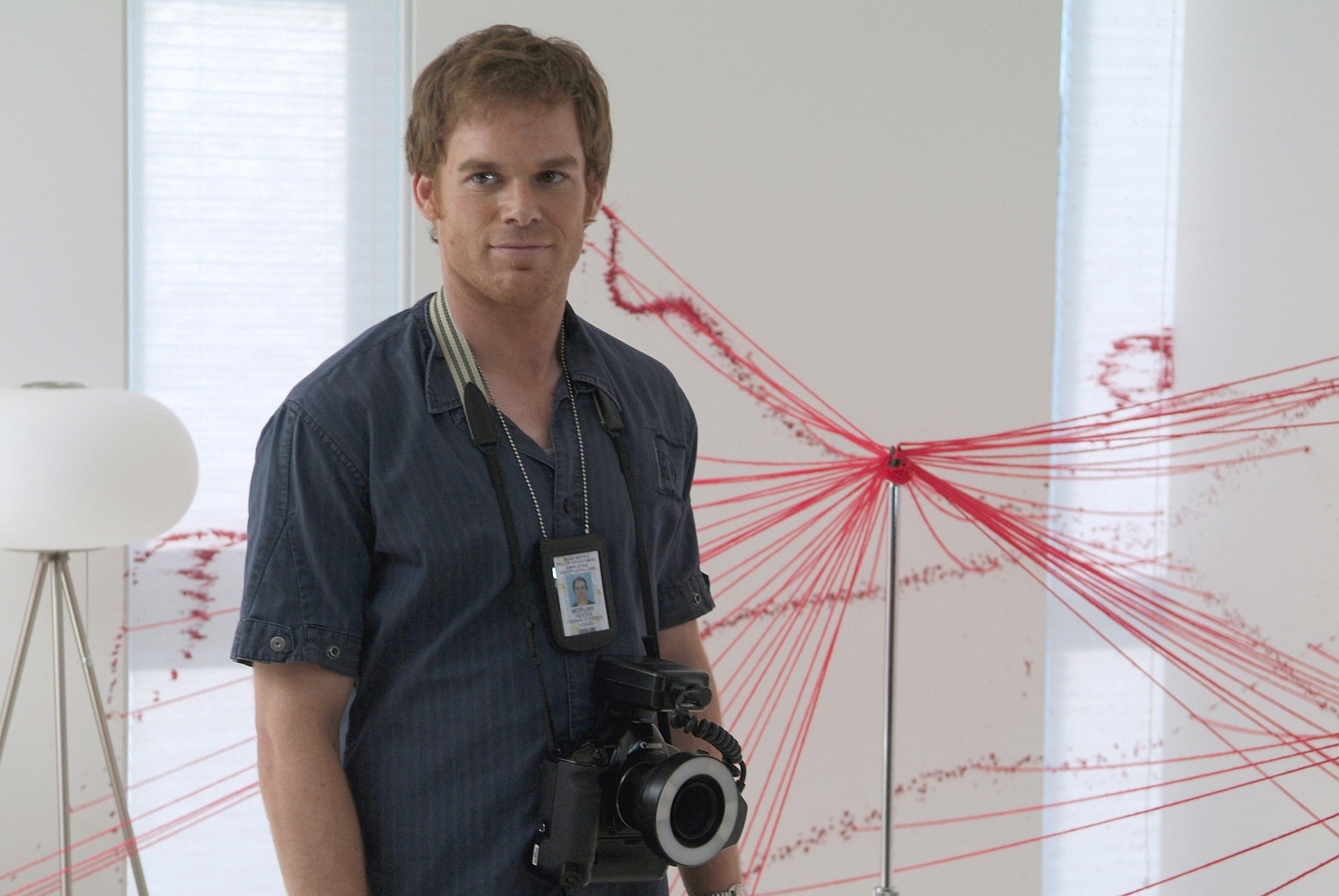 What is the plot of 'Dexter'?
Dexter Morgan is a blood splatter analyst for Miami Metro Homicide. By night, he is a serial killer who takes down other serial killers. Dexter has an insatiable urge to kill that developed from a traumatic event in his childhood. He was adopted by Harry Morgan, a homicide detective who taught Dexter never to kill an innocent person. Dexter's sister Debra also works for Miami Metro as a cop. Through all eight seasons, Dexter struggles to keep his double life a secret and protect the people he cares about.
Michael C. Hall loves the pilot episode of 'Dexter'
The pilot episode introduced Dexter and his inner monologue for the first time. It explained his urge to kill and introduced the central antagonist for this season, the Ice Truck Killer. In this episode, Dexter's sister Debra also gets transferred from Vice to Homicide.
Hall especially enjoys the very first episode. "The pilot episode is really good," he told Entertainment Weekly. "I mean, it's one of my favorites." This episode is also essential to understanding Dexter's story.
Dexter makes an important discovery in 'Seeing Red'
Hall has admitted in an interview with Vulture that the first season is among his favorites. "We didn't know exactly what we were making, but we felt we were onto something," he told the outlet. In season 1, episode 10, Dexter makes an important discovery. He learns that his mother was murdered in front of him when he was very young. This is likely why he has such an intense urge to kill.
"It was a really pivotal episode in the history of the show in as much as it's the one where Dexter comes to a conscious realization of how he came to be who he is — that he was born in his mother's blood, at least, that second time in a pool of her blood."

– Michael C. Hall via Today
Hall also mentioned to Today that the scene in "Seeing Red" where Dexter collapses into a pool of blood was especially fun to film.
Michael C. Hall was impressed by Jimmy Smits in 'Go Your Own Way'
In season 3, Miguel Prado becomes Dexter's unlikely friend. Miguel even learns that Dexter is a killer, and the two team up for a while. However, Dexter soon realizes that Miguel is too reckless. The two begin a back and forth game, each leveraging the dirt they have on each other. The tension comes to a head when Dexter steals a ring implicating Miguel in the murder of Ellen Wolf. Furious, Miguel suggests that the two talk on the roof.
"I really love the episode in season 3 where Dexter and Miguel Prado, played by Jimmy Smits, end up having a face-off on the roof of a building downtown," Hall told Entertainment Weekly. "Jimmy Smits does this amazing thing where he makes this gesture while he's yelling at Dexter," he continued while demonstrating. It's at this point that Dexter realizes Miguel can't be reasoned with or blackmailed. Dexter has to kill him.
'The Getaway' is a fan favorite
Finally, the season 4 finale is a must-see episode, with one of the most surprising twists in the entire series. The conflict between Dexter and The Trinity Killer boils over when Trinity realizes Dexter's true identity. Dexter must take down Trinity before he has the chance to leave town or hurt the people he cares about. "The Getaway" is a fan favorite and is ranked as the best episode of Dexter on IMDb with a score of 9.8.
RELATED: 'Dexter': The Worst Episodes of All Time, According to IMDb