'Dexter' Creepy Teaser Photo Emerges: 'Mr. Lindsay? Clean-Up on Aisle Four'
It's almost time for the return of Dexter. The hit crime drama is coming back to Showtime in 2021 for a 10-episode limited series, which picks up a decade after the events in the Dexter series finale. It follows him as he navigates his new life in a remote upstate New York town as Jim Lindsay. While there aren't many other details available, a new teaser image has emerged that hints at what might be next.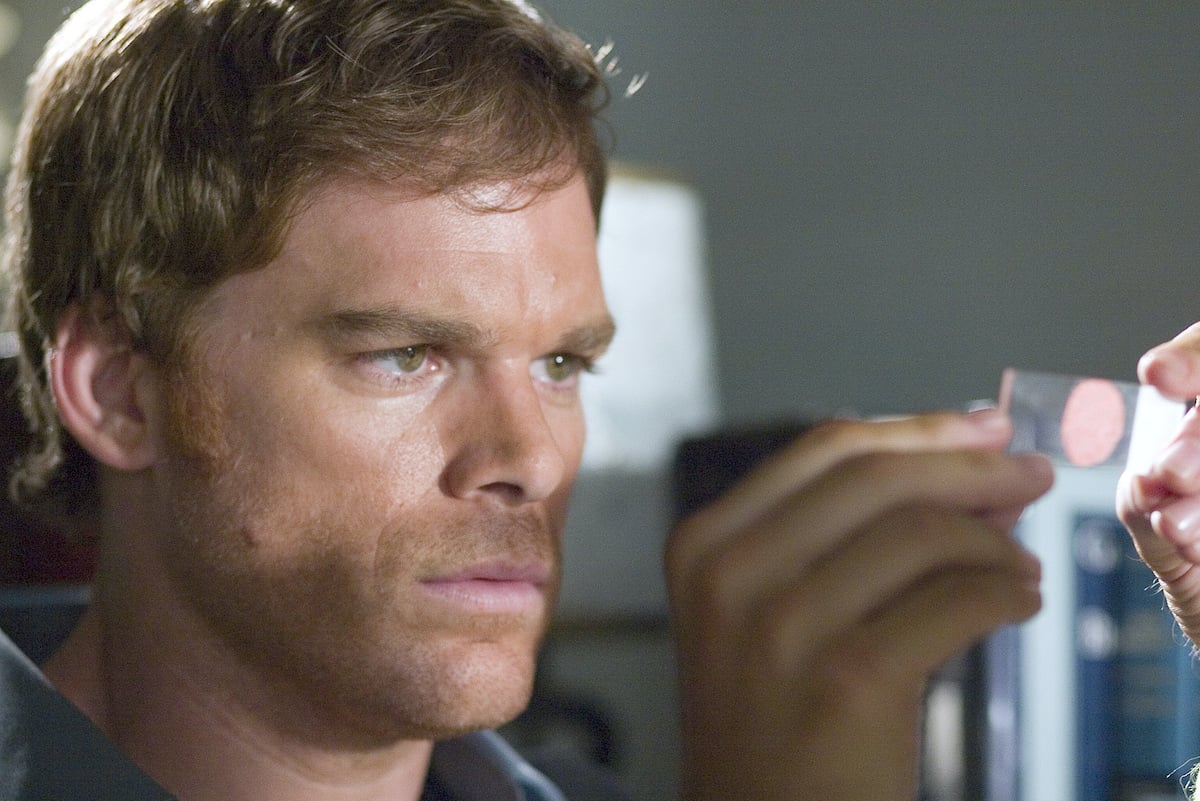 A 'Dexter' teaser image has emerged
Shared by executive producer and writer Scott Reynolds, the image shows blood spilling out onto the concrete. "Uhhh… Mr. Lindsay? Clean-up on aisle four," reads the caption. The website Dexter Daily adds that the location is allegedly the parking lot of the local Iron Lake High School.
The image comes after showrunner Clyde Phillips confirmed Dexter Morgan would wind up killing again, despite his efforts to stop. "He is more grounded than he's ever been, but that dark passenger is a voice he cannot deny," Phillips told TV Insider. "This is Dexter. People are going to die."
While it might sound strange for him to be at a high school, Deadline previously reported that Alano Miller would be playing an assistant wrestling coach at a local school that's also part of the police department. Jack Alcott is also a young actor who will play someone named Randall, with "whom Dexter has a meaningful encounter." Could one of them be connected to that photo? Maybe, but we'll see…
RELATED: 'Dexter' Star Jamie Chung Details 'Threat' in Season 9
The main 'Dexter' Season 9 villain is Kurt Caldwell
One thing we know for sure is that Dexter will find an enemy in a man named Kurt Caldwell. Played by Clancy Brown from The Crown, Caldwell was "born and raised in Iron Lake," per his character description (via Deadline).
"In fact, some consider him the unofficial mayor of their small town," the statement continues. "He's realized the American dream by going from driving big rigs, just like his father did, to now owning several trucks and the local truck stop. Powerful, generous, loved by everyone – he's a true man of the people. If he's got your back, consider yourself blessed. But should you cross Kurt, or hurt anyone that he cares for… God help you."
RELATED: 'Dexter' Season 9 Set Photos Reveal Look at Villain's Life
In addition to him, the cast of the Dexter revival includes Julia Jones, Johnny Sequoyah, Katy Sullivan, John Lithgow, Oscar Wahlberg, Michael Cyril Creighton, and Jamie Chung, among others.
The 'Dexter' reboot will arrive in the fall of 2021
As far as the status of Dexter Season 9, Michael C. Hall (Dexter Morgan) said in a June appearance on Times Radio that the team was nearing the end of filming.
"We have about five weeks to go," he said (via Digital Spy). "I think the whole shoot would have taken five months. It's basically like we're filming it as a 10-hour movie. It will be ten episodes, premiering at least in the States on Showtime on November 7."
So there's just a few more months until it's back. We probably speak for everyone when we say, we can't wait.