'Dexter: New Blood': Debra Morgan Reminds Dexter of Her Tragic Death in 'Cold Snap'
Several original characters return in Dexter: New Blood, including Dexter's (Michael C. Hall) sister, Debra Morgan (Jennifer Carpenter). In a moment where Dexter is torn between revealing himself or maintaining his new identity as Jim Lindsay, Deb reminds Dexter of the bullet wound that ultimately led to her tragic death in the original Showtime series.
[SPOILER ALERT: Spoilers ahead for Dexter: New Blood Episode 1, "Cold Snap."]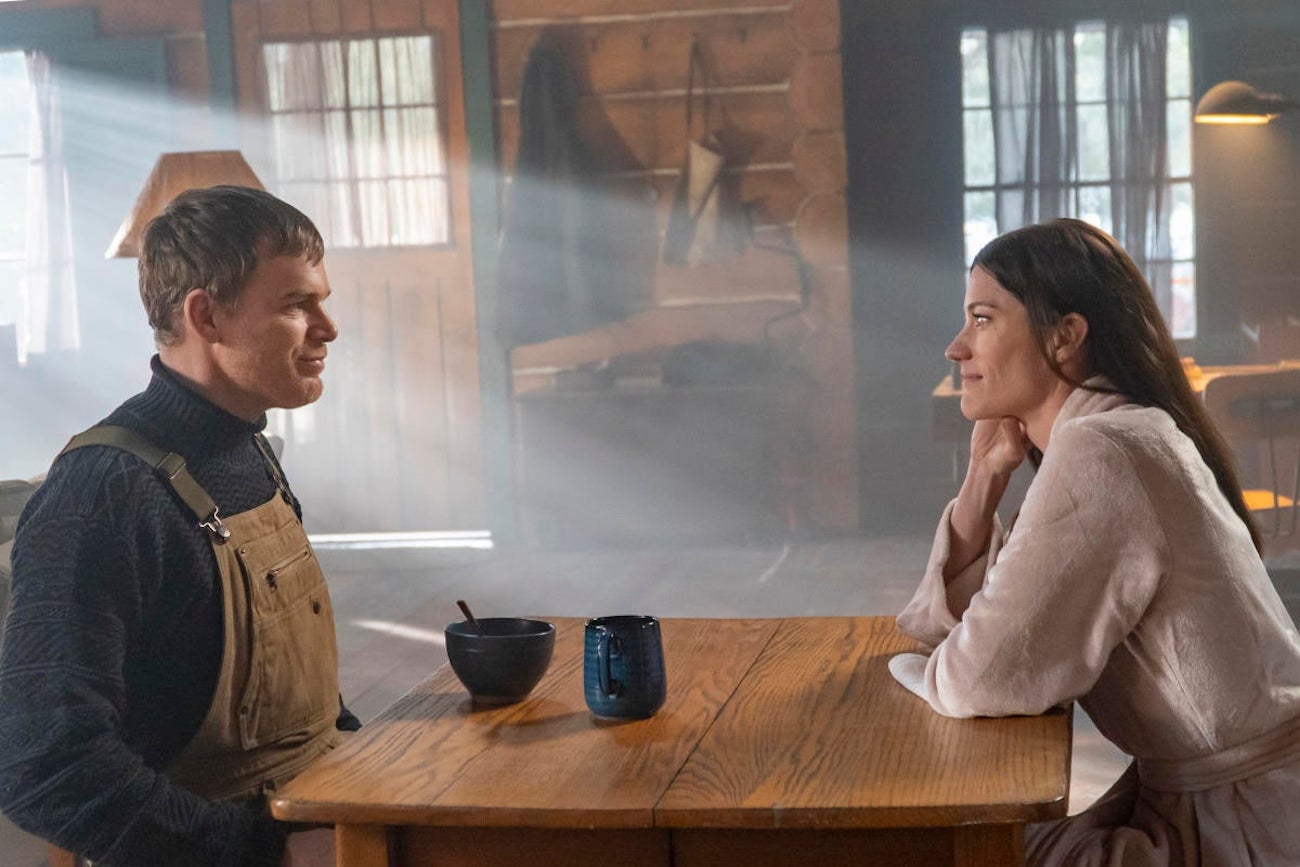 Deb's gunshot wound and death in 'Dexter' resurface in 'Dexter: New Blood'
In the premiere of Dexter: New Blood, we see a reminder of the gunshot wound that led to Deb's demise in the series finale of Dexter. Ultimately, she dies by Dexter's hand when he takes her off life support.
But before she slips into a coma, Deb is shot by the "big bad" of season 8, Oliver Saxon (Darri Infolfsson), "The Brain Surgeon." Instead of killing him when he has the chance, Dexter leaves Oliver to be arrested by Deb. But in a twist of fate, U.S. Federal Marshall Max Clayton (Kenny Johnson) frees Oliver from his restraints, who then kills Max and shoots Deb in the stomach.
At first, doctors are optimistic, but after emergency surgery, Deb suffers a blood clot — oh, the irony — and falls into a coma. In the Dexter series finale, Dexter removes Deb from life support, puts her on a boat, and sails her out to sea to dump her body before Hurricane Laura makes landfall. After saying goodbye to Deb, Dexter sails into the storm, faking his death. The original Dexter ends by showing Dexter living in the Pacific Northwest, but Dexter: New Blood shows Dexter's new life in Iron Lake. 
Debra Morgan returns as Dexter's voice of reason in 'Dexter: New Blood' 
Dexter has always had a "dark passenger" — his need to kill. After his adopted father Harry (James Remar) dies in the original series, Dexter is "haunted" by Harry's ghost as a reminder of the code or set of rules and procedures for killing that have allowed Dexter to avoid life in prison.
In the new series Dexter: New Blood, Harry Morgan (James Remar) isn't around to serve as Dexter's conscious anymore. Instead, his dead sister Deb is back. 
As Carpenter revealed during a panel for the Television Critics Association (via Deadline), Deb isn't a ghost in the new series but more of an inconvenient truth. Deb's new role as Dexter's conscious will show her caring for him as she did in life and occasionally provoking him. 
"I feel like sometimes the Dark Passenger and the passenger is almost directly behind the wheel, and it was an opportunity not to be an angel or devil on his shoulder, but to jerk the wheel to the left or right against his will," Carpenter said during the panel. "And to manipulate him, to navigate him, to abuse him, to save him. I felt like it was something entirely different than some sort of ghost entity." 
Deb's presence in 'Dexter: New Blood' differs from Harry Morgan in the original series
Like Harry, Deb will serve as a moral compass for Dexter. But as Dexter: New Blood showrunner Clyde Phillips explains, Deb represents something else entirely.
"She represents a corner of Dexter's mind that we all have in our own heads that says, 'Well, wait a minute, if you do this, then there are consequences,'" he explains. "If you notice at the very beginning of the show when we introduce Deb, it's very quiet and it's very still. They're talking about how he is the one who chose that place. They're sitting at the table and Deb has her head down and Dexter almost touches it but he can't because she's a part of him."
See more from Deb in new episodes — watch Dexter: New Blood on Sundays at 9PM EST on Showtime.