'Dexter: New Blood': What Does Dexter's Obituary Say?
Dexter Morgan can try to lie, but the proof is right there. Angela Bishop just found the obituary with his face on it, and she's going to confront him for his lies. Here's how she found out about Dexter and more about the next episode of Dexter: New Blood.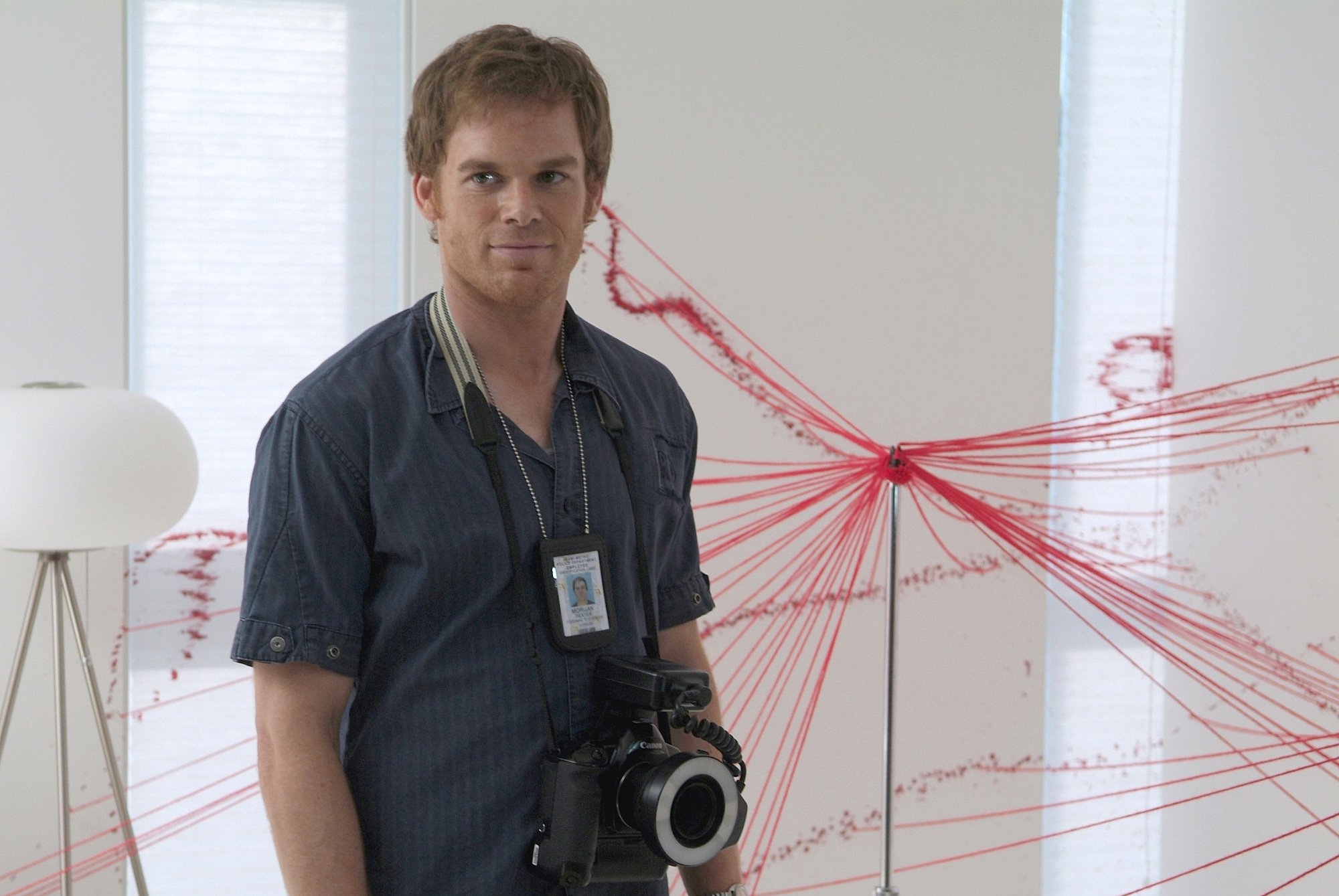 Angela learned Dexter's true identity in the latest episode of 'Dexter: New Blood'
Angela was attending a police conference when she ran into Angel Batista, Dexter's former colleague at the Miami Metro Police Department. She was talking to him about her missing person case when Angel was reminded of the Trinity Killer investigation. He explained that the big break came thanks to officer Debra Morgan. She's dead now, he shared, along with her brother, who left behind a son named Harrison.
Angela returned to Iron Lake to find Audrey rattled over "weird" comments Harrison made about his father. She decided to dig around on the Internet and eventually discovered the obituary for Dexter Morgan.
RELATED: 'Dexter: New Blood' Fans Are Loving [Spoiler's] Surprise Appearance in Episode 5
It's a quick flash, but fans tried to translate it on Reddit. It seemingly says in part:
"Dexter Morgan, a forensic crime scene analyst with Miami Metro Police Department, who aided in many of Miami Metro's most high-profile homicide cases, was lost at sea, aboard his fishing boat, 'Slice of Life.' His passing was discovered in the wake of Hurricane Laura, which left his small craft fishing vessel and much of the Atlantic coast devastated. Mr. Morgan was born in Miami and raised by his adoptive parents, Doris and Harry Morgan."
Angela to confront Dexter in 'Dexter: New Blood' Episode 6
Now, Angela is ready to confront Dexter about his identity. We don't see much of it in the Dexter: New Blood Episode 6 trailer, but star Michael C. Hall teased the revelation would cause a shift in their relationship.
"It definitely will deepen it whether or not the relationship can survive such a secret being revealed to her," Michael C. Hall told Screen Rant in an interview. "And whatever Dexter does, however, he negotiates that new reality will remain to be seen. It's the very thing that he's trying to put behind him and himself from – his past, his former self."
He continued: "This season more generally, I think it's about that bubbling up. He's reminded that you can't really run away from your past and so I think it will result in a more honest relationship. He'll be required to share some things, as you can imagine. He'll probably be selective with what he reveals, or how he reveals it, or how he manages the fact that she knows that he's pretending to be someone else."
He was able to manipulate Harrison by telling him he simply trying to escape past traumas. Maybe he'll tell Angela something similar.
RELATED: 'Dexter: New Blood' Audrey Theory Explains Her Connection to Edward the Billionaire
Watch the show on Sundays
The synopsis for the next episode also says Dexter will begin to realize "he might not be the only serial killer in town." Viewers know truck stop owner Kurt Caldwell is the man behind the ski mask, but his motives are still unclear.
Hopefully, we'll get more answers next week. Check out Dexter: New Blood at 9 p.m. ET on Sundays on Showtime.