'Dexter: New Blood' Episode 1: Even More Easter Eggs in 'Cold Snap'
Dexter Morgan (Michael C. Hall) is officially back in the building. After the premiere of Dexter: New Blood, fans couldn't stop talking about the callbacks from the original series they found in episode 1, "Cold Snap." We've already talked about a few of the Easter Eggs in Dexter: New Blood, but here are a few more.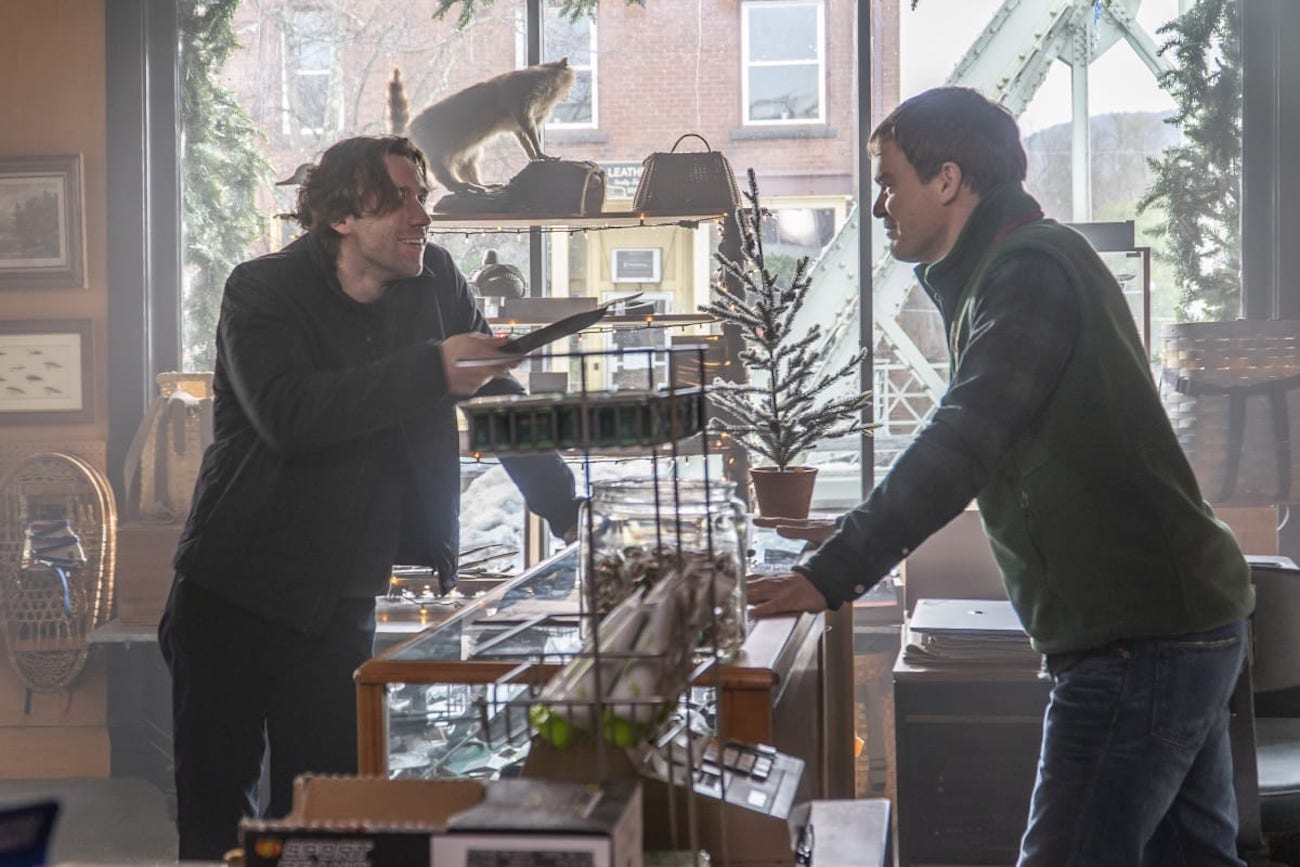 'Dexter: New Blood' Episode 1 puts familiar names to new faces 
As Dexter Daily points out, a few Iron Lake residents have names from Dexter Morgan's past. In "Cold Snap," Dexter, living as Jim Lindsay, greets three high school students. Their names are Becca, Scott, and Zack.
In Dexter, the Trinity Killer (John Lithgow) has a daughter named Becca, and one of his victims is Scott. What's more, Zack is the name of Dexter's protégée in season 8. 
Dexter Morgan is still the doughnut guy 
In the original series, Dexter Morgan was notorious for showing up to the Miami Metro Police Department with a box of doughnuts for his colleagues. It was his way of fitting in. 
Dexter's affinity for breakfast sweets followed him to his new life as Jim Lindsay in Iron Lake. Each morning, he arrives at Fred's Fish and Game store with a box of strawberry doughnuts for his boss, Fred Junior (Michael Cyril Creighton). 
'I haven't killed any animals since I was a teenager'
We meet Matt Caldwell (Steve M. Robertson) in "Cold Snap," Iron Lake's not-so-favorite son. When Matt enters Fred's Fish and Game to buy a $9,000 gun, he asks Jim if he hunts. 
"I haven't killed any animals since I was a teenager," Jim says — a blatant admission to the truth of Dexter Morgan's dark beginnings. Eventually, Dexter's killing evolves from animals to murderers. 
'Dexter: New Blood' Episode 1 crime matches one in 'Dexter'
In "Cold Snap," we learn Matt Caldwell has a checkered past — one worthy of getting him on Dexter's table. As Dexter (operating as Jim still) delivers Matt's gun to his Iron Lake chalet, he learns about the five people Matt killed while drunkenly operating a boat. 
Dexter Daily points out the similarities between Matt's crimes and the crimes of Matt Chambers (Sam Trammell) in Dexter Season 1. In episode 2, "Crocodile Tears," Dexter stalks and kills Matt, who has several drunk driving offenses on his record that lead to multiple deaths. 
'Dexter' title sequence Easter Egg in 'Dexter: New Blood' 
Showrunner Clyde Phillips has talked at length about the original title sequence for Dexter and how it wouldn't fit the story in Dexter: New Blood. However, there was a nod to Dexter's past life and original title sequence by proxy in "Cold Snap." 
In the episode, Jim makes himself breakfast. As Deb (Jennifer Carpenter) reminds him how important it is to stick to a routine, we see Jim preparing ham with hot sauce — his go-to breakfast in the title sequence of the original series. 
Dexter Morgan quotes from 'Dexter' in 'Dexter: New Blood' Episode 1
Throughout "Cold Snap," we see Jim Lindsay grapple with controlling his inner Dexter Morgan. In the first half of the episode, Dexter's internal monologue isn't narrating his actions. But when he ultimately gives in to his impulses, that familiar voice comes back. 
Several familiar Dexter quotes come up in "Cold Snap." After he consciously decides to kill Matt Caldwell, one of the most famous quotes is delivered by Dexter's inner voice. "Tonight's the night," Dexter's dark passenger declares, after lodging a knife in Matt's chest cavity. 
Realizing what he's done, Jim catches a glimpse of himself reflected in broken glass. "Hello Dexter Morgan," he says, a nod to the Trinity Killer piecing together Dexter's identity in season 4. 
There's another callback to Dexter's former life in "Cold Snap." Covered in blood, Dexter gets a call from his girlfriend and Iron Lake Sheriff, Angela (Julia Jones). He answers the phone the same way he did when Rita (Julie Benz) called: "Hey you." 
Watch new episodes of Dexter: New Blood on Showtime Sundays at 9 PM EST.