'Dexter: New Blood' Episode 6 Confirms 1 of Angela's Biggest Fears
Dexter: New Blood had plenty of questions to answer after the end of the original series many years ago. Fans wanted to know what had become of Dexter Morgan and his son Harrison, and they got their answers pretty quickly. However, new mysteries quickly unraveled. A serial killer is loose in Iron Lake and fans want to know why he has such a specific M.O. Ever since her friend Iris disappeared, Chief Angela Bishop has been convinced that something bad happened to her and the other "runaway" girls around Iron Lake. Dexter: New Blood Episode 6 finally confirmed Angela's worst fears.
[Spoiler alert: This article contains spoilers for Dexter: New Blood Episode 6.]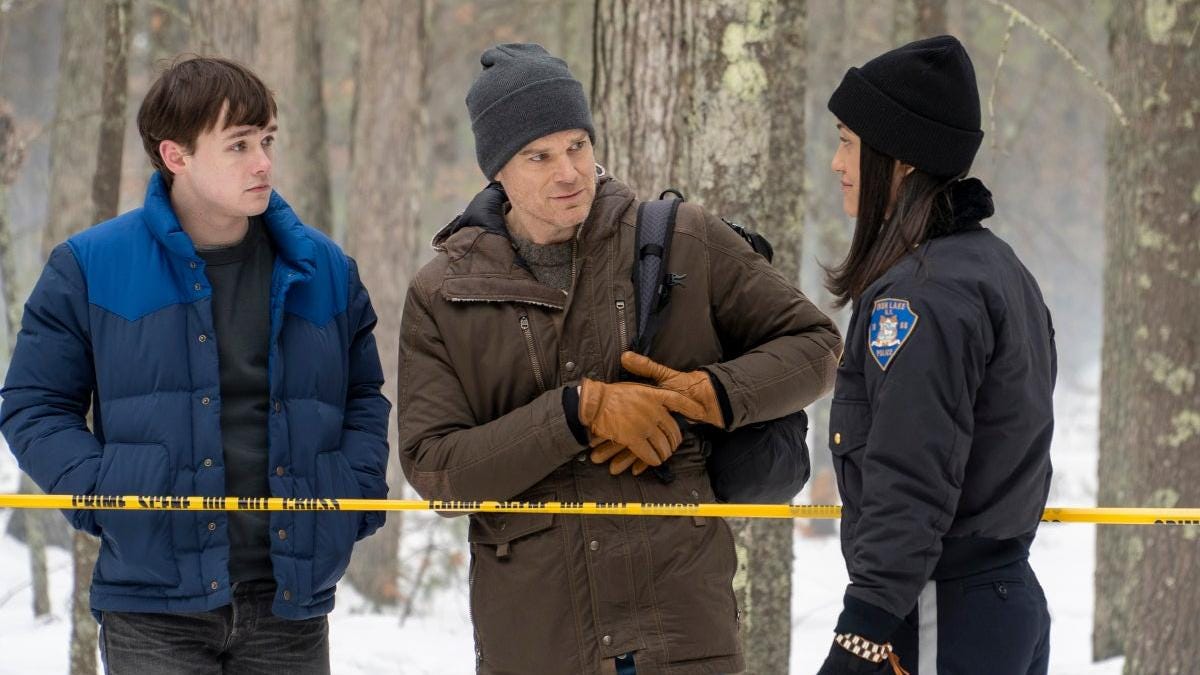 A mysterious masked gunman has been preying on young women in 'Dexter: New Blood'
Many years ago, Angela's best friend Iris went missing from Iron Lake. Ever since then, Angela has been determined to be a different kind of cop. For years she has been diligently investigating young women who have gone missing around Iron Lake. The rest of the town believes that these girls are just runaways, but Angela knows something terrible has happened to them and to Iris.
Unfortunately, Angela is right. Kurt Caldwell has been preying on young homeless or transient girls passing through Iron Lake for quite some time. He lures them into his remote cabin, later releasing them and shooting them as they try to run away.
Episode 6 confirms Angela's fears about her missing friend Iris
Angela has been growing suspicious of Kurt, and her suspicions finally lead her to search deep inside Clarke Caves. There, Angela finds Iris' body after well over a decade. This confirms Angela's fear that something terrible happened to her friend.
In Dexter: New Blood Episode 7, Angela will call on Dexter Morgan's forensics expertise to help her figure out more details about Iris' manner of death. Some fans have speculated that Iris was Kurt's first victim.
At this point, Kurt is probably Angela's main suspect. The promo for episode 7 shows Angela and Dexter breaking into Kurt's cabin and gathering evidence. Kurt is also shown being taken into police custody.
Part of the synopsis for episode 7 on Matt & Jess TV Commentary reads, "Angela arrests someone from Iron Lake who may be the culprit of a cold case that is near and dear to her heart. " It's fair to say that Angela has her sights set straight on Kurt, but is there enough evidence to nab him for his crimes?
What did Kurt do with his other victims in 'Dexter: New Blood'?
So far, Angela has only located Iris' body, but fans know Kurt has many other victims. It's possible that they too could be in the caves, but the series has hinted that if Iris was his first victim, Kurt has evolved since then. One scene in Dexter: New Blood shows someone performing some form of embalming on one of the victims. Fans have a theory that oil tycoon Edward Olsen is involved in some way.
"I think Kurt gives him the bodies, which the guy makes trophies from, namely mounted heads if not entire stuffed bodies," a fan suggested on Reddit. "That's why he was super upset that he shot her [Chloe] in the head." There's definitely a lot more about the murders in Iron Lake that still needs to be explained.
New episodes of Dexter: New Blood air Sunday nights at 9 PM ET on Showtime.
RELATED: 'Dexter: New Blood': Julia Jones 'Made a Point of Being Very Ignorant' For the Sake of Her Character