'Dexter: New Blood' Episode 9 Reveals What Kurt Does With the Bodies of His Victims
Dexter: New Blood revealed the identity of the masked gunman pretty early on in the revival. Viewers have known for a while that Kurt Caldwell is targeting runaways passing through Iron Lake. The series also slowly revealed why Kurt has such a specific M.O. However it wasn't until episode 9 that Dexter fans saw what Kurt does with the bodies of his victims.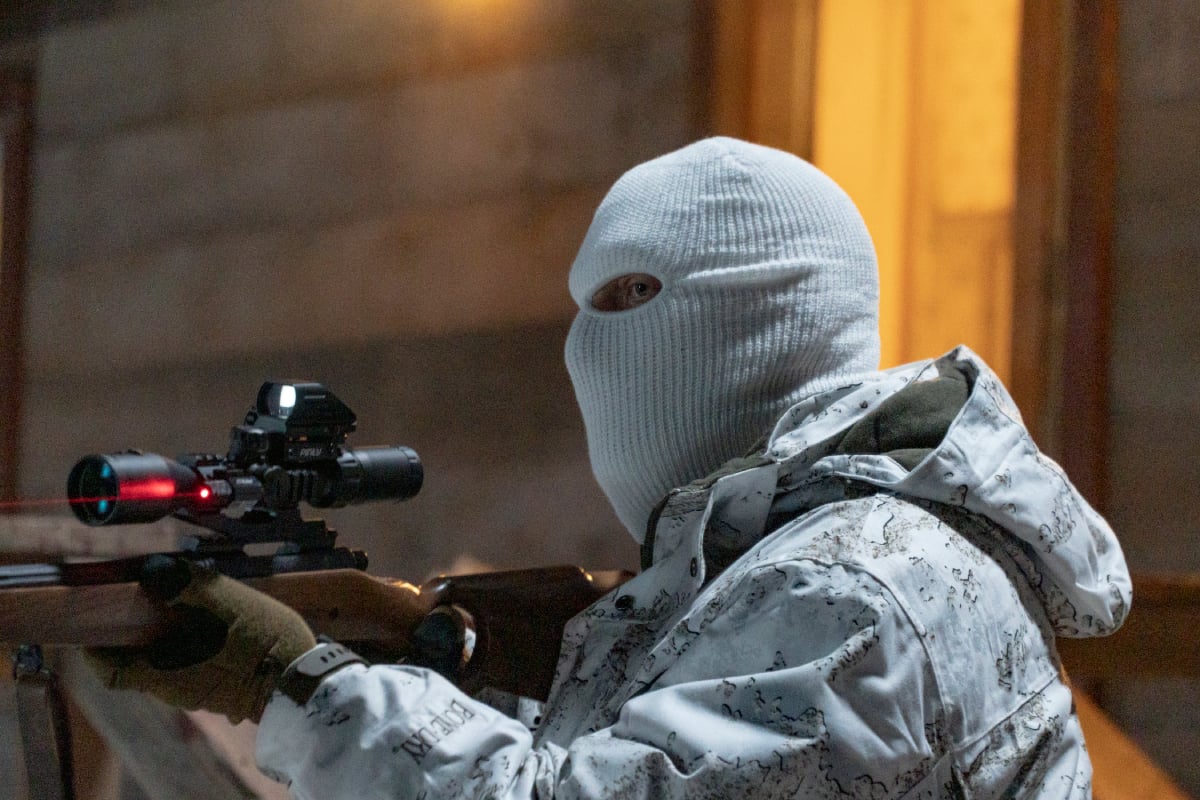 Kurt Caldwell is a serial killer in 'Dexter: New Blood'
Kurt Caldwell is a serial killer preying on young runaway women passing through Iron Lake. He gains the trust of these women by offering them food or money and later imprisons them in his isolated cabin. After a while, he opens the doors to the cabin, and while the imprisoned woman tries to run, he shoots her in the back.
Dexter: New Blood Episode 7 reveals that Kurt's first victim was Angela's old friend Iris. Kurt picked up a runaway Iris to give her a ride. However, a scuffle ensued when Kurt tried to drive her home. Iris bit Kurt and jumped out of the truck. Kurt shot her in the back as she ran away, beginning a kill cycle that he repeated with all of his victims.
What does Kurt do with the bodies of his victims?
Previous episodes of Dexter: New Blood hinted that keeping the faces of his victims intact is very important to Kurt. Episode 9 explained why. Harrison and Dexter find Kurt's "trophy room" with the help of Harrison's drone. Unlike Dexter's blood slides, Kurt keeps very large trophies.
He preserves the bodies of his victims, dresses them all in white, and lines them up on display in an underground room. Notably, Chloe is not present amongst his victims, as she was shot in the eye when Kurt killed her. This finally explains the clip shown of someone cleaning the bodies and draining them of blood.
When Kurt was on Dexter's kill table, he also explained his twisted justification for murdering these women. "I saved them," Kurt said. "They're just runaways. Do you have any idea the trauma that they were gonna go through? I do. I saw it — I saw it first hand, what my dad would do to them."
Kurt's father was a trucker who picked up sex workers and abused them. A very young Kurt witnessed the abuse. "I'd pick them up on the road and I'd take them to my cabin and I'd give them a nice room and a warm meal and safety, but that was never enough for them," Kurt continued. "They always wanted to go back out there, and so I preserved them, kept them safe forever."
Is Kurt Caldwell dead?
Needless to say Dexter didn't buy Kurt's excuses for murdering innocent women. Dexter tells Kurt that his murders were really about power, not saving anyone. Dexter kills Kurt and he and Harrison dispose of his body in the town incinerator.
Although Kurt is out of the picture, Dexter isn't out of the woods. Angela is getting closer and closer to the truth. In Dexter: New Blood Episode 9, someone (presumably Kurt) left her a note that reads, "Jim Lindsay killed Matt Caldwell," along with one of the titanium screws from Matt's leg. Will Angela be the one to take down Dexter?