'Dexter: New Blood' Fans Can't Take Clancy Brown's Character Seriously
Clancy Brown plays Iron Lake's "unofficial mayor" in Dexter: New Blood. But before joining the cast of the Showtime series starring Michael C. Hall and Jennifer Carpenter, Brown lent his voice to dozens of animated characters. After finding out about one of Brown's most beloved character voices, some Dexter: New Blood fans are having trouble taking his villainous side seriously.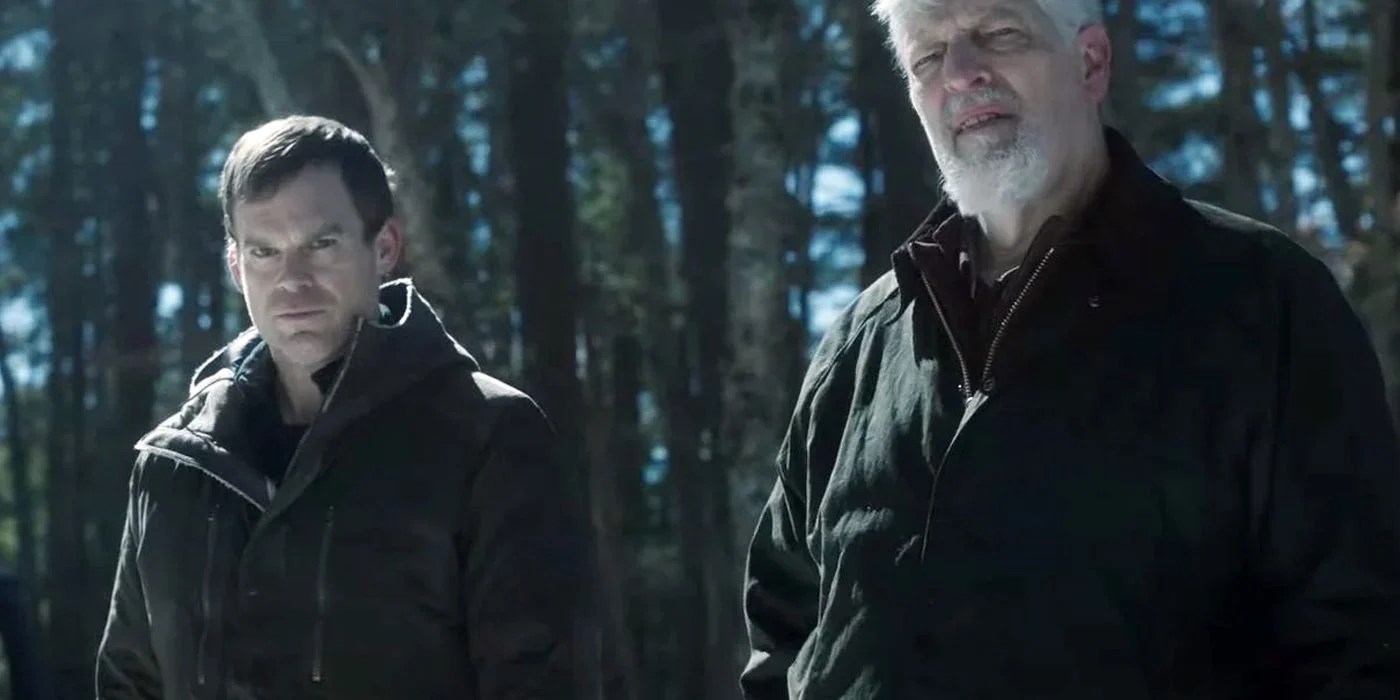 Clancy Brown is the voice of Mr. Krabs in 'Spongebob Squarepants' 
Brown has over 300 acting credits on IMDb. But one of his most notable roles is Mr. Krabs, Spongebob Squarepants' money-loving boss in the animated series. 
Providing the voice for Mr. Krabs is one of Brown's great joys. "It's always fun when Mr. Krabs gets a joke that he gets to tell," Brown told Today in November 2020. "He turns everything into an 'r,' adds an extra syllable-ble-ble or two sometimes into his dialogue." 
'Dexter: New Blood' fans are struggling to take Kurt Caldwell seriously 
Brown first appeared in Dexter: New Blood in episode 2, "Storm of F***." As the father of Dexter's first victim in over 10 years, Matt Caldwell (Steve M. Robertson), Brown's Kurt Caldwell shows up to take the lead in the search to find his son. 
"Can't take this guy seriously when I [know] he's the voice of Mr. [Krabs]," a fan wrote in the Dexter Reddit. "Spongebob me boy, I've committed several felonies," commented another Reddit user. 
"Conversely, anytime I walk into a room and flick on the light, I'm worried Clancy Brown will be standing there with a nightstick ready to beat me into catatonia," writes another. 
"For me, this actor will forever remain the Kurgan from the Highlander movie," another Reddit user says of Brown. "So I'm fine that he's the villain on this show." Many other comments cite Brown's extensive work in voice acting, which includes several iconic roles. 
Characters Clancy Brown voices 
Outside of voicing Spongebob's boss in the Nickelodeon cartoon series, Brown has lent his voice to several other characters. He recently voiced Surtur in the "What If… Thor Were an Only Child?" episode of the Disney+ series What If…?
Brown's work with Disney is extensive, from Mighty Ducks to Kim Possible, Lilo & Stitch: The Series, and beyond. His voice is also featured in the shows mentioned below, among several other animated projects:
American Dad 
A.T.O.M. 
Adventure Time 
All Dogs Go to Heaven: The Series 
All Grown Up! 
Archer 
Avatar: The Last Airbender
Avengers Assemble 
Axe Cop
Batman: The Brave and the Bold
Batman Beyond
Ben 10
Ben & Izzy 
Big Guy and Rusty the Boy Robot
Biker Mice from Mars 
Buzz Lightyear of Star Command 
Catscratch
Cow and Chicken
Duck Dodgers 
Kung Fu Pando: Legends of Awesomeness 
The Penguins of Madagascar 
El Tigre: The Adventures of Manny Rivera 
Extreme Ghostbusters 
G.I. Joe: Renegades
Gargoyles 
Godzilla: The Series 
Green Lantern: The Animated Series 
Heavy Gear
Hey Arnold! 
Histeria! 
Hulk and the Agents of S.M.A.S.H.
Jack Chan Adventures 
Justice League
Mao Mao: Heroes of Pure Heart 
Megas XLR 
Men in Black: The Series
Mortal Kombat 
OK K.O.I Let's Be Heroes 
Pound Puppies 
Rick and Morty 
Samurai Jack 
Scooby-Doo! Mystery Incorporated 
Spider-Man: The New Animated Series 
Star Wars: The Clone Wars and Rebels
Teen Titans 
The Avengers: Earth's Mightiest Heroes
The Batman
The Incredible Hulk 
The Powerpuff Girls
Thundercats 
Wolverine and the X-Men
Young Justice 
Watch Brown in new episodes of Dexter: New Blood airing Sundays at 9 PM ET on Showtime.