'Dexter: New Blood': Images of a Grown Harrison Morgan Emerge, Fans React
When Dexter ended in September 2013, Dexter Morgan (Michael C. Hall) leaves his son, Harrison, in the care of Hannah McKay (Yvonne Strahovski) to start anew as a lumberjack in Oregon. For fans who were disappointed in this conclusion, November 2021 can't come soon enough. Showtime recently released images of Dexter's son Harrison from the forthcoming Dexter: New Blood. Now, Harrison Morgan's role in the reboot is all many fans can talk about. Here's what fans think Harrison's return could mean in Dexter Season 9.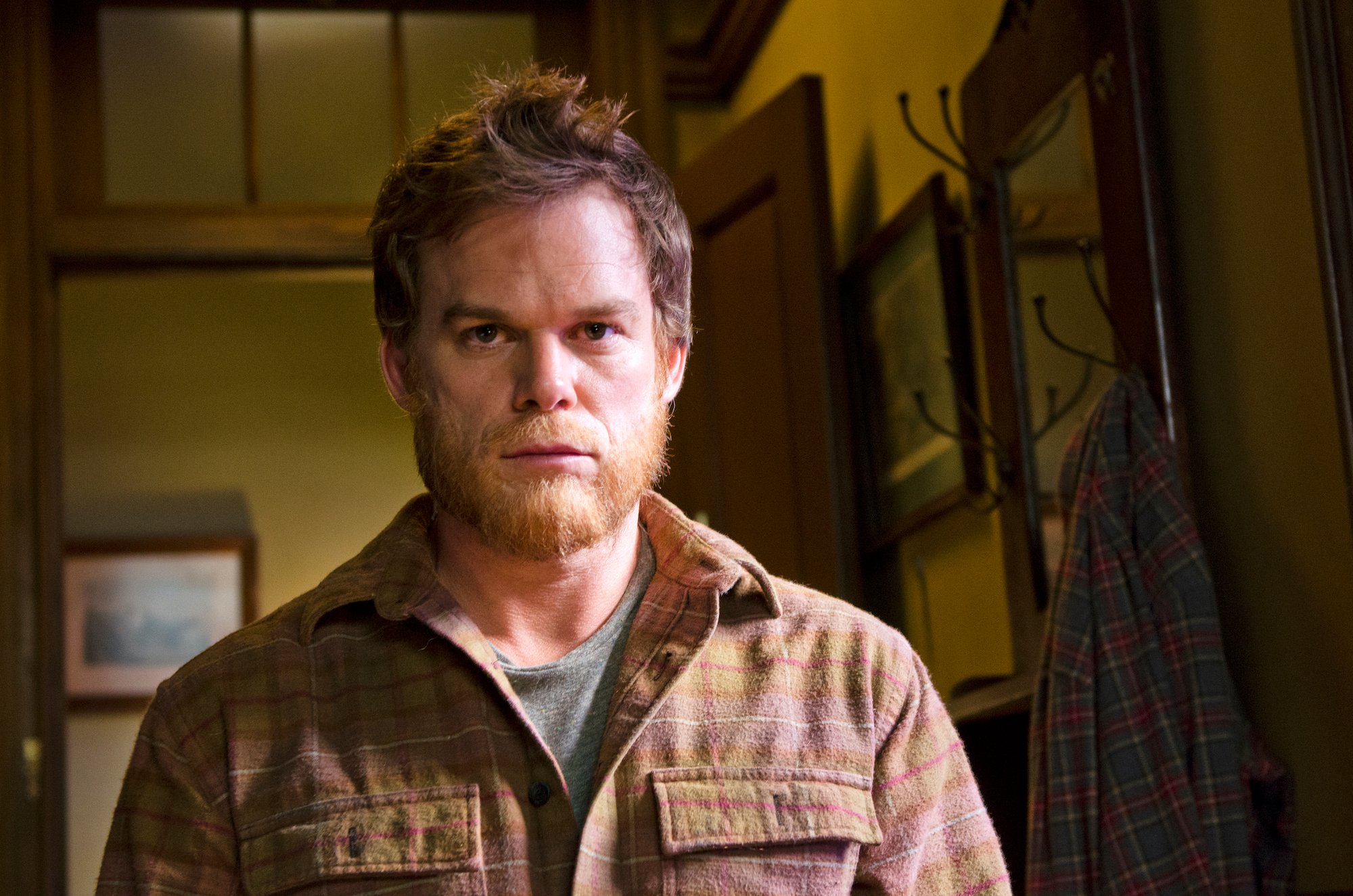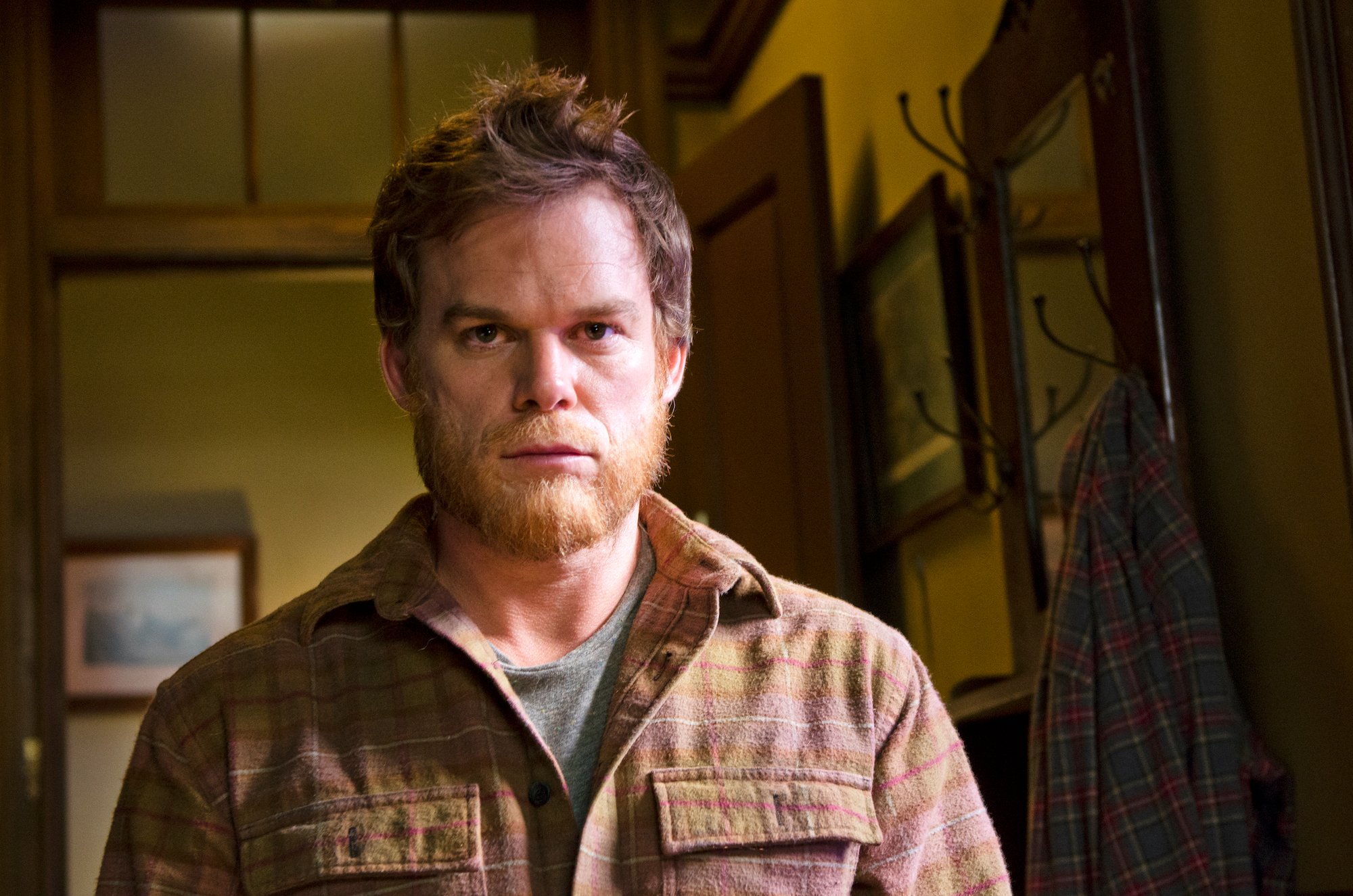 Who is Jack Alcott?
On Aug. 24, Showtime released several teaser images from Dexter: New Blood. "Harrison, is that you?" read a tweet from the network's official account. The image shows Dexter and a grown-up version of his son, Harrison.
Dexter: New Blood's Harrison is played by Jack Alcott. Some fans might recognize him from The Blacklist or The Good Lord Bird. Alcott's IMDb page credits him as "Randall" in New Blood — could this be the alias he's living under in Iron Lake? 
'Dexter: New Blood': How does Harrison Morgan fit in?
After Showtime released the teaser image of Harrison from Dexter: New Blood, fans started speculating about his role. "I guess this is where 'New Blood' takes on a double meaning," one fan wrote on Reddit.
This fan theorizes Harrison might be following in Dexter's footsteps, considering Showtime's reply to the image: "Like father, like son?"Another Reddit user is buying into this theory.
"Harrison is going to kill Dexter for being responsible for Rita's [Julie Benz] death, among many other things," they commented. "[Dexter will] die in the same ritualistic way as all of his victims did. Poetic, full closure for the viewers, and more importantly, high potential for a spin off."
For some Dexter fans, a proper ending to the story would be for Dexter to be killed or caught. Considering showrunners' desire to do right by fans, Dexter's death could be the poetic justice we see in the final chapter of the series. 
'Dexter' Season 9 will be 'entertaining and controversial'
In a teaser for Dexter: New Blood, showrunner Clyde Phillips talks about what fans can expect in the new season. Phillips worked on seasons 1 through 4 of the original series — seasons many fans hold in high regard. 
RELATED: 'Dexter': The Original Title Sequence Was Too Sinister for Showtime
According to Phillips, Dexter: New Blood will be a "completely fresh start" for Dearly Demented Dexter. The show will also take on a "completely new look" with Dexter out of hot, sunny Miami and living in a snowy town in upstate New York. 
What's more, Phillips says fans are going to find Dexter: New Blood "entertaining and controversial." Or as Jennifer Carpenter, who will reprise her role as Debra Morgan, refers to the new season: "a new dream and a new nightmare." At this time, it's unclear what could be controversial about the new episodes — perhaps Dexter does get away with murder, after all.
Overall, Phillips, Hall, and the rest of the people involved in making Dexter: New Blood hope to do right by fans. That includes Showtime's Entertainment President Gary Levine, who refers to Dexter's original ending as "a burr under [his] saddle" (via The Hollywood Reporter).
Fans are excited to move past Dexter's decision to start a new life in Oregon as a lumberjack. Watch Dexter: New Blood on Showtime beginning Nov. 7.