'Dexter: New Blood': Jack Alcott Finally Addresses Harrison Spinoff Possibility
Dexter Morgan's story is finally over, after the conclusion of Dexter: New Blood. But despite it being a limited series, some fans are hoping for more. Even Jack Alcott admits he'd be "down" to continue the TV show, specifically in a Harrison Morgan spinoff. But nothing has been confirmed so far.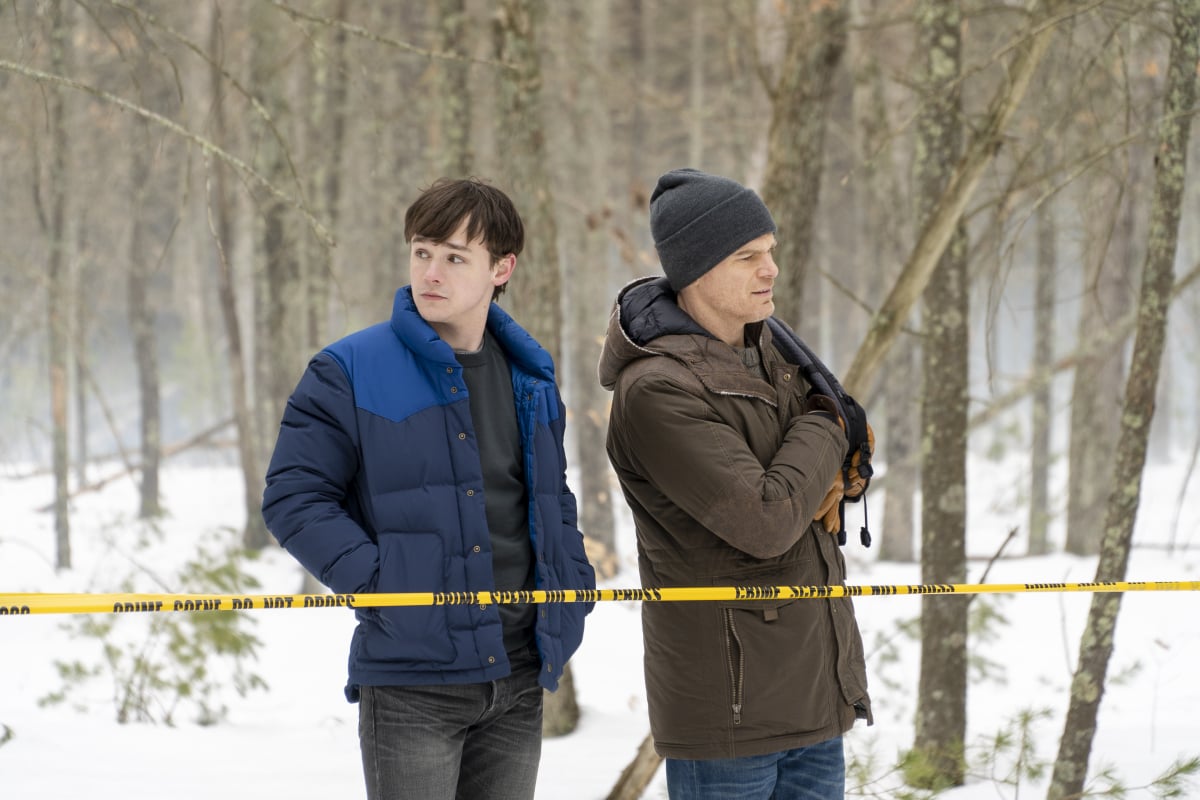 The 'Dexter: New Blood' ending left room to continue the story
Alcott starred in Dexter: New Blood as Harrison, Dexter's son, whom Dexter had abandoned in the original series finale. Dexter had left him with his then-girlfriend, Hannah McKay, before faking his death and fleeing Miami to live an isolated life, away from any temptation to kill.
When Hannah died, Harrison went looking for Dexter. He ultimately found him in Upstate New York, where Dexter had been living as gun shop employee Jim Lindsay. After taking him in, Dexter learned that Harrison had violent urges just like him. As a result, he decided to teach Harrison his code, but Harrison was mortified to find out the extent of Dexter's dark passenger.
The final straw came in the Dexter: New Blood finale when Harrison learned Dexter had murdered his friend, Officer Logan, in an attempt to escape prison. After a heated confrontation, Harrison shot and killed his father before leaving town, assisted by Angela Bishop. The Dexter: New Blood ending means Dexter's story is finally complete, but some viewers have shared their hope for a show continuation, possibly around Harrison.
RELATED: 'Dexter New Blood': What Michael C. Hall Really Thinks of the Finale
Jack Alcott is 'definitely down' for a Harrison spinoff
Asked by Gold Derby about his interest in a possible Harrison spinoff, Alcott jumped at the idea.
"Yeah!" he replied, when asked about whether he'd be open to returning to the role. "Oh my gosh, I mean, that would be… I've never gotten to live in a character this complex for this long. To kind of live in a character for six months — and not only live in a character for six months but to be discovering new pieces about him every day and do something you've never done before and getting further and further mapped out — [I think that'd be great]."
"I love Harrison," he continued. "Like, he's such an interesting character, and there's things I love about him and things that I'm like, Wow, that's just like me. And there's so many things that I'm like, This could not be farther from myself. And I also want to explore that. So yeah, to get the chance to further map this interesting, complex human being out and be on TV, yeah! Oh my God, Showtime, I'm definitely down for that."
Others have also commented on the possibility of a Harrison spinoff
Alcott isn't the only crew member who has shared their interest in a potential Harrison spinoff. The idea has also been endorsed by Dexter: New Blood creator and showrunner Clyde Phillips. But of course, it's Showtime that will have the final say.
In a past interview with The Hollywood Reporter, network executive Gary Levine suggested that it's not off the table, but there aren't any active plans to continue the show either.
"Our goal with 'Dexter: New Blood' was to give the series a proper conclusion and I couldn't be more proud of how it turned out, both creatively and the response to it, which was off the charts," said Levine.
"As you can tell, it was a good amount of closure," he continued. "We accomplished what we hoped to do beyond our wildest dreams. Right now, we are still enjoying the closure of Dexter. It's not uninteresting [to continue it] but you have to be judicious about going on with existing IP vs. creating new IP. We don't do it a whole lot and when we do it, we do it carefully. At this point, I can't say definitively either way about it."
Until then, fans can find Dexter and Dexter: New Blood both streaming now on Showtime.
RELATED: How the 'Dexter: New Blood' Finale Mirrors the Alternate Ending for the Original Series