'Dexter: New Blood' New and Returning Characters Revealed in New Photo
Fans have waited a long time for the return of Dexter. The series first aired in 2006 and featured Michael C. Hall as Dexter Morgan, a forensic analyst for Miami police with a side life as a serial killer. Dexter ran for eight seasons on Showtime before ending in 2013 with a finale that was disappointing to many. But it's coming back in November with a 10-episode limited series.
Titled Dexter: New Blood, the show will begin nearly a decade after what happened in the Dexter series finale, picking up to find the character in hiding. Hall will be joined by mostly new characters, but also a few old ones from the original series.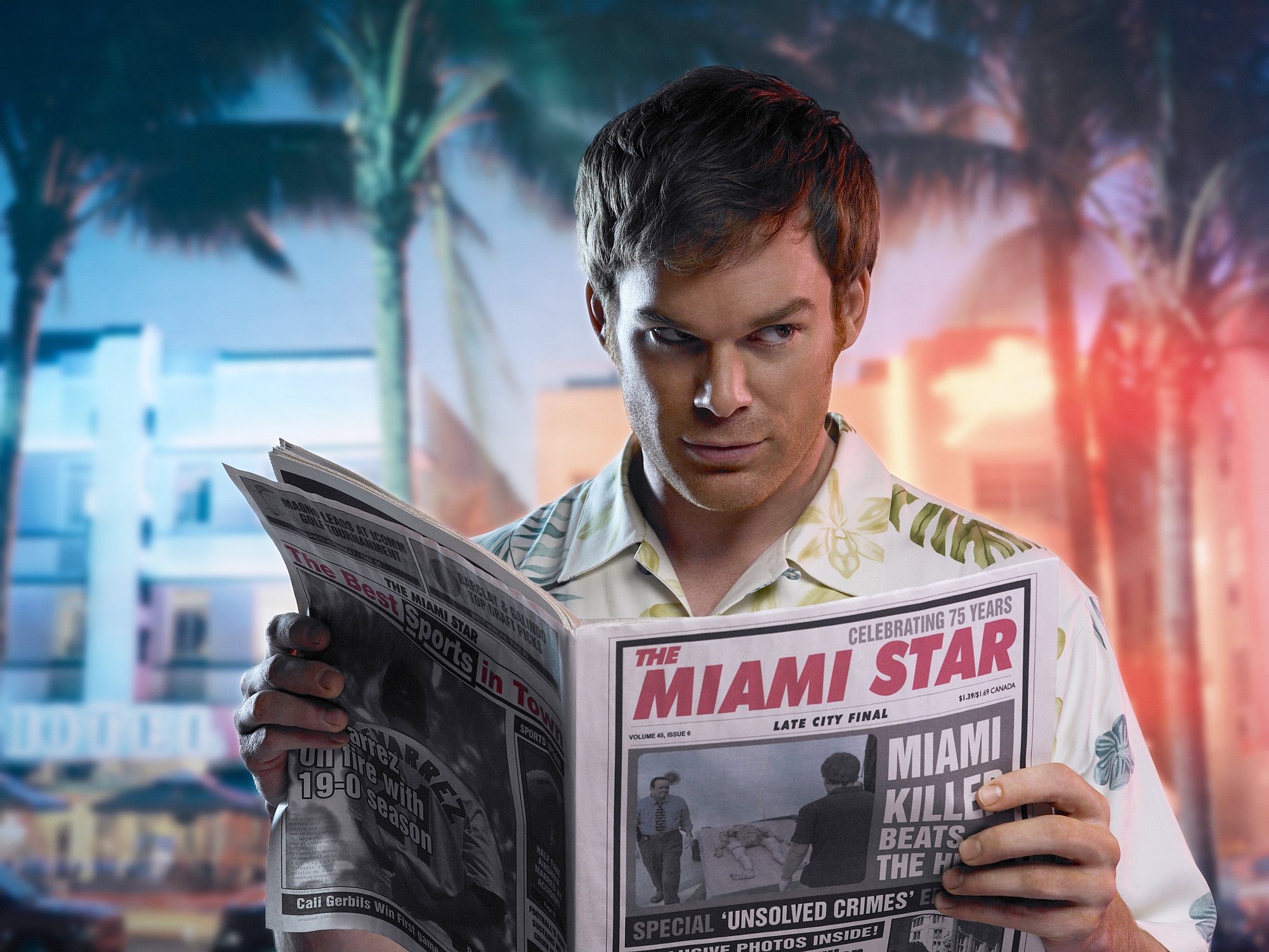 The cast of 'Dexter: New Blood' revealed
Showtime released a new cast photo in October. It shows Hall standing outside of a cabin, surrounded by other actors involved in the revival series. Clancy Brown (Kurt Caldwell), Johnny Sequoyah (Audrey Bishop), Jack Alcott (Harrison Morgan), Alano Miller (Logan), Julia Jones (Angela Bishop), and Jennifer Carpenter (Debra Morgan) can all be seen in the picture, which was shared on Comic Book's website. See it here.
The cast of the Dexter revival will also include John Lithgow, Jamie Chung, Oscar Wahlberg, and Michael Cyril Creighton. Showrunner Clyde Phillips has teased the return of a character from Dexter's time at the Miami Metro Police Department too, but viewers will have to wait to find out who it is.
What is 'Dexter: New Blood' about?
The last time viewers saw Dexter, he had fled Miami to live in isolation in the Oregon wilderness. However, he wound up moving again — this time to the fictional Iron Lake, New York. Located up north, Iron Lake has been described by Phillips as a remote small town with a population of fewer than 3,000 people.
Dexter has been on his best behavior over the years and has a decent life with a job and a girlfriend, police chief Angela Bishop. But certain events will reawaken his dark passenger.
"Dexter always has what we call 'the dark passenger' living inside him," Phillips told TV Insider when discussing the revival. "He is more grounded than he's ever been, but that dark passenger is a voice he cannot deny. This is Dexter. People are going to die."
It's bad timing because Dexter's son, Harrison Morgan, has just shown up. Fans will recall that Dexter left Harrison behind before faking his death, but somehow he found him. The official trailer for the Dexter revival offers a quick look at their reunion, which Alcott says is "heartbreaking."
The actor told Entertainment Weekly: "What I can say is that Harrison has had a really rough time for the past eight years. Like, it's not been great." 
"He learns that his dad is not dead and goes to find him," he continued. "That's what you see for the first two-thirds of the season, sort of intermittent sprinklings of me, this mystery stalker. It's me following him, trying to confirm his identity. I'm finally able to see him and confront him. It's just a heartbreaking scene and a really fun one to film."
Watch the revival this fall
The series will return to Showtime at 9 p.m. ET on Sunday, Nov. 7. Showtime has not said if there are plans for another season, but Hall hasn't ruled it out.
"I'm reluctant to say 'definitely', you know?" he told NME when asked whether Dexter: New Blood would mark the end of the show. "Let's see. What's plain now is that there's 10 new episodes."