'Dexter: New Blood' Star Julia Jones Talks Her Role as Dexter's Girlfriend
Showtime confirmed earlier this year that Julia Jones had been cast in the Dexter revival, Dexter: New Blood. The actor, perhaps best known for her role in the HBO show Westworld, is one of several new actors joining the series, which will pick up on Dexter Morgan's life a decade after he fled Miami and went into hiding. Jones spoke more in an interview about her role in Dexter: New Blood, where she'll play his girlfriend Angela Bishop.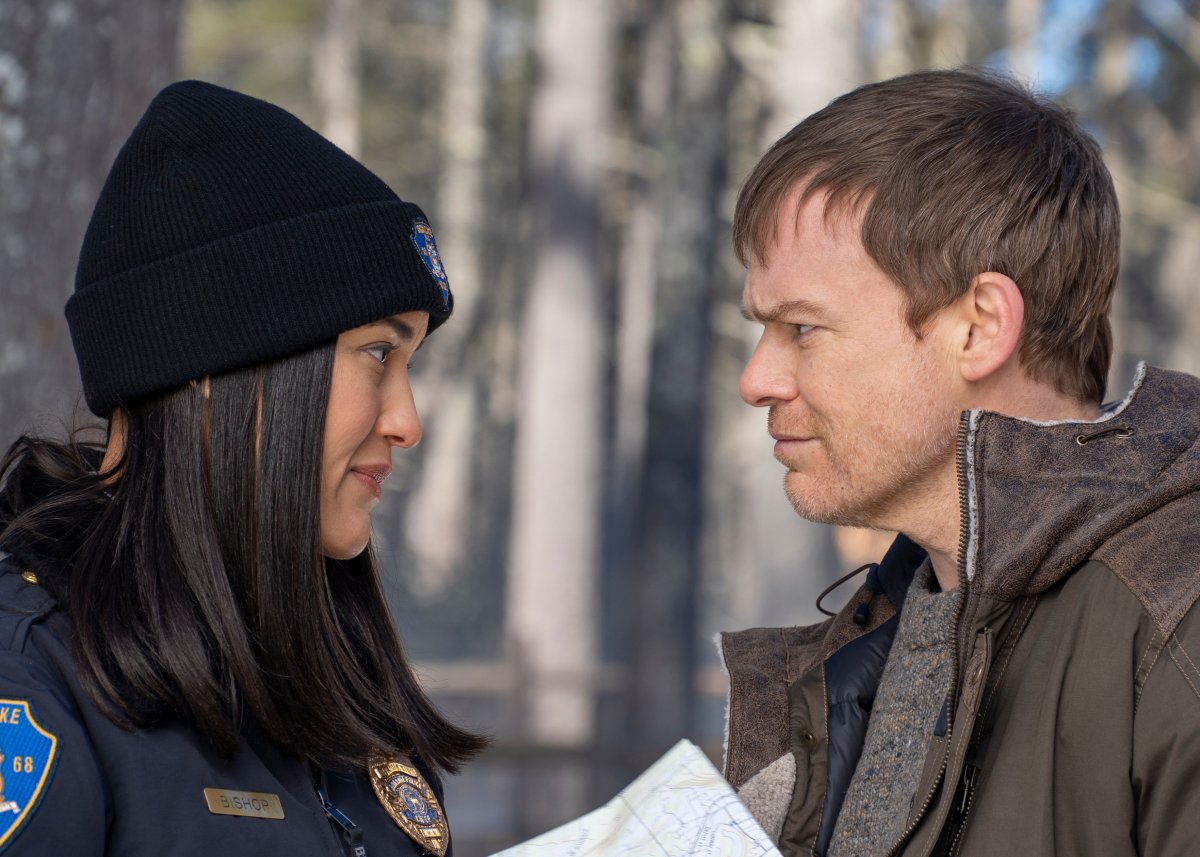 'Dexter' was a top Showtime series
The original series kicked off in 2006 and followed Dexter Morgan (Michael C. Hall), a lab technician for the Miami Metro Police Department living a double life as a serial killer. He followed a "code" where he would only murder criminals who had escaped legal repercussions, killing well over 100 people throughout his life.
Dexter was one of Showtime's most popular series, winning acclaim from critics and many awards throughout its run. But it has one of the worst-rated series finales ever, ending in 2013 with Dexter faking his death and going into hiding. The last time viewers saw him, he had become a lumberjack in Oregon.
Showtime will bring back the series in 2021. Picking up almost a decade after those events, the show will find Dexter in the fictional Iron Lake, New York, a remote place with a population of under 3,000 people. He lives a normal life under the name Jim Lindsay with his girlfriend Angela, who happens to work for the local police department.
RELATED: 'Dexter' Star Hints the Revival Is Inspired by Alternate Ending Idea
Julia Jones on her role in the 'Dexter' revival
Jones told Gio Journal that she had never actually seen the original series before being cast in the revival. "I had heard wonderful things about the show but had never seen it," she admitted. "I actually decided not to watch it before we started filming but as soon as we wrapped, I binged all 8 seasons."
Jones said she was attracted to the revival after seeing the scripts, describing them as "dark and fun."
"I didn't have to read [for the show]," she explained. "They sent me a number of scripts, which were page-turners – very smart and dark and fun. There was talk of doing a chemistry test with Michael, but ultimately they just wound up offering it to me."
RELATED: 'Dexter': Everything the Original Cast Members Have Said About the Revival
Jones also talked about how she prepared for the show, which has been in the works since 2019, according to showrunner Clyde Phillips.
"My process [of preparing and researching the role] was very different on this because of the way the season was shot," she shared.
"It's 10 episodes, so approximately 600 pages of material, all of which we filmed as if it were one 10 hour movie," she continued. "We also shot all of the exteriors first because it was winter and we needed the snow. This meant that within the first few weeks of shooting we were filming scenes that happened at the very end of the last episode."
"The majority of my preparation for Dexter was just reading the scripts over and over and over again," Jones added. "Getting it in you and trusting that it would come together and that you would be prepared."
The revival will see her character on a 'journey' with Dexter
As far as her character and her relationship with Dexter, Jones said at Comic-Con 2021 that have a longstanding "romantic connection."
"They are together, I would say, for sure. And they definitely have a journey," she teased, making sure to choose her words carefully.
Phillips added that Dexter would use her to gain "access to certain pieces of information that an ordinary citizen would not be able to get" — because he's, of course, going to be killing again.
Fans will be able to see it all play out when the show premieres. Catch it on Showtime at 9 p.m. ET on Sunday, Nov. 7.