'Dexter': The Original Theme Song Music Was Shockingly Upbeat
Dexter Morgan (Michael C. Hall) will return to Showtime in new episodes sometime this fall. Until then, many fans are rewatching all eight seasons of the Showtime series.
Some fans might not know the title sequence of Dexter almost had a very different sound than the iconic show-opener we know and love. That's largely due to the upbeat song showrunners initially chose.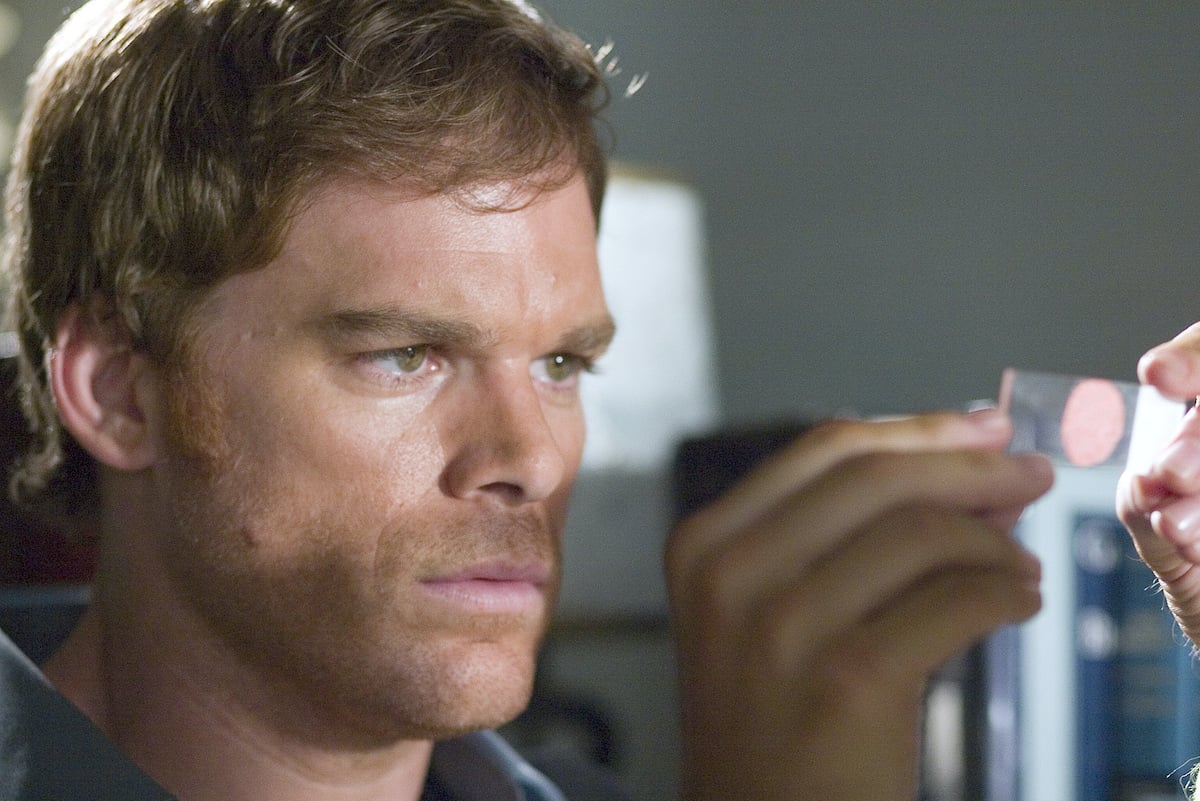 'Dexter' intro music was originally very upbeat
According to Art of the Title, the music showrunners originally wanted for Dexter's intro is called "Miami Beach Rhumba" by Xavier Cugat. The number is exciting and reminiscent of much of the Miami inspired music used throughout the series. 
Considering how Dexter takes place in an area influenced by Cuban culture, most of the show's music isn't surprising. After all, a serial killer slicing his victims to a Rhumba song has an ironic quality to it.
Still, while much of the music featured in episodes of Dexter is surprisingly happy, the title sequence needed a song that would set the tone for the entire series. After deciding Cugat's song was too upbeat, showrunners pivoted. 
'Dexter's intro song was almost music by Bernard Herrmann 
Bernard Herrmann is a composer who is often recognized for his work with Alfred Hitchcock. Herrmann's dark, suspenseful music is featured in movies like Psycho and Orson Welles Citizen Kane. 
Working with Herrmann's shrill and suspenseful music, the original title sequence had a darker quality to it. Ultimately, showrunners felt the initial title sequence for Dexter may have left a different impression on fans.
'Dexter' intro meaning
In the show's title sequence, we see Dexter Morgan's morning routine unfold. Not only does this remind viewers how Dexter is a human being living under the guise of an everyday life, but the title sequence uses mundane imagery to describe what viewers are about to witness.
"[Dexter's creators] kept using the word 'mundane' over and over," Eric S. Anderson, who oversaw the Dexter title sequence, told Paste Magazine. "They liked Six Feet Under and Nip/Tuck for how mundanely both titles dealt with what could have been a visually hyperbolized depiction of each show's subject matter."
Rolfe Kent created the music for 'Dexter's intro'
When Anderson first heard the music by Rolfe Kent, he thought Dexter showrunners were kidding. "I played it and thought they were insane," he told Art of the Title. "I actually flipped out because I was so invested into the [Herrmann-inspired] track I had been cutting to." 
After a few hours toying with the requested music, something clicked. "They were so right, and I was incredibly off base," Anderson continued. "The new track created a push-pull with the imagery; it set something grotesque in a completely humorous light. I loved how the instrumentation was loose and cabaret-esque."
That cabaret quality makes the title sequence of Dexter all the more creepy for many fans. But for Hall, there's one thing about the title that eats away at him. 
RELATED: 'Dexter': 1 Cast Member Confirms They Won't Return in Season 9
As Anderson described to the New York Times, Hall doesn't like the idea of Dexter cutting himself shaving in the title sequence. "The worst thing he would do is draw his own blood," Anderson recalls the actor saying.
"Michael's an intense guy," Anderson added. "He's looking me in the eyes, saying, 'I don't get this shaving thing.' To me, honestly, he was Dexter." 
Regardless of Hall's feedback, showrunners kept the shaving accident in the title sequence. With new episodes of Dexter on the horizon, many fans can't help but wonder — will the same title sequence be used for Dexter Season 9? Or will we get to see Dexter Morgan's new morning routine?