'Dexter' Revival: Fans Want Season 9 to Open With This Iconic Phrase
For 'Dexter' fans, there's only one acceptable line for the reboot to open with.
Now that Dexter is returning to television this fall, all many fans can talk about are who will return from the original and what season 9's plot will look like. The Showtime series follows Dexter Morgan (Michael C. Hall), a blood splatter analyst moonlighting as a serial killer who delivers some iconic one-liners through an internal monologue. Some fans are focused on one of Dexter's most iconic lines from the show and hoping the Dexter reboot will open with it.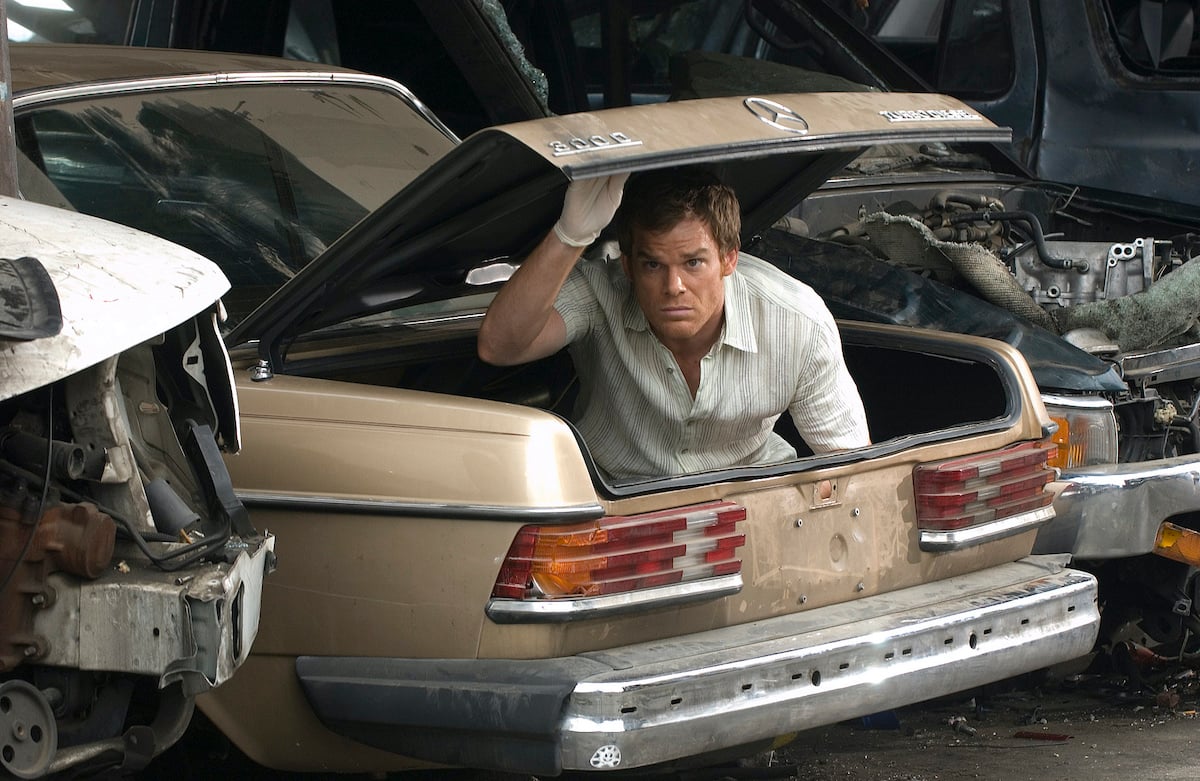 'Dexter' TV series memorable quotes 
The characters in Dexter were unforgettable in many ways, but they've been memorialized thanks to their quotable lines. Take Debra Morgan (Jennifer Carpenter), for instance.
In any given episode, Deb's harsh language is good for a laugh. Lines like "Sh*t a brick and f*ck me with it" always keep fans entertained. 
Outside of the incredible amount of times Deb Morgan says "f*ck" in the series, other Dexter characters deliver quotes that have stuck with fans. Sergeant James Doakes (Erik King) became known for his "Surprise, Motherf*cker!" And Vince Masuka (C.S. Lee) is guaranteed to deliver a perverted sort of quote in any given episode.
Dexter Morgan quotes 
As a serial killer who works for the Miami Metro Police Department, Dexter is a wolf in sheep's clothing. Both the books by Jeff Lindsay and the Showtime series rely on the voice in Dexter Morgan's head to tell a lot of the story. As it turns out, that voice is pretty hilarious. 
Dexter's internal monologue has given fans many iconic quotes. From "I love Halloween — the one time of year when everyone wears a mask, not just me" to "If you believe that God makes miracles, you have to wonder if Satan has a few up his sleeve," Dexter's internal thoughts are often dripping with sarcasm.
Sometimes, Dexter's internal monologue is incredibly ironic. "Blood. Sometimes it sets my teeth on edge; other times it helps me control the chaos." Other times, his thoughts are dark and demented. "If home is where the heart is, where do you go when you don't have a heart?"
Dexter Morgan's most memorable quote is delivered in the very first episode of the series. "Tonight's the night," Dexter begins. "It's going to happen again and again. It has to happen." Now, many fans want the Dexter revival to open with that same iconic line. 
'Dexter' reboot should start with Dexter Morgan's famous quote 
Hall, Clyde Phillips, and the new additions to the cast have already begun filming season 9 of Dexter. Showtime has yet to share an official release date. Still, many fans have already started speculating about what will happen in the Dexter reboot, including how the first episode will begin. 
"I hope the revival starts with this," a fan said on Reddit. Their post included a screengrab from the first season of Dexter, including the text of his iconic phrase. 
Most fans agree that the Dexter reboot will start with those famous words. Some fans are even confident that's the way season 9 will open. "It almost certainly will," another Dexter fan commented.
Fans will have to wait until this fall to find out. Stay tuned to Showbiz Cheat Sheet for updates on the Dexter revival.