Did Alex O'Loughlin Quit 'Hawaii Five-0'? Showrunner Peter Lenkov Addresses the Rumors
After a decade on the air, Hawaii Five-0 is about to sign off for the final time. The last-ever episode of the CBS cop drama airs Friday, April 3.
The end of the show came as a surprise to fans, who reacted with shock and dismay when they learned in late February it had been canceled. Many wondered why the series was coming to an end. After all, it had solid (though not necessarily spectacular) ratings, attracting about 7 million viewers per episode. Now, in an interview with TVLine, showrunner Peter Lenkov is offering some insight into the reason for the cancellation, including the role one of the show's stars may have played in the decision.     
Alex O'Loughlin thought about leaving 'Hawaii Five-0' years ago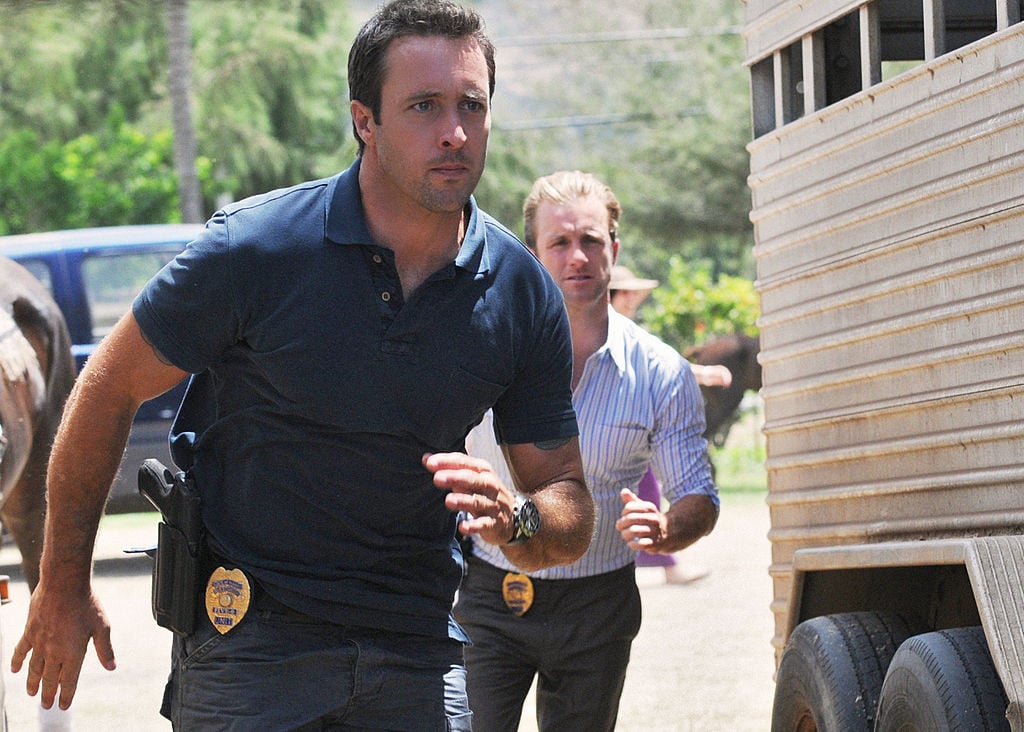 Rumors had long swirled that star Alex O'Loughlin, who plays Steve McGarrett, was considering exiting the show. The actor suffered a back injury while working on Hawaii Five-0 several years ago that made him question whether he could continue working.  
"The spinal injury I had, like even two years ago I could still barely move," he told Entertainment Weekly in 2018. "It was just impossible. I was like, 'There's no way I can keep working like this. I can't force that at all.'" 
A stem cell treatment and rehab eventually got the actor back on his feet. He also told TVLine that he felt a responsibility to all the people who work on the show. 
"[W]e keep so many people employed in Hawaii who might otherwise be stacking boxes at a grocery mart," he said in a 2018 interview. "It's hard to get work out here and this feeds a lot of families, so it's a really good thing. It's really, really important."
O'Loughlin 'wanted this to be his last year,' Lenkov says
Though O'Loughlin returned to Hawaii Five-0, it wasn't clear how much longer he'd be able to continue in his highly physical role as McGarrett. Though he agreed to a one-year contract extension in May 2019, the future beyond that was uncertain. 
"I believe Alex wanted this to be his last year," Lenkov told TVLine. "He didn't have a contract… but he didn't have one last year either, and a deal was made to extend one year at the last minute, right before Upfronts. If the studio had wanted to bring back the show for Season 11, I have to believe they would have tried to get Alex to stay. But it's now moot."
It was the 'right time' to end the show 
While the show's star was clearly hesitant to return, it sounds like that wasn't the only reason the show was canceled, though Lenkov didn't get into specifics. 
"I think the network just thought it was a good time" to end the show, he said. "There are so many different things that factor into this — economics, everything — and I think they felt it was the right time."
Lenkov also said that he was always prepared for the show to end, so turning the season 10 finale into the series finale was not an issue. He revealed few details about what to expect from the last episode, but he did tease flashback scenes involving the characters Wo Fat and Victor Hesse, which will tie into the show's pilot episode.  
Most important, the final Hawaii Five-0 installment, titled "Aloha," will deliver what fans love about the series, as well as some special moments.
"It's got big action," Lenkov said. "[I]t's got some big surprises and twists, but most of all the thing is really rooted in heart, which has been a big ingredient that has played in this show since the beginning."