Did Halsey and Evan Peters Purposely Cause a Scene With Photos That Fueled Pregnancy Rumors?
Halsey and Evan Peters just sparked pregnancy rumors with photos caught by the press -- but could they have done it on purpose?
Halsey's been on our radar as an artist to watch for years, as her edgy style, deeply troubling back story, and incredible voice give her depth few other pop artists have. And while we're invested in her music, we're also deeply interested in her personal life. Halsey's known for collaborating with some of her superstar partners, like Yungblud and G-Eazy. But now, it looks like she's finally going out with her Hollywood crush, Evan Peters.
Peters and Halsey have made their relationship public. And recently, they fueled pregnancy rumors by gesturing over Halsey's belly right in front of the paparazzi. Could this have been on purpose? Here's what we know.
Halsey and Evan Peters have been seeing each other since summer 2019
Evan Peters and Emma Roberts had an on-again, off-again relationship for seven years that resulted in engagement before they called it quits altogether. And it wasn't long before Peters moved on with Halsey. According to Cosmopolitan, the two were spotted spending time together at Six Flags Magic Mountain on Sept. 21. And a source told Us Weekly that they had been an item "for several weeks" before that date, too.
It seems the couple started to show even more PDA in October, too. Not only did Halsey prove they were together after posting a photo to Instagram of her and Peters on Halloween, but Us Weekly reports they were also spotted looking cozy on dates together.
"They definitely looked like a couple. They were eating together and Halsey was laughing throughout their lunch. When they walked out of the restaurant they were hugging each other," a source told Us Weekly.
We can't forget that Halsey has had a crush on Peters since 2012, too, as she tweeted about her love from him when he appeared on American Horror Story.
Many suspected Halsey was pregnant after recent photos were released
Halsey's made it known she wants to be a mother, but no one would expect she'd have kids with Peters this early on in their relationship. With that said, the paparazzi took some photos of the two of them that had fans speculating. The Blast notes Peters and Halsey were caught holding Halsey's belly in mid-November. And since Halsey was wearing a loose-fitting jumpsuit in the photo, this caused even more speculation that perhaps she's with child.
Halsey took to Twitter to dispell the rumors, however. "Still not pregnant. Still just allergic to gluten. Still love pancakes," she tweeted. After that, she tweeted again, "Is it a boy? Is it a girl? It's pancakes."
Did these two purposely cause a scene?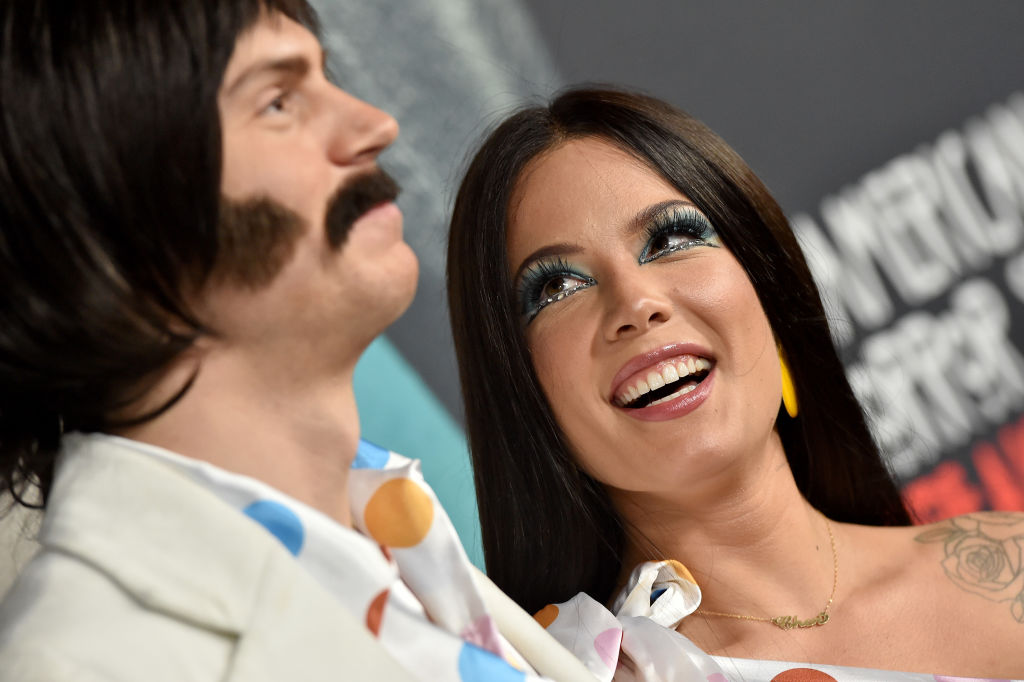 Fans commented on Halsey's tweets about the pancakes and expressed how they wished other publications would mind their own business when it came to her life and her body.
As one fan commented, "still waiting for the day when people *aHEM tmz* will mind their own business."
Another wrote, "figured it was just a food baby or something lol i always have to rub my belly after a big meal."
Others suspect Peters and Halsey knew exactly what the photos would look like, however, and that they might've been having some fun with the cameras. An insider told Page Six, "Halsey is just being cute and provocative. That's her game." And it isn't the first time she's put on a scene, as she was also allegedly all over Evans in front of Roberts at an American Horror Story party.
Whether Halsey and Peters were putting on a show or not, they certainly got attention for it. We'll have to see how their relationship progresses from here!
Check out Showbiz Cheat Sheet on Facebook!