Did Jason Sudeikis' Date His Co-Star Keeley from 'Ted Lasso'?
Jason Sudeikis and Olivia Wilde announced their split in late 2020 after nine years together. Almost immediately, the Ted Lasso star and House alum moved on to new partners. Wilde became romantically involved with Harry Styles, while Sudeikis briefly dated his co-star Keeley Hazell. Was she the same Keeley from Ted Lasso?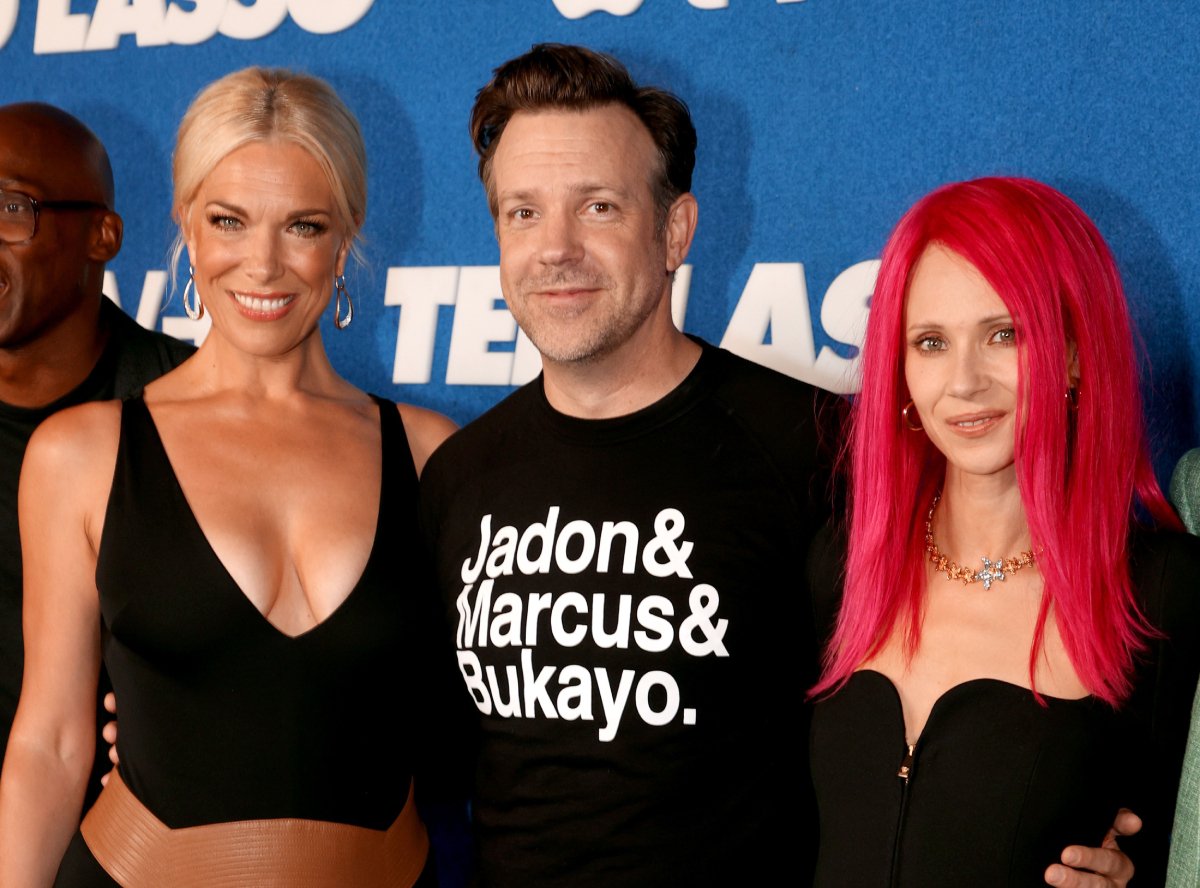 Olivia Wilde inspired Jason Sudeikis to turn 'Ted Lasso' into a TV show
Wilde and Sudeikis met in 2011 at a Saturday Night Live after party, and by 2013 they were engaged. Around that same time, Sudeikis began starring as the character Ted Lasso in a series of commercials to promote NBC Sports' coverage of the Premier League.
Sudeikis recently told GQ that it was Wilde who inspired him to develop a TV series based on that character and those commercials. He said that one night during dinner in 2014 or 2015 she told him, "'you should do it as a show."
Who was the inspiration behind Keeley Hazell?
When Sudeikis was developing the series, he created the scene-stealing character of Keeley Jones. According to the actor who plays the part — Juno Temple — Sudeikis found inspiration from his longtime friend, Keeley Hazell.
"She is a [friend] of Jason [Sudeikis'] that inspired some of Keeley's character," Temple explained to Entertainment Tonight. "She was an inspiration for the part."
Jason Sudeikis didn't date Keeley from 'Ted Lasso'
This does get a bit confusing, but we will break it down a little more. Sudeikis has been friends with model/actor Keeley Hazell for years. But she doesn't play Keeley on Ted Lasso. As we explained, that role is played by Temple.
However, Hazell did appear in season 1 of Ted Lasso as Bex. Hazell's character first appeared in the episode "For the Children" as Jamie Tartt's (Phil Dunster) second date. His first date of the evening was Keeley Jones.
Later in the season, Bex got engaged to Rebecca Welton's (Hannah Waddingham) ex-husband, Rupert (Anthony Head). Later, she became romantically involved with Tartt, who's also Jones' ex.
The 'Ted Lasso' co-stars are no longer an item
According to E! News, Sudeikis and Hazell are "longtime friends" and they did date after his split from Wilde. However, insiders say they are no longer dating and they were "never in a serious relationship."
Sources say that Sudeikis and Hazell spent time together in the UK this past spring while he filmed season 2 of Ted Lasso. One insider explained that Sudeikis enjoyed spending time with Hazell because they were "able to make each other laugh."
"He was working and she was very supportive," the source dished. "He had been through a rough time in his life and she was there for him."
Sudeikis is now officially single, but he has been spotted out and about with friends recently. Including model Irina Shayk. However, there's no evidence that the two are more than friends.
Will Keeley Hazell be in season 2 of 'Ted Lasso' with Jason Sudeikis?
Hazell has yet to appear in season 2 of Ted Lasso, but that doesn't mean fans won't see her again at some point. At the Ted Lasso season 2 premiere, Sudeikis explained that anyone who appeared in the first season will probably be back.
"Anybody who shows up in season one, they are in the universe," Sudeikis said. "Much like life, you have the tendency to bump into people that you didn't think you were going to see again, and then, lo and behold, they show up on your doorstep sometimes."
Season 1 of Ted Lasso is now streaming on Apple TV+, with new season 2 episodes dropping every Friday.
RELATED: Jason Sudeikis Goes Public With His 'Ted Lasso' Co-star Amid Reports Olivia Wilde's Relationship With Harry Styles is Deepening