Did Kelly Clarkson and 'American Idol' Runner-Up Justin Guarini Ever Date in Real Life?
During the first season of American Idol, many were convinced that top contenders Kelly Clarkson and Justin Guarini were dating. Though they were competing against each other for the crown, fans could sense a spark between the aspiring singers but never received confirmation of whether the two were actually an item.
So did Clarkson and Guarini date in real life? Keep on reading to find out.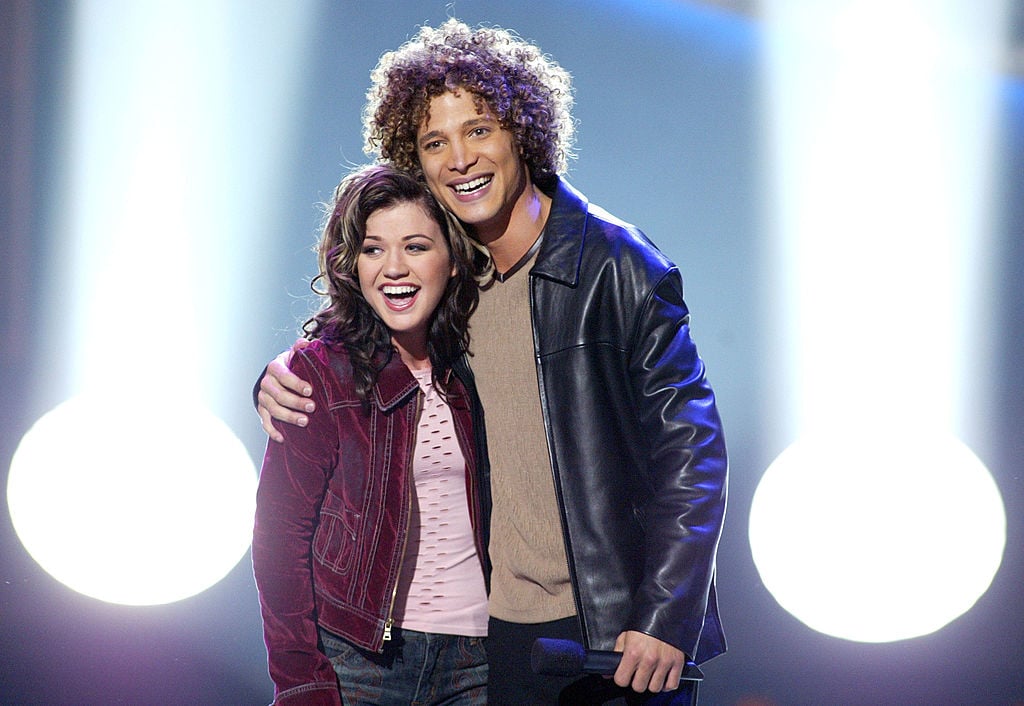 Justin Guarini revealed he and Kelly Clarkson previously dated
After spending years convinced Clarkson and Guarini dated during their American Idol days, it turns out that we were right. Well, sort of.
In 2014, Guarini confirmed during his one-man stage show "Lovesick" that he and Clarkson did indeed have a fling. Just not during American Idol.
While onstage, the singer shared that his and the Grammy winner's romance started on the set of their 2003 musical rom-com From Justin to Kelly.
Unfortunately, the pair's relationship didn't last very long due to Clarkson's career taking off.
Before confirming their short-lived romance, Guarini played coyed when discussing their relationship with Yahoo in 2012.
"Yeah, there was a rumor, definitely. We've just always been such good friends," he said. "Um, man, it was weird; she was like my sister on the show, and then you know, we made a movie together…I'd say, we had a good time. Yeah."
A year after the "Get There" crooner confirmed their apparent fling, Clarkson also confirmed they'd previously dated while appearing on an episode of Watch What Happens Live with Andy Cohen.
RELATED: Why Kelly Clarkson Stopped Acting for Years After Her Debut
"We didn't date during Idol, which everybody thought we were dating. We did date during…I feel like we weren't dating during the movie. But I feel like maybe we did. We did date a little bit," the pop star explained to Cohen. "I think any two people who are thrown together that much [would eventually date]. 'Timeless,' you put that song on From Justin to Kelly—you can't fight it!"
Justin Guarini and Kelly Clarkson have since found love with other people
Though Guarini expressed his apparent heartbreak over his split from Clarkson during his one-man show, their breakup is now a thing in the past as he's currently married and has two children with his wife of almost 11 years, Reina Capodici.
As for Clarkson, she's had a few short-lived flings throughout the years but had never seriously dated anyone until she met her now soon-to-be ex-husband Brandon Blackstock.
The couple first met backstage at the American Country Music Awards in 2006. Though the singer instantly felt a connection, she didn't act on her feelings until she and the producer reconnected at the Super Bowl in 2012.
"I've only had three other boyfriends that I dated, and not really seriously," she explained to People in 2013. "This guy walks by, making everybody laugh. I said, 'I'm gonna end up with him. I know it."
After dating for less than a year, the couple got engaged on Dec. 15, 2012.
They married on Oct. 20, 2013, at Blackberry Farm in Walland, Tennessee. The following year, Clarkson and Blackstock welcomed their daughter, River Rose, and in 2016, they had their son, Remington Alexander.
Now, nearly seven years after the pair tied the knot, their relationship appears to be over with Clarkson recently filing for divorce.
RELATED: Kelly Clarkson Showed How She Was Isolating Before Filing for Divorce From Brandon Blackstock
"Kelly and Brandon had been having problems for several months and were making a conscious effort to work things out,' a source recently told Entertainment Tonight. "They both hoped quarantining away from L.A. in Montana would help them work things out in their marriage, but instead the change in environment was actually detrimental."