Did Kenny Rogers and Dolly Parton Ever Date?
One of country music's most successful partnerships was that between Kenny Rogers and Dolly Parton. Together, the pair produced countless duets throughout the years: Christmas songs, wedding serenades, and just plain old, beautiful love songs.
The chemistry between the two was something undeniable and the question remains: did the two ever date through the years?
The story of Rogers and Parton's first duet, 'Islands in the Stream'
The father of five told People in 2017 about his fateful musical union with the Tennessee-born Parton in what would become one of the most beloved and successful duets in country and pop music history.
"It all started when Barry Gibb wrote 'Islands in the Stream,' and he gave it to me to record — he was producing an album."
Rogers tried the song out but found that he just didn't like it. He told Gibb, who made what turned out to be a suggestion that was the secret sauce to the song's success.
"I finally said, 'Barry, I don't even like this song anymore' and he said, 'You know what we need? We need Dolly Parton,' " Rogers recalled.
"I had a recording studio at the time and she was downstairs and my manager Ken Kragen said, 'I just saw her!' and I said, 'Well, go get her!'  He went downstairs and she came marching into the room, and once she came in and started singing, the song was never the same. It took on a personality of its own."
The two went on to record many more song collaborations, including "Undercover," "Tell Me That You Love Me," and "The Greatest Gift of All," among many others.
Parton's tribute to her old friend
The 74-year-old Parton, as she related, thought she would be waking up Saturday morning to more coronavirus updates, and instead learned of the passing of her dear friend.
Rogers passed away while in hospice care at his Atlanta home on Mar. 20. He was surrounded by his family.
She tweeted Saturday morning, "You never know how much you love somebody until they're gone. I've had so many wonderful years and wonderful times with my friend Kenny, but above all the music and the success I loved him as a wonderful man and a true friend."
"We all know that Kenny is in a better place than we are today, but I'm sure he's going to be talking to God sometime today," she said in the video on her tweet.
"He's going to be asking Him to spread some light on the darkness that's going on here. I loved Kenny with all my heart. My heart is broken, a big old chunk of it has gone with him today," she said in her video, while holding a photo of herself with Rogers.
Did Rogers and Parton have a romantic relationship?
The "You Can't Make Old Friends" singers enjoyed a close and long-lasting friendship. However, as it pertains to whether or not they dated, they both denied any rumors of a romantic pairing.
In 2017, Parton told CMT as Rogers was promoting his farewell tour, "Kenny's friendship means more to me than our hit records. Actually, we're kind of like soul mates."
The Lady star did his best to put rumors of anything beyond a platonic relationship between them to rest in a 2013 interview on Fox & Friends.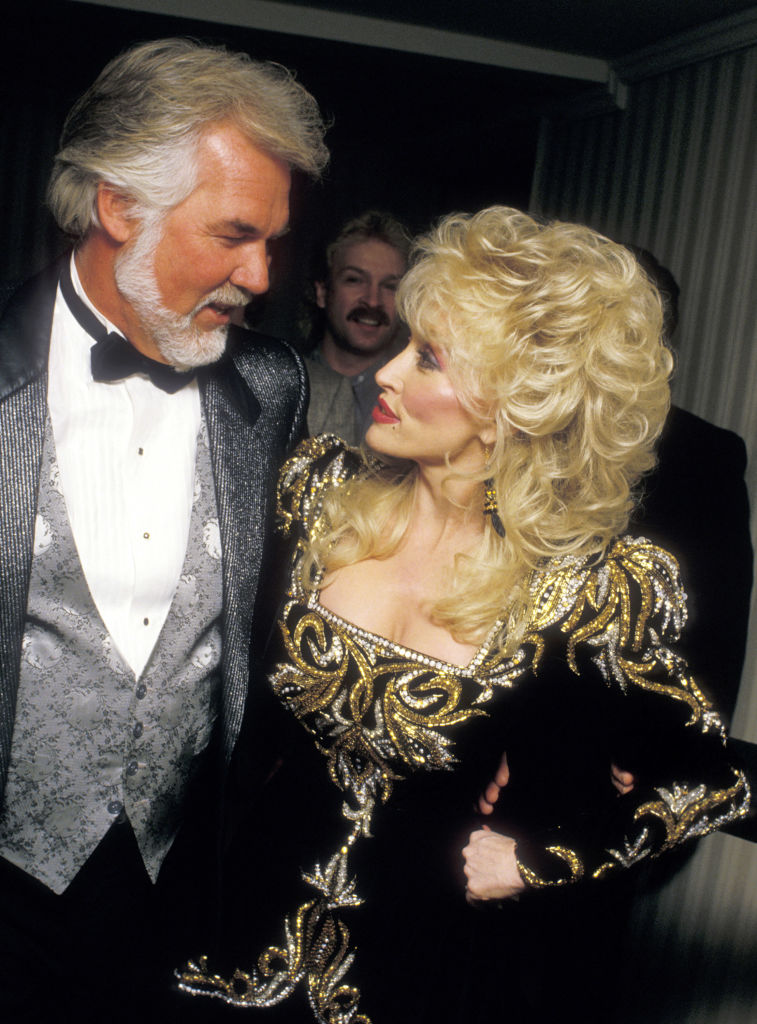 "[Parton] and I worked together for two years on the road. Everybody always thought we were having an affair. We just flirted with each other for 30 years, you know. But it keeps the tension," he said.
Referring to their song, "You Can't Make Old Friends," Rogers explained, "She really is an old friend. The song was written for the two of us. We sang it on the stage of the war memorial in Nashville and both of us were really choked up, because it's kind of a poignantly sad song."
"It's about 'what am I going to do when you're gone.' "
Read more: Kenny Rogers Started Out His Career as a Psychedelic Rocker