Did Megan Thee Stallion Ever Date DaBaby?
Rappers DaBaby and Megan the Stallion might share more than onstage chemistry.
The megastars both achieved fame in the music industry in 2019. Since then, they've worked on several songs together and have said multiple kind words about one another. They also experienced traumatic events around the same time that may have uniquely connected them.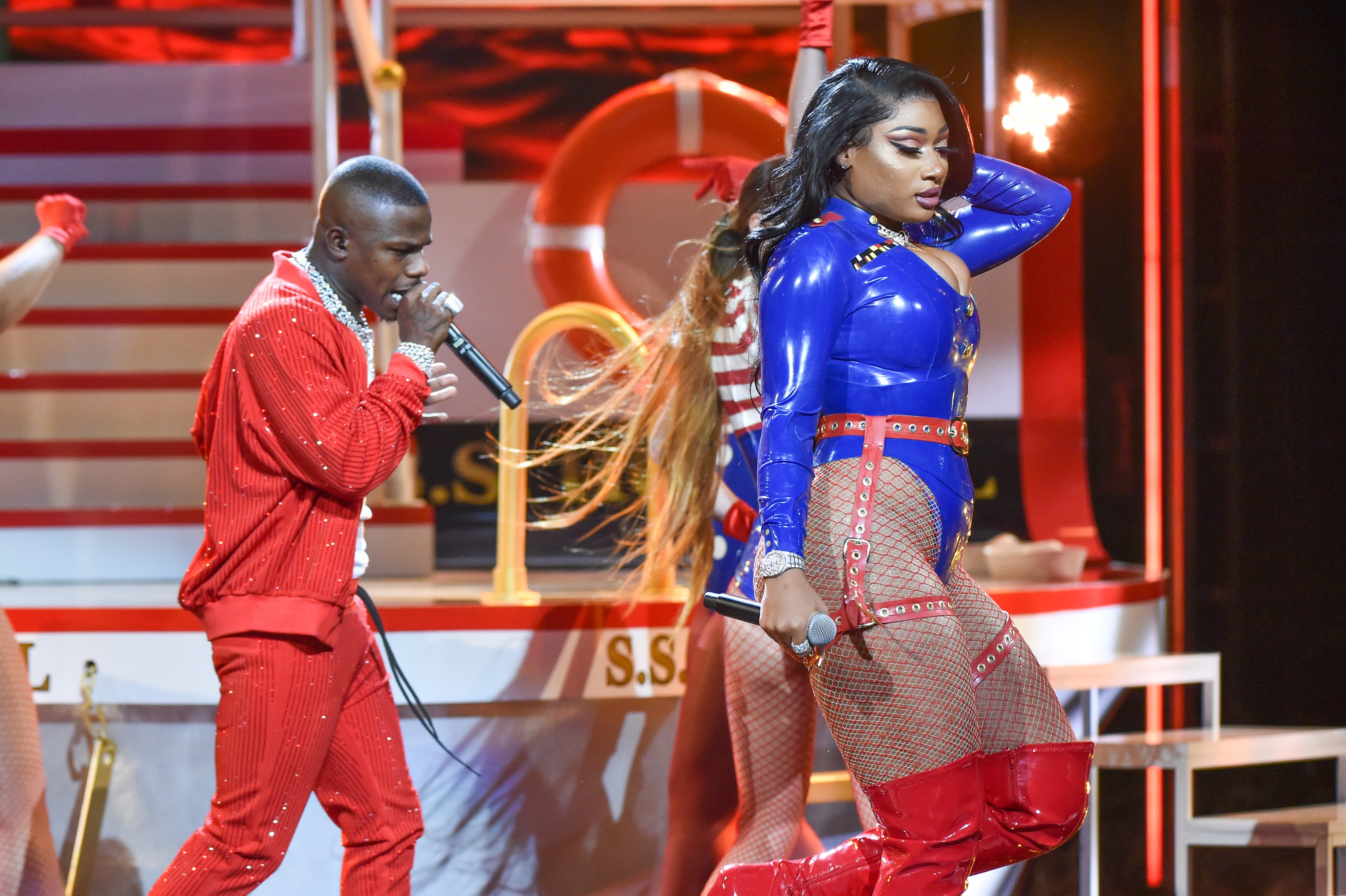 Megan Thee Stallion and DaBaby are just friends and collaborators
In 2018, Megan, born Megan Pete, signed a management contract with 300 Entertainment and became the first female rapper on the label. She skyrocketed to fame with songs like "Big Ole Freak" and "Hot Girl Summer" in 2019. With her newfound fame came rumors that Megan dated rappers like DaBaby, Wiz Khalifa, and G-Eazy. Megan denied ever dating any of the rappers and maintained she's single until she finds the right person. 
RELATED: Does Megan Thee Stallion Have Any Siblings?
DaBaby, born Jonathan Kirk, briefly spoke about his relationship with Megan with Billboard's Fishing for Answers in October 2019. While there wasn't any talk of a romantic connection, DaBaby said he and Megan have a very similar musical style. When asked which rapper he would create an entire album with, he quickly answered Megan's name. The twosome already has two songs together, "Cash Sh*t" and "Nasty." 
"She talks sh*t like I talk sh*t, and I'm a hot boy," DaBaby said. "Been a hot boy. So yeah, we'd burn that b*tch down."
Both Megan Thee Stallion and DaBaby dealt with the death of their parents in the spotlight
Although they aren't a couple, Megan and DaBaby faced some challenging times as their careers began to skyrocket. Megan shared on social media in March 2019 that her mother, Holly Thomas, passed away from cancer. Thomas was Megan's manager and inspired her to become a rapper. In December 2019, Megan shared in a video that while she knows her mother would've been proud of her success, it still hurt that she isn't physically with Megan. 
"This year, I lost my mom and my grandmother in the same month," Megan explained. "Although all these positive things have been happening to me, and I've been trying to do good, been trying to keep a smile on my face, stay strong, to stay happy for my other grandmother and me and the rest of my family, it's pretty hard. This is the first Christmas that I'm [spending] without them, and I just wanted to give some hope to my hotties that might be going through something too."
RELATED: Does Megan Thee Stallion Have Any Siblings?
DaBaby also experienced loss in March 2019. He shared on Instagram that his father unexpectedly died six months before releasing his anticipated album, Kirk. The album became a tribute to his dad, as DaBaby shared an old photo of him on his father's lap for the album's cover. DaBaby was also on tour at the time of his father's death, which he had to continue while grieving. 
"When it happened, I didn't really have time to grieve. I was getting on the bus to start the tour, and the very next day, I found out [he had passed]. So I went straight from seeing him at the damn mortuary to the show — not knowing what the f*ck happened because it wasn't like he was sick that I knew of," DaBaby told Billboard.
Megan Thee Stallion and DaBaby signed with Roc Nation
As a result of their growing popularity, both Megan and DaBaby caught the attention of Jay-Z's label, Roc Nation. DaBaby shared on The Breakfast Club in March 2019 that his team was working with Roc Nation for a management deal in 2018, but it fell through. He signed with Interscope Records in January 2019.
RELATED: Tory Lanez Gets Issued a Protective Order To Stay Away From Megan Thee Stallion After Shooting
"We had a situation going on with Roc Nation, we did. For whatever reason, I mean, it was getting off to a slow start. We parted ways respectfully," DaBaby said. 

Roc Nation also reached out to Megan for a management deal in 2019. Megan announced the move on her Instagram page and shared a snap of herself next to Jay-Z. Since the agreement, Megan has collaborated with Beyoncé and has had an ongoing legal battle with 300 entertainment's CEO, Carl Crawford.