Did Regis Philbin Make Amends With Kelly Ripa Before His Death?
Legendary TV host and personality, Regis Philbin, died on July 24. The former co-host of Live! With Regis and Kathie Lee (and Regis and Kelly) left his post in 2011 to assume a semi-retirement lifestyle. His relationship with Kelly Ripa was said to be somewhat strained through the years. Did the two make amends before he died?
Regis Philbin died of heart disease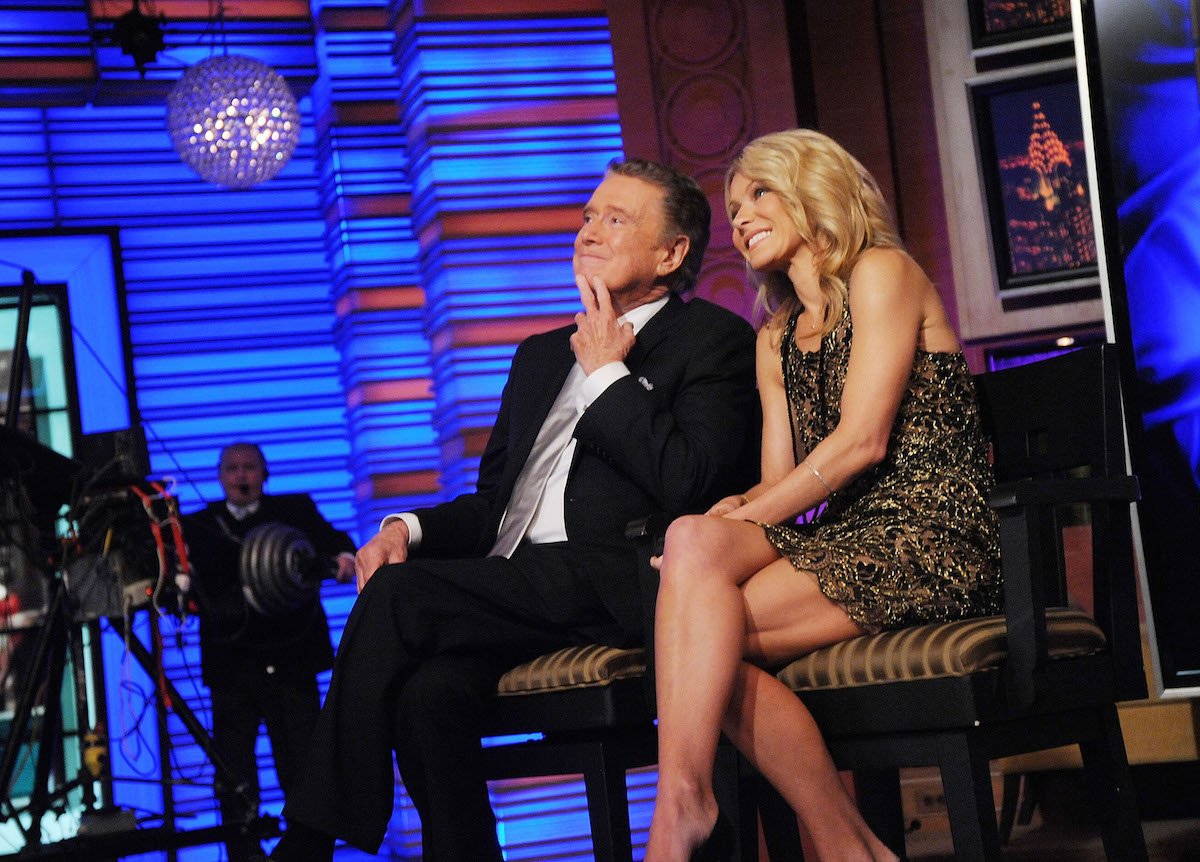 On July 24, icon TV talk show host, singer, and media personality, Regis Philbin, died from a heart attack in his home. "The hardest working man in showbiz" held the Guinness Book of World Record title for most hours logged.
His family released a statement following the news.
"His family and friends are forever grateful for the time we got to spend with him — for his warmth, his legendary sense of humor, and his singular ability to make every day into something worth talking about. We thank his fans and admirers for their incredible support over his 60-year career."
Philbin, who has managed a heart disease diagnosis for many years, had an angioplasty in the 1990s and a triple bypass surgery 2007. He was 88 years old at the time of his death.
Philbin's relationship with Ripa over the years
Former co-host of Live! With Regis and Kelly co-host, Kelly Ripa, released a joint statement (with a new co-host, Ryan Seacrest) via Instagram.
"We are beyond saddened to learn about the loss of Regis Philbin. He was the ultimate class act, bringing his laughter and joy into our homes everyday on Live for more than 23 years. We were beyond lucky to have him as a mentor in our careers and aspire everyday to fill his shoes on the show. We send our deepest love and condolences to his family and hope they can find some comfort in knowing he left the world a better place.

Kelly Ripa Instagram
Long before Seacrest took Philbin's chair, Kelly replaced Kathie Lee Gifford. 2001 marked a new path for the show with Ripa after Philbin and Gifford spent the previous 15 years together.
Philbin left the show in 2011 after a decade next to Ripa. The two had a sporadically contentious relationship through the years, in part due to Philbin's pre-show rituals that included not to speak before they went live.
"Regis had a mandate: Absolutely no talking off-camera," Ripa told Entertainment Tonight. "He had almost a superstition about it. You save it for the show. I'd be like, 'Good morning,' and he'd say, 'Save it for the air!'"
In 2017, Ripa reiterated her fear of doing the show without her longtime co-host, confessing she didn't think she could do the show without him.
"I just remember when Regis left it was so scary," she said. "Because we – meaning me – had never done this before. Regis had done it many times, and he was so good at it. It makes you terrified. Like can I do this without Regis being here?"
However, Philbin told Larry King Now in 2017 they were no longer on speaking terms. That could explain why he didn't appear on the 15th anniversary show to celebrate Ripa.
"She got very offended when I left. She thought I was leaving because of her. I was leaving because I was getting older and it wasn't right for me anymore," he said.
Likewise, in another interview with The Insider, he felt Ripa resented him for leaving the show.
"I left and I think she resented that. I mean, that's how I feel about it. And I'm sorry because I wasn't trying to dive from her. But I was a little tired, you know. And I was just turning 80, so I gotta get out of there."
It's not clear if the two had a conversation to make amends or if time drifted them further apart. Clearly, there's no love lost on Ripa's side now that the icon is gone.
Former co-host Kathie Lee Gifford and Philbin remained close
Philbin and Gifford remained close since her departure from the talk show in 2000. The two often spoke of the other in interviews and throughout their respective lives there after.
Gifford also expressed her grief via social media.
There are no words to fully express the love I have for my precious friend, Regis. I simply adored him and every day with him was a gift. We spent 15 years together bantering and bickering and laughing ourselves silly—a tradition and a friendship we shared up to this very day.

I smile knowing somewhere in Heaven, at this very moment, he's making someone laugh. It brings me great comfort knowing that he had a personal relationship with his Lord that brought him great peace. I send all the love in my heart to Joy, to his children, to the rest of his family and to the innumerable people he touched over his legendary life. There has never been anyone like him. And there never will be.

Kathie Lee Gifford Instagram
Philbin is a one-of-a-kind personality that will be missed by many. Our thoughts go out to all who knew and loved him.