Did Zach Braff and Donald Faison Know Each Other Before 'Scrubs'?
Donald Faison and Zach Braff are bromance goals. The two have been virtually inseparable since they met before 'Scrubs' began airing.
Scrubs stars Zach Braff and Donald Faison have a public bromance that stretches back more than a decade. And though the medical comedy-drama TV show that made them famous went off the air in 2010, Braff and Faison still thang out regularly. This year, the two celebrities even leveraged their best-friends status to launch a Scrubs-themed podcast. Even though Braff and Faison document their close friendship on social media and in Hollywood interviews, some fans might be surprised to learn when and how the two men originally met. 
Zach Braff and Donald Faison had very different backgrounds before they met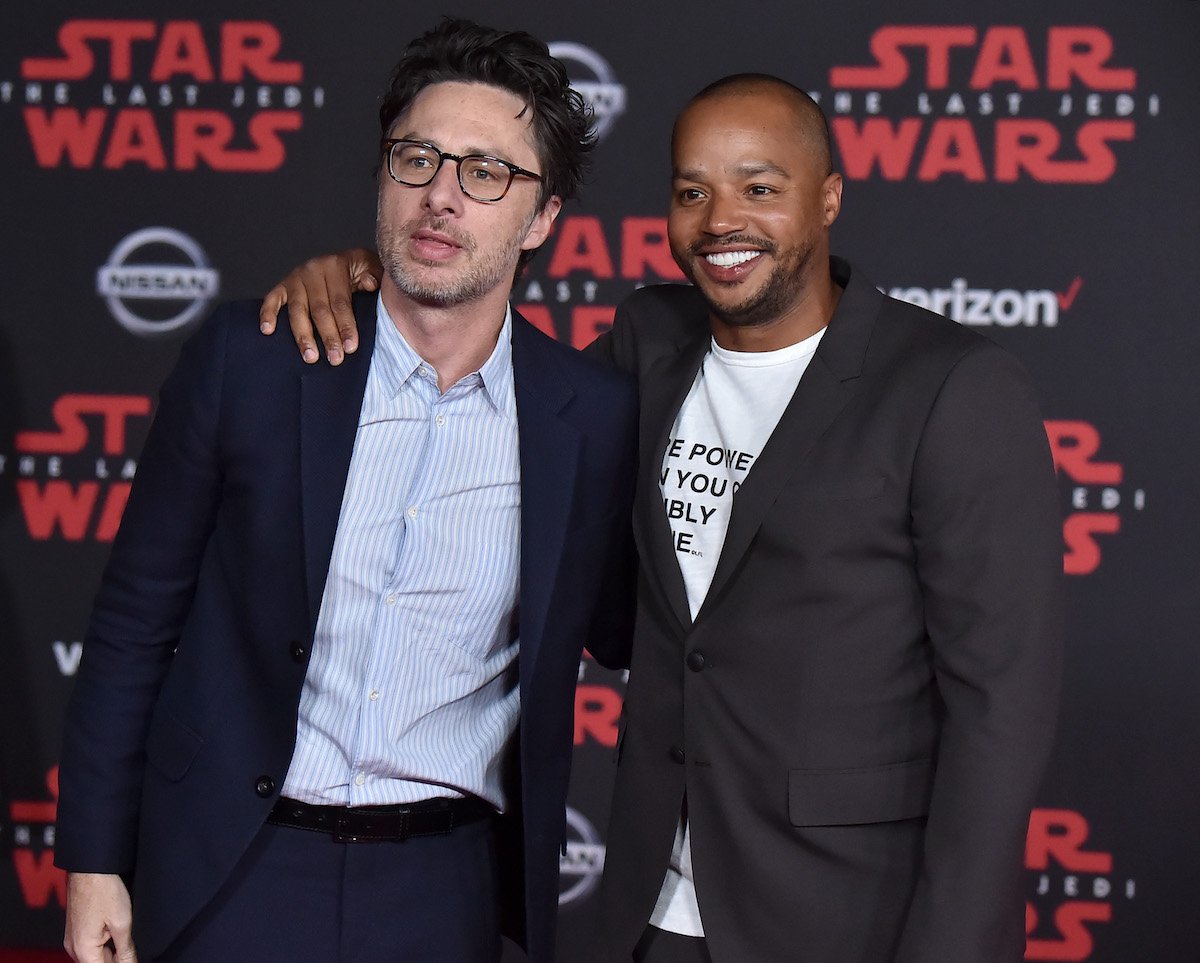 The two stars had very different trajectories from a young age. 
For Faison, who was born and raised in New York City, acting is in his blood. According to People, both of his parents were actors, and his mom even worked as a talent agent to help actors find work. One of Faison's first roles was as a 12-year-old when he starred in a coffee commercial for Folgers, HuffPost reports.
In contrast, Braff grew up in New Jersey, according to NorthJersey.com. Though his father occasionally dabbled in community theater, his dad was a trial attorney and his mother a psychologist.
One of Braff's first experiences with Hollywood happened after a talent manager scouted him. He played a part alongside Gwyneth Paltrow for a TV show called High. But it never aired.
Donald Faison and Zach Braff had such different upbringings and different experiences as teenagers in the industry that their closeness today often confuses many fans.
Despite their close friendship today, Zach Braff and Donald Faison didn't actually know each other before 'Scrubs'
"[Zach]'s my best friend," Faison told Yahoo! Entertainment. "I'm really fond of that man — I'm not ashamed to say it. And to the supporters of our bromance, I'd like to say, 'Thank you.'"
Seeing how close they are, many fans mistakenly think Braff and Faison knew each other long before they starred as coworkers at the fictional Sacred Heart Hospital. But they'd never met until they did a table read at the home of Scrubs creator and producer Bill Lawrence.
"I was very nervous," Braff told Entertainment Weekly. "Donald had worked a bunch already. I had some small things, but this was my big break. I walked in, and [Faison] turned around and gave me the biggest smile and just came towards me, gave me a hug. It was really just so warm and inviting, and we've been hugging ever since."
After that table read, the two actors moved in together.
After wrapping up the first season of Scrubs, both took a few acting gigs in New York. In an interview with Build, Faison explained that their becoming roommates "cemented" their bromance. 
The best friends have since switched coasts. Today they live just a few blocks from each other in Los Angeles, GQ reported.
Donald Faison and Zach Braff are working together again on a 'Scrubs' project
It's been years since Scrubs went off the air and even longer since Braff and Faison first met. But their friendship and their Scrubs career show no signs of stopping.
This year, they launched the podcast Fake Doctors, Real Friends. The podcast has a simple premise: Twice a week, the two actors get together to watch old Scrubs episodes. Interwoven with their banter are anecdotes about their bromance and personal lives, along with a few surprise guest stars.  
Scrubs' castmates have hinted to TV Guide they would be open to relaunching the show, perhaps as a TV spinoff or even a movie. Until those rumors become a reality, Braff and Faison's podcast will have to keep fans satisfied by diving into the Scrubs archives.