'Diners, Drive-Ins, and Dives': All the Rules Restaurants Must Follow on Guy Fieri's Hit Food Network Show
Fans absolutely can't get enough of Guy Fieri's beloved Food Network series, Diners, Drive-Ins, and Dives. The reality show has been airing for 31 seasons, showing off the small restaurants of North America that are dishing up amazing foods.
Over the course of the show, Fieri visits multiple local eateries, which often turns them into popular tourist destinations. The prestige of being featured on the show plus the publicity is enough to make any restauranteur long for Fieri to walk in the door.
However, getting featured on Diners, Drive-Ins, and Dives takes a little bit of work. And show participants need to follow quite a few rules if they do get picked.
It's not easy getting cast on 'Diners, Drive-Ins, and Dives'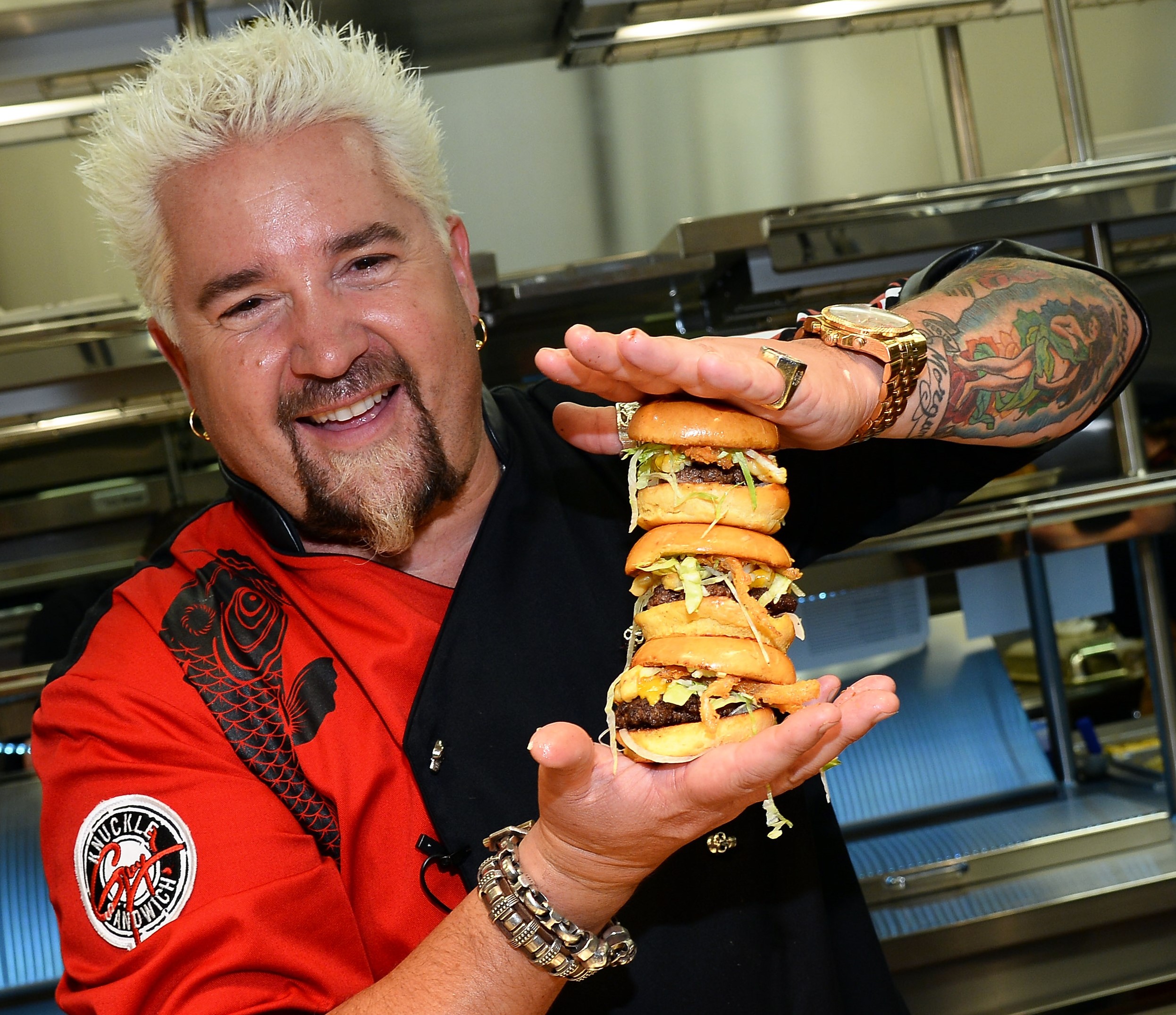 Before the show got popular, producers had to entice business owners to come on the show. But now, being featured on Diners, Drive-Ins, and Dives is such an honor that restaurant owners apply online to get picked.
Producers also read fan suggestions and take them seriously. "You know, we like to listen to our viewers, and there were about four states we have never visited, and I said, man, we have to get up to Delaware," Guy told the Town Square Delaware.
No matter how they get picked, there's always an extensive vetting process including multiple interviews, meetings, and a recipe review before filming starts. And in the end, host Fieri makes the final call on which ones get selected, Delish reported.
Every featured restaurant needs a good backstory
After getting selected, the production crew spends a long time prepping and getting backstory information about the restaurant. Any place with a unique history will get preferential treatment and has a greater chance of making it onto television.
The same goes for unique ingredients and homemade dishes prepared with care. "Guy will spot a unique ingredient or a way of preparing a dish that's different and chooses that," executive producer Frank Matson told PEOPLE.
It costs money to appear on 'Diners, Drive-Ins, and Dives'
Restaurant owners can't pay to get on the show, and they don't get paid to appear on it either. Plus, owners don't always get a lot of advance notice and have to be prepared to start filming at any moment.
They also don't get reimbursed for ingredients. That may not seem like a big deal, but Delish reported that some restaurant owners estimated those costs at anywhere from $12,000 to $15,000.
The restaurants also must close for filming for two to four days, which means loss of revenue. And it's all a gamble. An episode can get canceled at any time, for any reason, leaving all that preparation for nothing.
However, the free publicity is priceless. "They told us to get ready," Smack Shack founder Josh Thoma told Twin City Business Magazine. "I was like, 'I got it.' I did not get it." The restauranteur said his sales and customer counts were up by 500 percent a month after the show aired.
That's a gift that keeps on giving when reruns air, too.
How to know if Guy Fieri really likes the food
Fieri would never say anything bad about the food he eats on camera. But Delish revealed the giveaway that indicates if the Diners, Drive-Ins, and Dives host really likes the meal. If he takes a second bite, that usually means Fieri finds it delicious.
"A close watcher of the show can tell the difference from when you're genuinely blown away, and when it's just like, 'Good, nice job, I can see why people like it,'" podcast host Brian Koppelman observed. Fieri was quick to confirm his true intentions.
"Some chefs that'll see it… will do their investigation," Fieri explained. "And, you know, they've watched the show for years. We'll go to commercial, and they'll go, "Well, did you like that?" And I'm like, "Yeah it was good." And they'll go, "Well you didn't go, like, 'This is off the hook.'" And I'm like, 'Well, it was good."
Restaurant owners aren't allowed to divulge any spoilers about the episode until it airs, which can take up to a year. But they do get an awesome autographed "Guy Fieri Ate Here" sketch to hang up on the wall.
Seems like a fair trade for participating in one of the most popular shows on the Food Network.