'Disenchantment': Who Is the Voice Behind Elfo?
For decades on TV, cartoons geared to adults rather than children have found a prominent place in pop culture. While there have long been some niches for more mature cartoons, they've entered the mainstream ever since Matt Groening's iconic (and ever-continuing) The Simpsons hit the airwaves in 1989.
Despite the success of his flagship show, The Simpsons haven't been Groening's only project in the genre. Passion project Futurama had a rocky production history before its eventual final cancellation but is treasured by fans and widely praised by critics.
After seeing Groening tackle the issues of the modern family, then science fiction, fans have been delighted to see his take on fantasy in Netflix's Disenchantment.
'Disenchantment' is the brainchild of Matt Groening of 'Futurama'
Disenchantment follows the adventures of three friends; Princess Bean, Elfo, and Luci throughout the magical kingdom of Dreamland. While, according to Rotten Tomatoes, critics thought Disenchantment got off to a rocky start, they seem to be in more agreement that the show has improved as it's gone on and really hit its stride in season 3.
Fans remain understandably divided, expecting a lot from the team that brought them The Simpsons. Fans have loved the show's unique take on fantasy and steampunk. Elfo, voiced by Nat Faxon, has been a particular fan favorite.
A unique take on the lovable best friend
While Elfo's role as the best friend to the more leading character of Princess Bean is clear early on, the show offers a nuanced and unique perspective of this familiar trope. Elfo is introduced early in the show as the bad-boy of Elfwood, a magical hidden forest where Elves make candy all day (and are paid in candy).
Elfo clearly doesn't fit in from the start among the unconditionally happy elves, frequently complaining about his work and making snide remarks at other elves.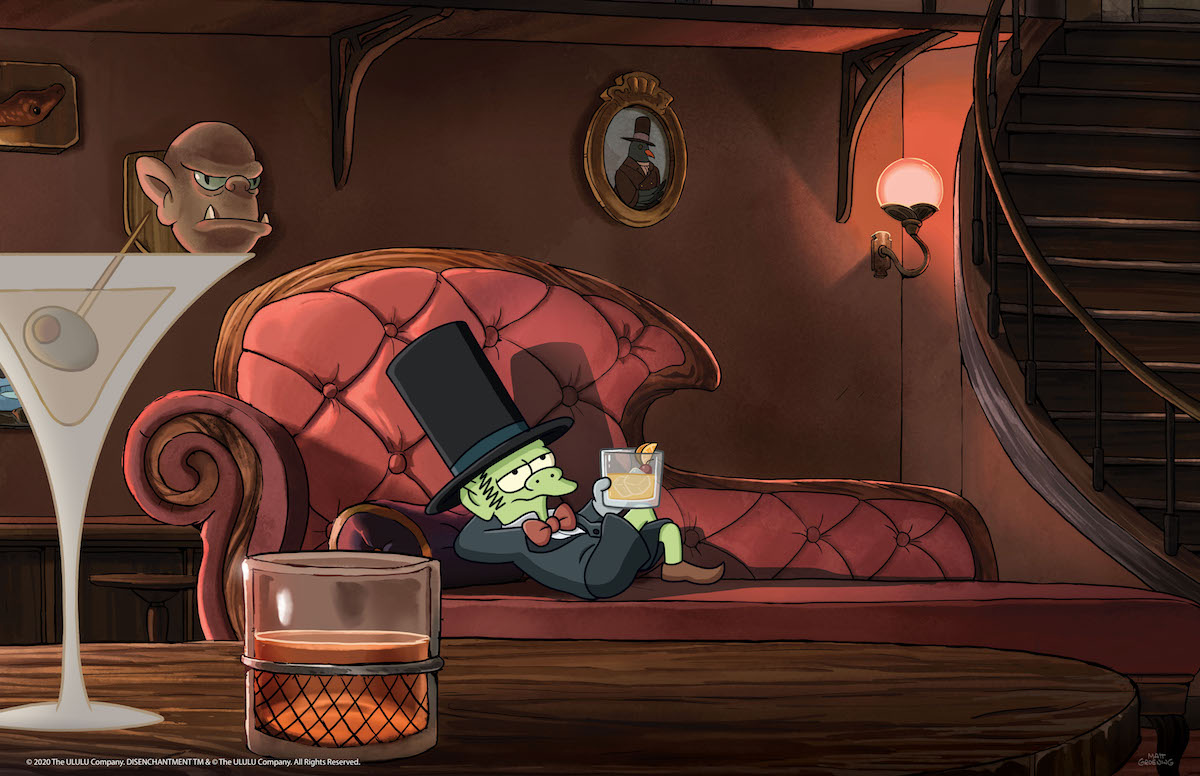 He is eventually caught with the King's daughter, and to be executed, with the little elves singing a happy song as they hang a noose. Elfo narrowly escapes and flees out of Elfwood, eventually coming to the human kingdom of dreamland and meeting Princess Bean and Luci.
Though Elfo was a sassy bad-boy amongst the elves, in the human world viewers see him act naive and wimpy by Dreamland standards. Enamored with Princess Bean, Elfo seems to fail to realize this difference in relative coolness which leads to a hilarious dynamic as the 3 friends adventure throughout the world.
The voice behind Elfo
Nat Faxon, the voice actor behind Elfo, delivers excellent timing and hilarious wit throughout the show. Faxon is an old hand at voice acting, and his experience shows and enriches the part of Elfo a lot. According to his IMDb page, his projects are frankly too numerous to list, but fans may recognize Faxon's voice from his starring role in 2014's Married or his portrayal of the titular character in Captain Underpants.
Faxon's skill goes further than just voice acting, even having earned him an Academy Award for best writing: adapted screenplay in 2011's The Descendants. Though his career has already been massively successful for more than 2 decades, fans should be excited to hear he'll be voicing as Han Solo in the upcoming Star Wars: Detours.
With Faxon's hilarious performance as Elfo, the ensemble cast in Disenchantment provides a lot of laughter and 3 seasons of enjoyment for fans. While the 3rd season released in January 2021 and ended on quite a cliffhanger, fans are eagerly awaiting some news of season 4. With Netflix quiet so far about the future of the show, fans will just have to wait patiently to hear when next they can catch up on the adventures of their favorite fantasy trio.