'Disenchantment': Who Is the Voice Behind Bean?
Fantasy has long been a staple of the TV landscape, especially in recent years, with shows like Game of Thrones capturing audiences' imaginations. Finally, in Netflix's Disenchantment, fans of adult-oriented cartoons get to see animation take on satirizing the popular genre.
Disenchantment recently released its 3rd season and fans were excited to see another installment of adventures in the Kingdom of Dreamland from the beloved characters.  The new installment further explores the adventures of Princess Bean, Luci, and Elfo. Bean has been a particular fan favorite throughout the show's short history due to her hilarious subversion of the typical fantasy princess trope.
'Disenchantment' is the brainchild of Matt Groening of 'Futurama'
Disenchantment first aired on Netflix in August 2018. The show was the much-anticipated latest creation of writer and animator Matt Groening, of The Simpsons fame.
With a growing number of viewers less impressed with recent seasons of The Simpsons and the (second) cancellation of Futurama in 2013, fans were eager to see a fresh show from Groening and to see him apply his unique satire to the world of fantasy.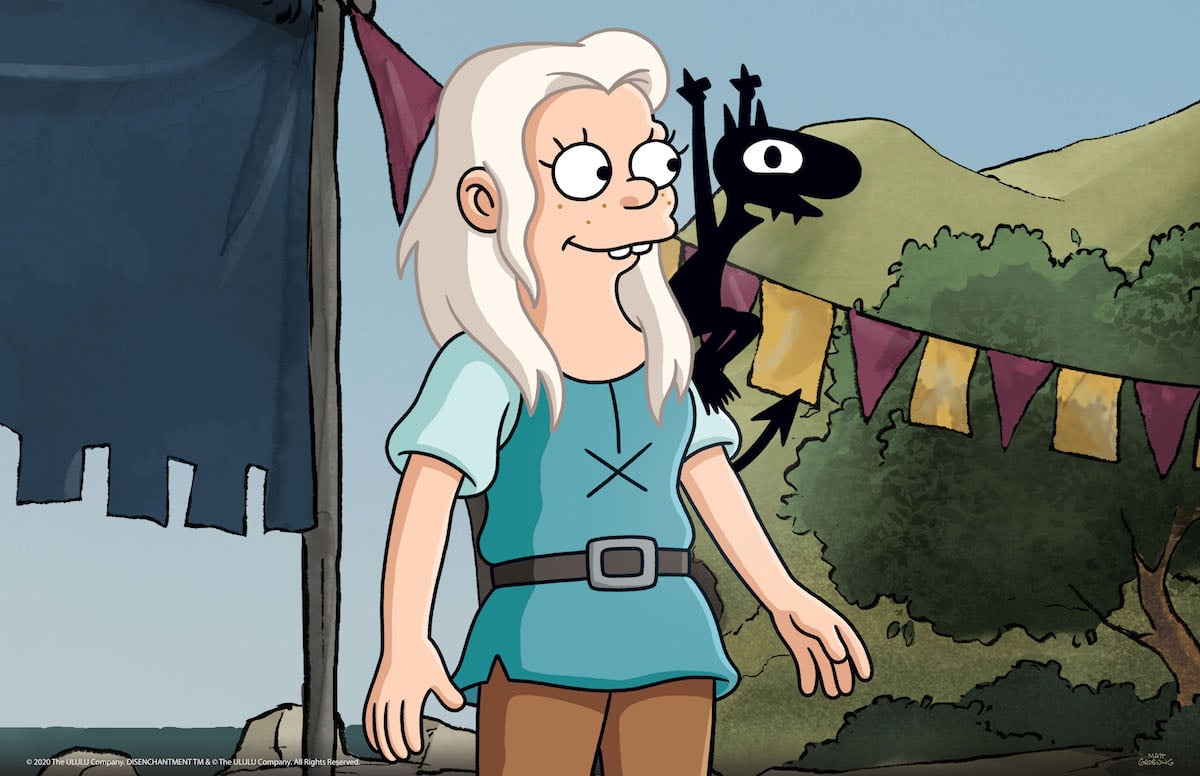 Disenchantment was the first foray into original content for a streaming service for Groening, who has repeatedly expressed frustration in his dealings with the Fox network that published both of his previous shows.
Disenchantment follows the adventures of friends Bean, Elfo, and Luci as they deal with life in Dreamland. The show puts the trio in many classic fantasy conflicts and conundrums but often presents hilariously unusual reactions and resolutions.
This is what fans love about Groening's work, and the reception has been generally positive. Though the show started out a bit rocky, it's caught its stride a little more every season according to Rotten Tomatoes.
Princess Tiabeanie is the unlikely fantasy hero
Princess Taibeanie, or Bean for short, is not your traditional fantasy hero. A rebellious tomboy with a habit of drunkenness, she often acts impulsively and creates more problems than she solves.
Her subversion of the classic princess trope is the basis for much of the comedy in the show, as her subjects often see her more as a drinking buddy than a ruler. Still, throughout the show, Bean proves to be more than just an irresponsible drunk and grows more responsible.
Fans not only find her antics hilarious but see her as a sympathetic character and one of the prime reasons they come back for more.
Bean is voiced by the talented Abbi Jacobson, who fans may recognize as the creator and co-star of Comedy Central's Broad City. Jacobson leverages her experience to full effect in the show, not only getting laughs out of Bean's impulsive wit but also crafting an incredibly human character that viewers can identify with.
As the recently aired season 3 of the show left Bean on quite a cliffhanger, fans can't wait to hear more from Netflix on when a season 4 will be coming.
Abbi Jacobson: the voice behind Bean
While 36-year-old Jacobson has accomplished quite a bit in her relatively short time on TV. After going to art school in New York for painting and video, she had a number of odd jobs, including her own greeting card company according to IMDb. After trying her hand at visual arts, she eventually joined the Upright Citizens Brigade sketch comedy group and found her stride in comedy.
Her big break, however, would come in 2010 when comedian Amy Poehler agreed to produce the show she created, Broad City. It would run for 3 seasons, and cement her as a force in the comedy world. The show would receive rave ratings from critics, with a 99% "fresh" rating from critics on Rotten Tomatoes.
Though Jacobson doesn't have much experience in the world of voice acting, she's certainly translated her talent for comedy and performance well to the part of Tiabeanie. Her portrayal of the character is a big part of what is keeping fans sticking around to see what hilarious misadventures the characters have next.
Still no word from Netflix on season 4 of Disenchantment yet, but fans will patiently wait to see what the story holds for Bean.