'Disenchantment': Who Is the Voice Behind Luci?
Find out which actor voices Luci on 'Disenchantment.'
Netflix has a ton of original programming in a variety of genres and formats. They even have at least one animated comedy that's been enough of a hit to last three seasons. Disenchantment has a talented creative team behind it, from the producers and writers to the voice actors.
Fans of the show may find some of the voices on it quite familiar if they've watched other shows. Let's take a closer look at answering the question of who is the voice behind Luci, one of the show's most popular and hilarious characters. 
The premise of 'Disenchantment'
Matt Groening created Disenchantment. If that name (and the show's animation style) seems familiar, that's for a good reason. Groening was the creator of two other classic animated sitcoms: The Simpsons and Futurama. Futurama was on Fox and then Comedy Central after a revival. The Simpsons has aired on Fox since 1989, one of the longest prime-time runs in TV history. 
Disenchantment is a fantasy epic story, weaving comedy into its stories. According to IMDb, the main character is Princess Tiabeanie, better known as "Bean."
Bean is set up in an arranged marriage, betrothed to a royal family member named Prince Merkimer. Marrying a man she doesn't know well or love isn't exactly in Bean's plans; she's much more free-wheeling and independent with a burning desire to not be tied down. 
After Bean meets a demon and an elf, she gets into a little more adventure than she bargained for, and it's clear that a boring life isn't in the cards for her. The show has had 30 episodes over three seasons. It also features an all-star cast, including Abbi Jacobson and Nat Faxon. Also joining are Futurama/Simpsons alumni such as John DiMaggio, Billy West, and Tress MacNeille. 
Who is Luci on 'Disenchantment?'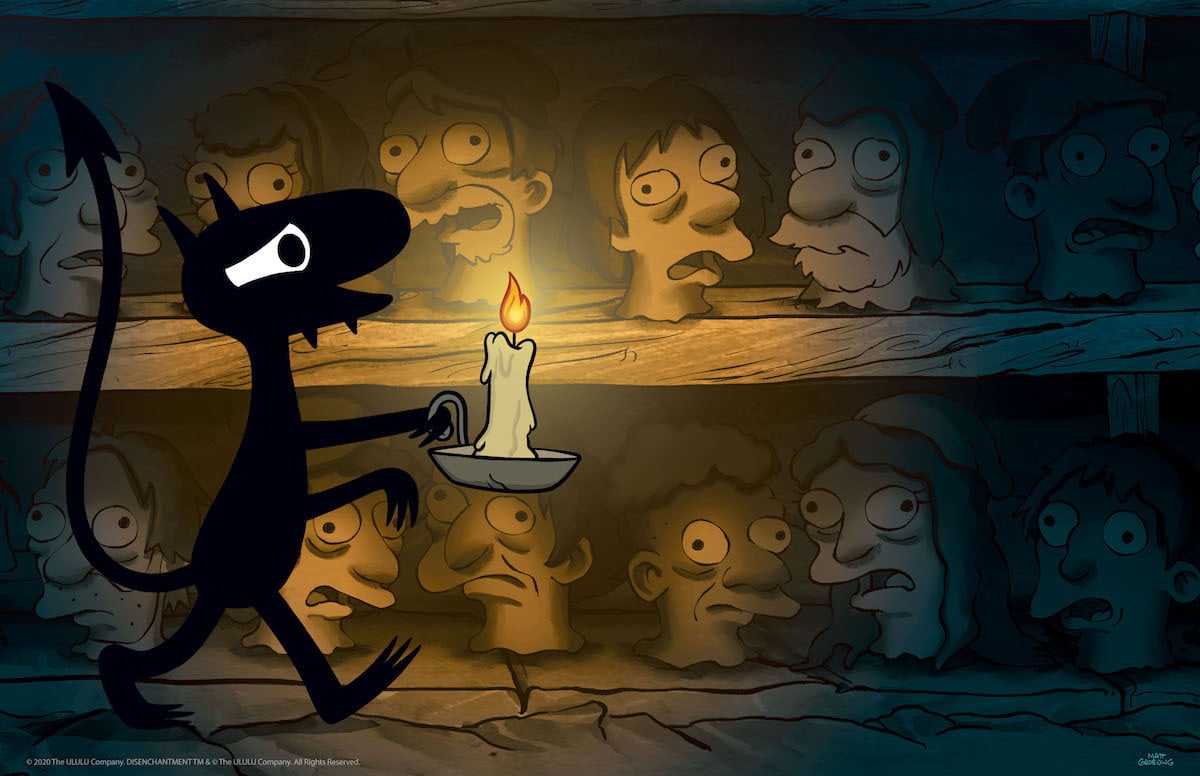 Part of what makes Disenchantment's comedy so effective is its compelling, well-drawn characters. One of those main characters is Luci.
Luci is Bean's personal demon. He takes the form of a shadow. He's given to Bean as a wedding present, but acts as a demon should: he encourages Bean to partake in mischief whenever he can. 
Unlike other demons portrayed in this world, Luci has arms and legs. He has other traditional demon features including a spear-like tail as well as horns on his head. His actions (or his tendency to prompt Bean to take a specific action) often drive the show's story to move forward.
In season one he's seen as somewhat amoral, simply leading Bean down a path to more mischief. In season two, he's shown to have genuine affection for her, growing somewhat as a character. 
Who voices Luci on 'Disenchantment?' 
To make a show like Disenchantment work, you need strong voice talent in multiple roles. Luckily for the show, they have a talented comedic performer to play Luci.
According to Screen Rant, Luci is voiced by the comedian Eric Andre. Andre's best known for his alternative comedy talk show on Adult Swim, as well as his recent Netflix movie Bad Trip. 
Andre's roots as a stand-up comedian as well as the work he's done on his TV show have prepared him well for his role on Disenchantment. Doing voice work can be a complicated task, especially comedy. Performers need to have solid timing and vocal range.
Andre was able to hone his timing on stage and on his TV show. That's part of what makes his performance as Luci so good. Andre's a versatile comic actor who has had to be funny in many situations prior to this show.