DMX Shares Wild Story of Rapping for Lyor Cohen With Wired Jaw
DMX was dedicated to rapping for label exec, Lyor Cohen--even with his jaw wired.
In the spirit of DMX appreciation, it's sometimes necessary to step back in time to explore his hip-hop origin story. While it has some grim moments, there are also occasions where things aligned in the right way at the right time.
That was the case when DMX was trying to get a record deal and wound up having to spit bars for label executive Lyor Cohen with his jaw wired closed.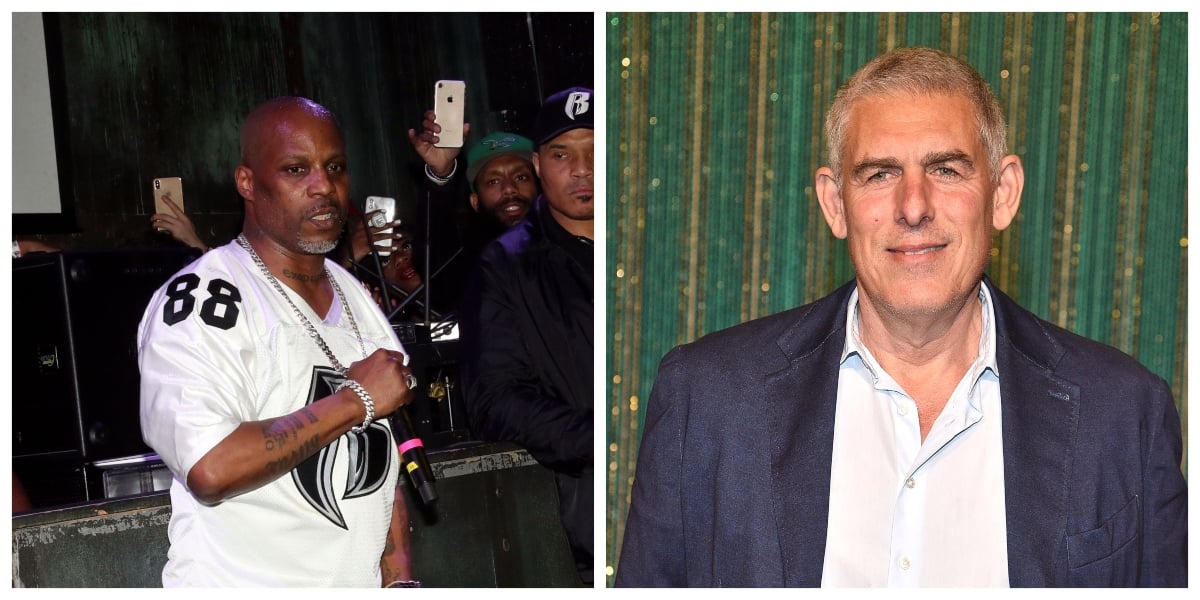 DMX started out as a battle rapper
As a teen growing up in Yonkers, New York, DMX used to drop rhymes as a battle rapper. He eventually established a solid reputation for his very street, very hard flow (with a menacing bark) and attracted the attention of budding producer Irv Gotti and the Dean family (Swizz Beatz, Darrin, and Joaquin).
Between the time DMX first started taking out rap opponents and his debut album, he received multiple offers and deals that weren't always the right fit.
However, he was still in the streets doing crime as stick-up kid, and both worlds sometimes collided. It was during one of those times when fortune and misfortune crossed paths for a new opportunity.
DMX raps through wired mouth
By the late '90s, DMX was part of the Ruff Ryders crew andcontinued to rock with Gotti, trying to get a record deal. Gotti was instrumental in setting up a studio session with Def Jam's Lyor Cohen, a man whose name always rings bells in hip-hop circles.
DMX was one of nearly a dozen battle rappers set to show up for the meet, but he had to do it with his mouth wired shut. During his new interview on Talib Kweli on Uproxx's People's Party podcast, he explained that he robbed people who robbed someone else days before.
The original victim and his crew caught up with him and didn't believe he was not the perpetrator, and DMX was "stomped out," resulting in a broken jaw. He told Kweli the hospital initially sent him home with a swollen neck full of abscesses that could have killed him in his sleep. He returned, doctors treated him, and wired his jaw shut.
Still, DMX was determined to show up to the Yonkers battle session where Cohen was on deck. "I remember I had a black hoodie on—I had a 40 ounce that I cradled under my arm," he said. "When I walked in, they parted like the Red Sea."
DMX recalled how he had to rap through his teeth because he couldn't open his mouth, but Cohen paid attention. "He hid his enthusiasm," he said of Cohen. "I couldn't really tell, but I knew what work I put in." The rapper also had a few hot singles out that helped his shine.
DMX sealed a deal with Def Jam
In 1998, DMX made it official with the label and dropped two studio albums that year: Flesh of My Flesh, Blood of My Blood and It's Dark and Hell Is Hot. In the early 2000s, he left Def Jam and went to Sony following a now-squashed beef with his homie Jay-Z, but in 2019, returned to the label with a new deal.
Fans can keep up with the rap legend DMX on his Instagram page where he's sharing updates about an upcoming album and other projects.