Does Betty White Have a Boyfriend?
Betty White has been a beloved part of the American media landscape for decades. Not only was White the first woman to win a Daytime Emmy Award for Outstanding Game Show Host, but she's also the oldest person to host Saturday Night Live at 88 years old. She's even in the Guinness Book of World Records for the length of her TV career. But what about her love life? Does Betty White have a boyfriend? Here's what we know.
How old is Betty White, and how did she get her start?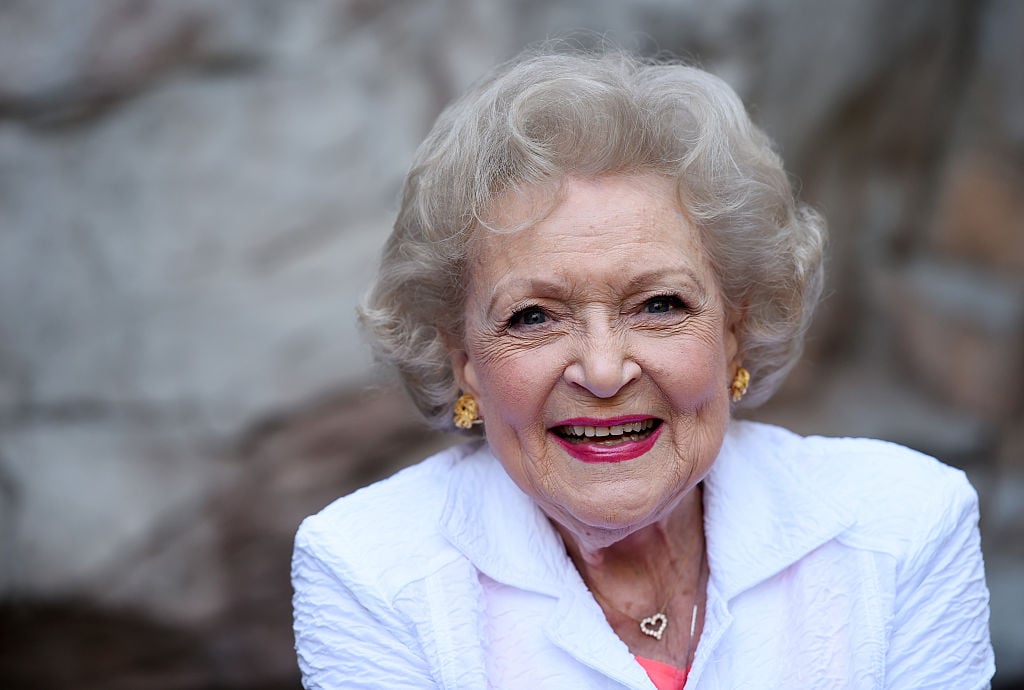 Born on Jan. 17, 1922, Illinois native Betty Marion White moved to Los Angeles with her parents, Horace and Christine, when she was almost 2 years old. At age 8, White landed her first showbiz job on a radio soap opera, according to IMDb, and she has been delighting audiences ever since.
White turned 99 years old in January 2021 and hasn't taken on as many projects in recent years, though she is still working. In 2019, she provided the voice of Bitey White in the animated Disney series, Forky Asks a Question. But the actor is better known for her roles as Rose Nylund on Golden Girls and the ever-scheming Sue Ann Nivens on The Mary Tyler Moore Show.
Betty White's relationship history
So far, White has been to the altar three times. On July 7, 1945, she wed U.S. Army Air Corps pilot Frederick Barker. That marriage lasted for less than a year.
Her second marriage, which began on Nov. 2, 1947, endured for a year and a half before White and Canadian-born film actor Lane Allen called it quits.
Twice married and divorced before age 30, it might have seemed that White was not destined for marital bliss. That all changed in 1961 when Betty flew to New York to appear on a new TV game show called Password. Hosted by bespectacled widower Allen Ludden, the popular game featured two pairs of celebrity contestants who vied to be the first to guess words via one-word clues.
White and Ludden hit it off right away, but each had work obligations on opposite sides of the country. However, that didn't stop Ludden from wooing White from a distance. After proposing twice, he finally got White to say "I do" at the Sands Hotel in Las Vegas on June 14, 1963, and the pair enjoyed a happy marriage until Ludden's death in 1981.
White told Closer Weekly that her only regret in life was not marrying Ludden sooner.
"You better realize how good life is while it's happening, because before you know it, it will all be gone," White said.
After the loss of her husband, White devoted herself to sitcom work and the animal charities she holds dear to this day. Per Closer Weekly, the actor said she missed having someone to hold but added: "If you've had the best, who needs the rest?"
Betty White is single and loving it
When White was 87 years old, she told TV Guide magazine that, though single, she felt fortunate to devote her golden years to animals and entertainment.
"I'm the luckiest person in the world," she said. "My life is divided in absolute half: half animals, half show business. They're the two things I love the most and I have to stay in show business to pay for my animal work!"
White was named one of America's most eligible single women in a 2010 poll by Vanity Fair. And back in 2017, White had been seen on the arm of a "handsome suitor," according to Radar Online. An unnamed source claimed the then-95-year-old White was "really into" the guy but broke up with him "after the initial lust period cooled off."
Since then, White hasn't gone public with any serious relationships. But it seems she's still living her best life.