Does BTS Like The Beatles?
They're the biggest boy band in the world, paving the way for other K-pop groups and even earning recognition at the Grammy Awards. When it comes to the boy bands of the past, BTS has even been compared to The Beatles.
How does BTS feel about The Beatles and their music? Here's what we know about these boy bands.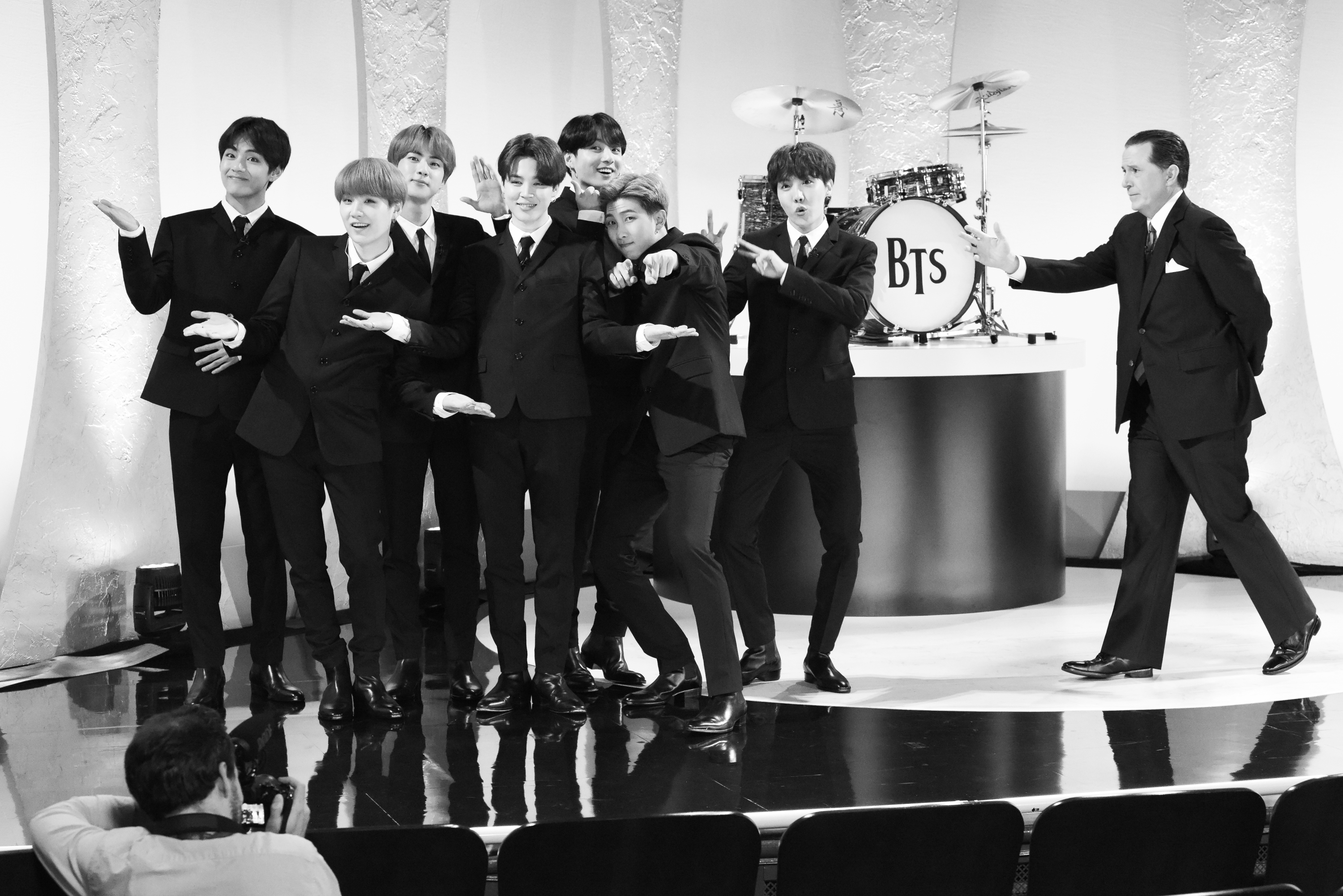 Does BTS like The Beatles?
They're one of the biggest boy bands in the world, even collaborating with artists like Sia, Halsey, and Charli XCX. When BTS mentions their favorite artists and bands, The Beatles are rarely included among them. (The performers often expressed their love for the rapper Drake and EGOT winner John Legend, though.)
That doesn't stop BTS from being compared to this other award-winning boy band. Thanks to Map of the Soul: Persona, in 2019, BTS became the first band since The Beatles to have three Billboard No. 1 albums in a single year. 
Both groups have fans worldwide and millions of streams on platforms like Spotify. BTS even performed at the Ed Sullivan Theater in New York City, thanks to their appearance on The Late Show With Stephen Colbert. 
BTS shared what their favorite Beatles song is while inside the historic Ed Sullivan Theater
That's the same location where "Beatles-mania" took ahold, with the boy band performing songs like "Twist & Shout" and "I Want to Hold Your Hand" thanks to their appearances. BTS, as a nod to the other group, performed "Boy With Luv" with suits and a black and white filter. 
During their interview with Stephen Colbert on the talk show, however, the host asked them if they had any favorite Beatles songs. J-Hope started singing "Hey Jude" with the other members and the audience eventually joining in. 
BTS and The Beatles are both international superstars
One of the reasons BTS is so popular is because of their connection to their fans worldwide. When Colbert asked about their international stardom and their ARMY, the members shared they're not exactly used to people camping out and waiting for them.
"They are the most special people… thank you and I love you. You're my everything," J-Hope said. V added, "our fans are the best. They are our motivation."
In a separate interview later in 2019, Paul McCartney reacted to the K-pop group's rendition of the song, clapping as a response. However, it's unclear if the former Beatle and BTS have ever met in person.
The "Life Goes On" music video is now available on YouTube. Music by BTS, including their recently released album, Map of the Soul: 7, is available for streaming on Spotify, Apple Music, and most major platforms.