Does Cameron Diaz Really Wash Her Face With Evian Water? Not Quite
Cameron Diaz is a former Hollywood it-girl, an actor who received acclaim for her work in comedy and drama. These days, Diaz is a new mom to a baby girl that she recently welcomed with her husband, Benji Madden — and just starting to re-emerge on the pop culture scene.
There have been some crazy rumors about Diaz over the years, but none more bizarre than the one that claimed the actress would wash her face with expensive bottled water. Not only did Diaz thoroughly debunk the rumor, but she also revealed her skincare secrets, letting her fans in on just how she manages to look so eternally youthful. 
How did Cameron Diaz become famous?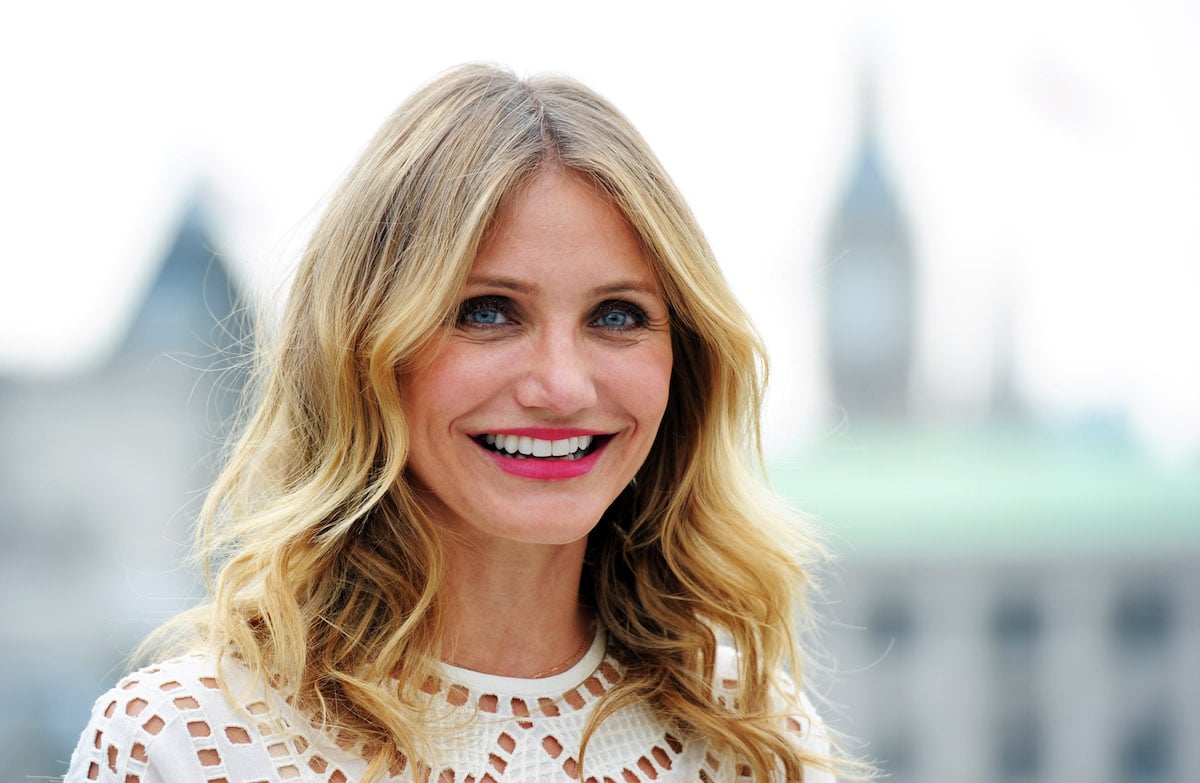 Diaz was born in California in 1972. Raised in Long Beach, Diaz enjoyed a relatively normal upbringing — at least, until she signed a modeling contract when she was 16 years old.
Diaz quickly became a successful model, appearing in campaigns for brands such as Calvin Klein and Levi's. In 1994, Diaz made her major movie debut when she appeared in the comedy film The Mask, opposite Jim Carrey. 
Over the next few years, Diaz continued to act in a wide variety of film projects, always making interesting choices and establishing a reputation for versatility and charm. A few of her standout movie roles include parts in Being John Malkovich, Charlie's Angels, The Sweetest Thing, and The Holiday. She has also lent her voice to a few animated films, including as Princess Fiona in the successful Shrek franchise.
In 2017, Diaz stepped away from acting, choosing instead to focus on her health and beauty interests. 
Does Cameron Diaz wash her face with Evian water?
RELATED: Does Cameron Diaz Miss Acting?
As someone who prefers to keep her personal life private, Diaz has been the subject of much speculation over the years. One of the strangest rumors regarding the star was one that stated that the beautiful actress made a habit out of washing her face with Evian water.
In 2011, Diaz debunked the rumor, claiming that "it's absolutely not true."
Still, Diaz had an idea about where the rumor came from, saying: "We live our lives in trailers. (Actors are) like circus folk; people don't realize that it's super-unglamorous, and the water (in the trailers) comes from tanks they put chemicals in so that it doesn't freeze. It's like an antifreeze. You would never wash your face with it. So anyone who washes their face at work would have to use bottled water to wash their face."
Cameron Diaz's beauty and skincare secrets
Even if Diaz doesn't actually wash her face with Evian water, she still follows a specific beauty regimen. Her most important beauty tips are ones that seem quite basic.
Diaz has stated that she always makes sure to get plenty of sleep and that she prioritizes a good night's sleep every day. Additionally, the actress has said that she doesn't stress about aging, and chooses to embrace getting older.
When it comes to products that Diaz uses on her skin, she always reaches for SPF, especially when she is going to be spending time in the sun. Diaz is also a known fan of facial oils, to keep her skin soft and supple. In terms of makeup, Diaz favors a natural look, and likes products that can easily multitask.
Of course, for an actress as naturally stunning as Diaz, it doesn't take much to amp up her look from day to night — Diaz just reaches for some pretty blush and lipstick, and she is good to go.