Does Conan O'Brien Have a Crush on Angie Harmon, Formerly of 'Rizzoli & Isles?'
Conan O'Brien has had many guests appear on his talk show since the premiere in 2010. And, with a witty sense of humor — and a tendency toward unexpected innuendo — he knows how to make his guests laugh (as well as the audience at home). As for one of his frequent guests, Angie Harmon (formerly of Rizzoli & Isles) has appeared on the show multiple times. And, the chemistry between the two is undeniable…well, at least, Conan senses it!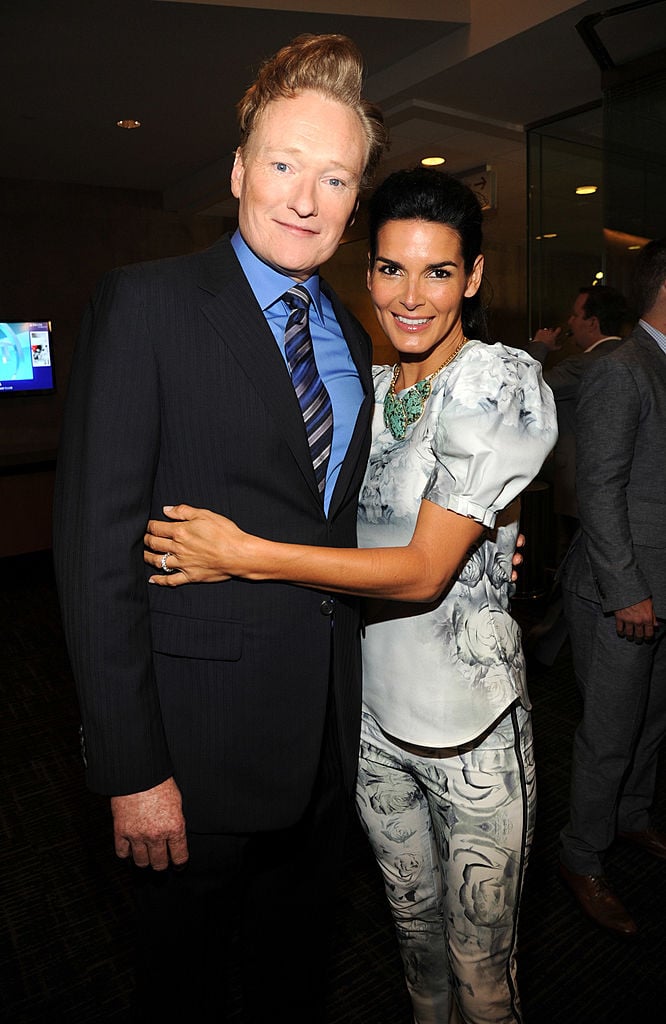 Though Conan O'Brien has been married to Liza Powel since 2002, and the couple has two children together (Neve and Beckett), he seems to have an innocent crush on Angie Harmon. If you watch Angie Harmon's multiple appearances on Conan, it becomes quite evident. So, let's go through a little bit of history.
1. That time Conan O'Brien couldn't get close enough to Angie Harmon
One time, while visiting Conan O'Brien back in 2014, Angie Harmon decided to bring a unique cocktail along with her — for those on the show to try. She brought the Mambo Taxi — a Dallas special — and when she went to say cheers…Conan swept in to flirt. He wrapped his arm around hers, and as they became intertwined, he brought his face very close to Harmon's, while also making suggestive eye contact. Once again, funny and playful…innocent, but flirtatious.

RELATED: Conan O'Brien Is Coming Back On Air: How He'll Do Interviews During Coronavirus
Then, Conan proceeds to act jealous when Harmon gives guest Jeff Goldblum a little attention; O'Brien says, "Why is it always about him? Keep the focus over here?" The jokes are endless, and this wasn't the only time!
2. That time O'Brien said he and Harmon 'belong together'
Harmon once recounted — while on the Conan O'Brien show — a time that Conan "snuck up behind [her] and sort of breathed into [her] ear" the following, "you know, we're the two tallest people in the business, we belong together."
Conan O'Brien notes how he always winds up hanging out with Angie Harmon at various CBS events, and he always has a great time with her. He feels they make for quite the duo.
3. O'Brien talks about how 'sexy' Harmon's voice is and how beautiful the actress is
It goes without saying that Angie Harmon has quite a unique voice compared to most women — it's deep and a bit husky. It's got a smokey kind of sound to it…and Conan O'Brien is all about it. He explains to Harmon, "First of all, you have such an amazing voice. You have such a sexy, raspy voice."
RELATED: What Is 'Rizzoli & Isles' Star Angie Harmon's Ex-Husband Famous For?
Yet, O'Brien doesn't just drop the topic once Harmon responds. He goes on to note how he feels about it once more, saying, "I love your voice. I really do. I do think it's very sexy." In the same episode, he goes on to note how Harmon is one of the "most beautiful women" he has ever talked to, "in the history of [him] talking to women."
While it may be an innocent crush, it's clear that Conan O'Brien finds Angie Harmon to be very beautiful, and it's clear that he loves spending time with her at various CBS events. He may be married, but he seems to have an innocent crush on the actress.