Does Jennifer Lopez Even Need Shakira For the Super Bowl Halftime Show?
It's Super Bowl weekend and it's been a while since the buzz for this year's halftime show has been this strong.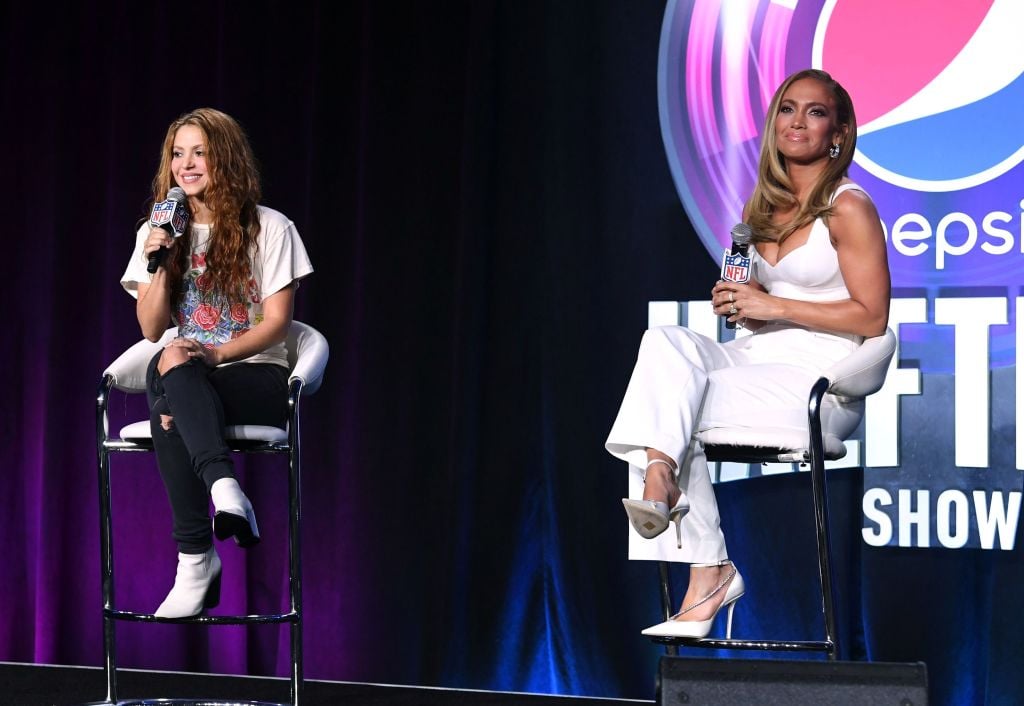 The question buzzing around is whether Hustlers star Jennifer Lopez even needs Shakira teaming up as a co-headliner with her.
Find out what's being said and how the two Latina stars got on the same ticket.
Jennifer Lopez's star has been rising
The Let's Get Loud singer, who turned 50 last year but looks at least 20 years younger, has seen her star rise and then rise some more. After finishing her megawatt Vegas residency at the end of 2016, she starred in rom-com Second Act in 2018, paid tribute to Motown in a Grammy awards show medley in 2019, and went on her It's My Party tour in the summer of that same year.
Most notably, she turned heads big time with her role in 2019's Hustlers, a role for which many were astonished at her having been overlooked by the Oscars.
Lopez told GQ in 2019, "I've never been motivated by money. I've always been motivated by – I wanna be a great actress; I wanna be a great singer, a great dancer. I wanna make movies; I wanna make music. And the money came along with that."
"I do things because I love them. I didn't get paid a whole bunch of money for Hustlers. I did it for free and produced it. I bank on myself."
Shakira's been chillin'
Shakira hasn't been nearly as busy as Lopez. She, of course, is a huge star in her own right. From the moment she released Hips Don't Lie in 2005 and showed America that they really don't lie, she has proven herself to be a talented musical force.
Her most recent gigs? The 13-Grammy award winner has served as a coach on The Voice for seasons 4 (2013) and 6 (2014) of the show. And in 2017, she released El Dorado, for which she recently promoted an accompanying same-titled concert film that ran in theaters and on HBO last month, for one night only.
Her last top 10 hits in the U.S. were in the early 2000s with Hips Don't Lie, She Wolf, Whenever, Wherever, and Beautiful Liar (with Beyonce).
In Shakira's defense, she became a mom in 2013 to her first son, Milan, and then again in 2015 to son Sasha. She's been busy being a parent and takes this role very seriously.
"I think all women face the same situation," she told Hola! in 2017. "I used to be the center of my world, and now I am only a satellite of my children."
Does Lopez need Shakira? Probably not…but it's going to be quite a show
Lopez has done her own Vegas show and probably doesn't need anyone else alongside her for the Super Bowl halftime show. But Jay-Z didn't ask Shakira to co-headline the halftime show with Jennifer Lopez just because she shakes her hips so well.
The Colombian-Lebanese artist, just like J-Lo, puts on an electrifying performance and the producer saw what so many see in her: a thoughtful songwriter, incredible performer, and jaw-dropping belly dancer.
Between these two Latin artists, tomorrow night's halftime show is surely going to go down as one of the best of all time.
Read more: Shakira's Surprisingly Doable Super Bowl 2020 Diet and Workout