Does Kamala Harris Have Children?
Find out more about Democratic vice-presidential candidate Kamala Harris' family.
Now that Kamala Harris is in as running mate to Democratic presidential candidate Joe Biden, it's time to get to know more about the vice-presidential candidate.
Here's what we know about the US senator's marital status and whether she has children.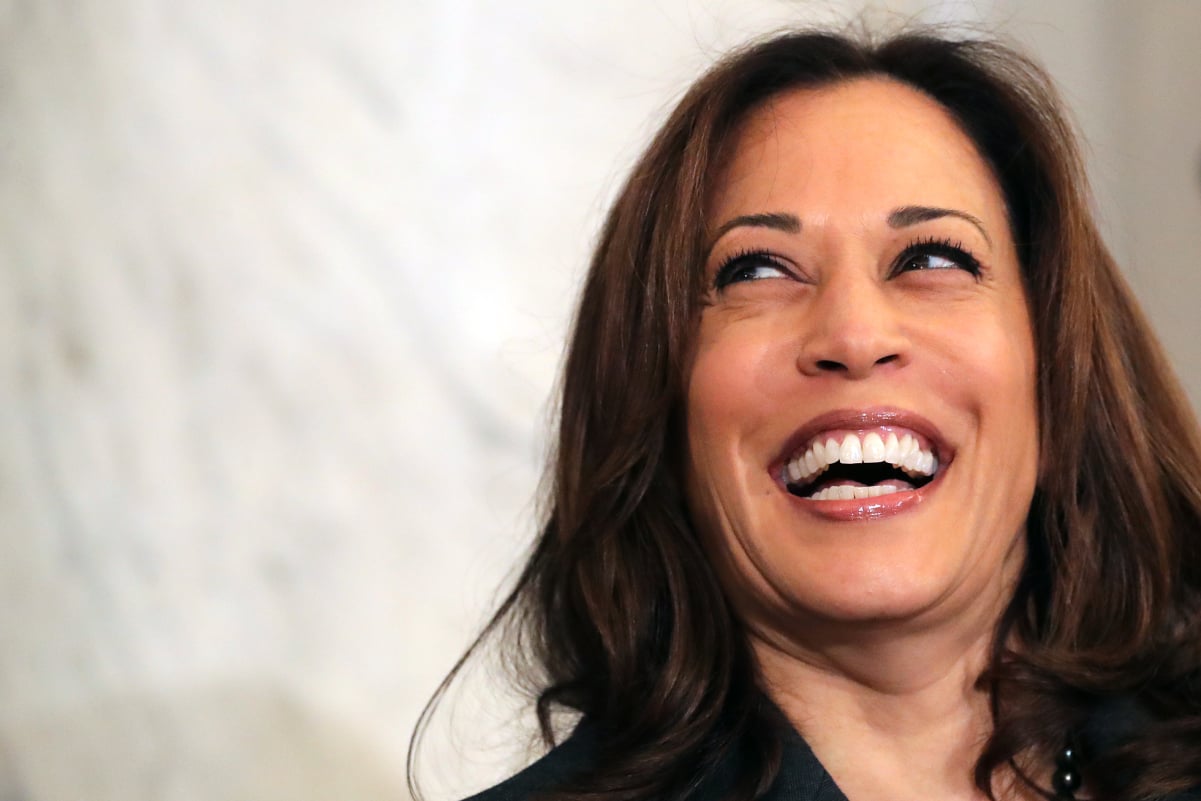 Kamala Harris has two stepchildren
Although she does not have children of her own, the US senator has two adult stepchildren in her marriage to attorney Douglas Emhoff.
Her stepchildren, Cole, and Ella, are named respectively after John Coltrane and Ella Fitzgerald. Reportedly, they have great affection for Harris and even have the pet name for her of "Momala."
The feeling is mutual, as evidenced in an essay Harris wrote describing her love for her stepchildren in Elle magazine's 2019 Mother's Day issue.
Revealing the way her husband's children from his first marriage received her, the 55-year-old Harris wrote, "Cole and Ella could not have been more welcoming. They are brilliant, talented, funny kids who have grown to be remarkable adults. I was already hooked on Doug, but I believe it was Cole and Ella who reeled me in."
It was her husband's children, Harris explained, who insisted on calling her "Momala."
"A few years later when Doug and I got married," she said, "Cole, Ella, and I agreed that we didn't like the term 'stepmom.' Instead they came up with the name 'Momala.'… I can say one thing with certainty, my heart wouldn't be whole, nor my life full, without them."
Harris didn't want to meet her husband's children too soon
Once Harris and her then-boyfriend began dating seriously, she wrote in Elle, she was careful to wait to meet his children at just the right time.
"As a child of divorce," she said, "I knew how hard it could be when your parents start to date other people. And I was determined not to insert myself in their lives until Doug and I had established we were in this for the long haul."
Harris' approach revealed a sensitivity to her future stepchildren's feelings. And perhaps a fear of letting them down should the relationship between her and their father end.
"Children need consistency," she said. "I didn't want to insert myself into their lives as a temporary fixture because I didn't want to disappoint them. There's nothing worse than disappointing a child."
She and her husband have been married since 2014
Emhoff, also 55, is an entertainment lawyer, who according to his firm's website, "represents large domestic and international corporations and some of today's highest profile individuals and influencers in complex business, real estate and intellectual property litigation disputes."
The couple were set up by the senator's friend, public relations consultant Chrisette Hudlin, who assured her, "He's cute and he's the managing partner of his law firm and I think you're going to like him." (via Kamala Harris' memoir, The Truths We Hold)
As it turned out, Hudlin was right. Emhoff, married to the vice-presidential hopeful since 2014, could become the United States' first "Second Gentleman."