Does Kate Middleton Have a Sweet Tooth?
Catherine, Duchess of Cambridge is one of the most well-known women in the world. But despite preparing to become the queen consort once her husband, Prince William, eventually takes the throne, she's still doing her best to live a relatively normal life. And just like us, the duchess occasionally likes to indulge in some of her favorite sweet treats.
Kate Middleton reportedly loves sticky toffee pudding
The duchess' life is a blend of royal engagements, motherhood, and preparing to someday become queen consort next to William. But whenever she lets loose a bit, she loves to indulge in some sweet treats.
According to Good Housekeeping, Kate is a big fan of sticky toffee pudding, a spongy, moist dessert made with dates and dark molasses and topped with a toffee sauce. The dish reportedly comes from the Old Boot Inn, a restaurant near where Kate grew up in England. Kate supposedly used to visit the restaurant often with her family before she and William tied the knot.
The duchess has somewhat of a sweet tooth
Kate isn't necessarily the queen of desserts, but she certainly does have somewhat of a sweet tooth. The duchess clearly likes to order dessert when she goes out to dinner, but she also enjoys making her own sweet foods at home, too. Kate reportedly loves her grandmother's homemade chutney recipe, which she often makes for her kids — and even the queen. Kate originally made the jam as a gift to the queen for Christmas.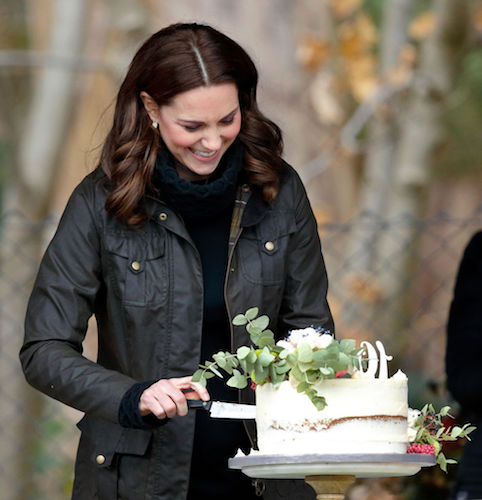 Kate also has several dessert dishes she prepares around the holidays. For Christmas, the duchess loves baking cinnamon stars, a cinnamon cookie recipe, for her family. She also supposedly includes a sweet cocktail on her Thanksgiving menu, too.
Kate reportedly sticks to almond milk and berries when eating healthy
Though Kate likes to indulge as much as the next person, she still works hard to stay in shape. The duchess reportedly works out regularly, and planks are her go-to move. Interestingly, though, she doesn't have a personal trainer — something most people with her caliber of wealth likely do have.
When Kate is on a healthy eating kick, she certainly still sometimes craves something sweet. But rather than jump to the sticky toffee pudding, the duchess reportedly creates a smoothie of almond milk combined with sweet berries.
She once called out William for his sweet tooth
Though Kate likes desserts, it seems that between the two of them, William is the one with the true sweet tooth. According to Pure Wow, When William and Kate joined a Zoom call with Casterton Primary Academy, Kate called out William for eating all of the Easter chocolate around the house. "There will be a lot of chocolate being eaten here. Don't worry," William joked on the call. "You keep eating it," Kate said back to him.
It's clear that William has a thing for chocolate, but it looks like their love for desserts might have been something the two bonded over when they met years ago.