Does The Title, 'Killing Eve,' Give Away The Show's Eventual End? 1 Scene Makes It Seem Like It Does
There's so much tension in Killing Eve that one of the top YouTube comments on a popular scene from Season 2 reads, "this scene was more intense than season 8 of GOT." This show excels at thrilling an audience without much action happening in the scene; it's all in the writing and the impeccable performances by Sandra Oh and Jodie Comer. And with the characters' strained past, is it possible the show has already hinted at how the series will end? Possibly. [Spoiler alert: Spoilers ahead for Killing Eve].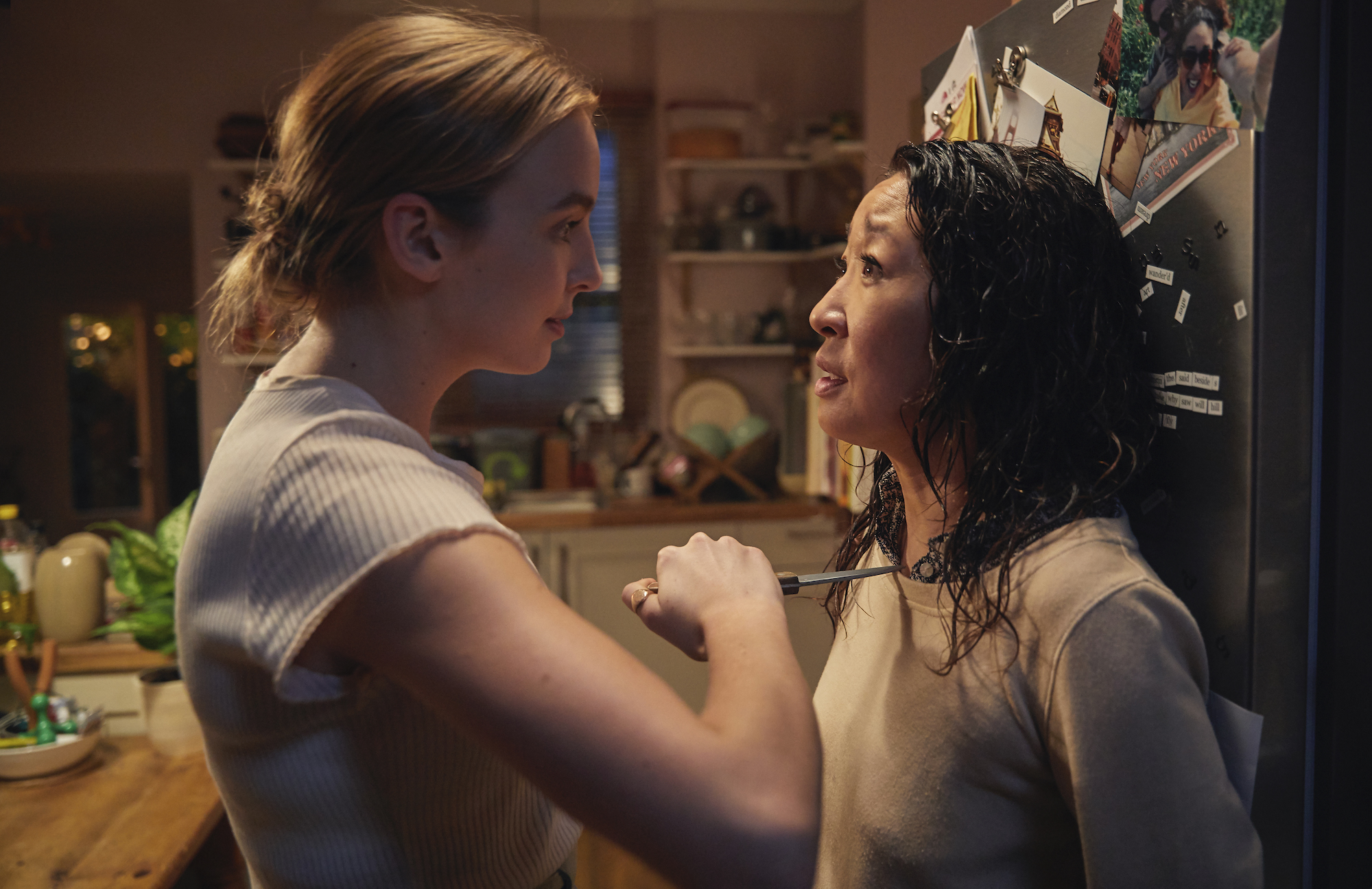 Eve made a vow to Villanelle when they first met
When audiences first meet Eve Polastri as just an agent in MI5, she had no idea her life was about to be turned on its head. With her knowledge of female killers and assassins, she takes a strong liking to Villanelle. Throughout the first few episodes, it builds and builds, and Eve has already gone through the death of her friend and boss, Bill. So when the assassin shows up at her house in Episode 5, it's like a bomb goes off. 
The two have a bit of a scuffle, and even after Villanelle tries to calm her down, Eve is still understandably rattled. She's wet and scared, but when Villanelle backs her up against her fridge, Eve isn't afraid to deliver a threat to the woman. 
"I'm gonna find the thing you care about. And I'm gonna kill it," Eve tells Villanelle. 
Eve's continued obsession with Villanelle leads to so much turmoil in her life. She loses her husband, she loses her job. She ends up getting shot at the end of Season 2, which shows her at her lowest at the beginning of Season 3. Nothing is ever the same. But it does seem like Eve's vow is all but forgotten. 
Season 3 showed that Villanelle and Eve were closer than ever, but that doesn't mean it'll end badly
It's very clear in the beginning, nothing matters to Villanelle. She hooks up with whomever she wants, she isn't owned by anyone, and she doesn't live to please anybody but herself. 
As the series progresses, it also becomes evident that this Villanelle's way of life and her morals, if you will, shift. She starts to obsess over Eve wanting to find her. Then it turns into a strong physical attraction to the now-MI6 agent.
It gets to the point where Villanelle has no other family, except for Eve at the end of Season 3. Eve is now the thing that Villanelle cares about. Whether Villanelle and Eve run back toward each other on that bridge, they are closer than ever, according to Oh. 
Villanelle killed her mom and came to terms with the fact that she no longer wants to be an assassin. She starts to show remorse where she didn't before. It seems like Villanelle doesn't try to manipulate Eve into picking her at the end of the season, either. 
However, with the show's title being Killing Eve and Eve making that vow to kill what Villanelle cares about, does this foreshadow Eve's death? And at the hands of Eve herself? Will passion push Eve or Villanelle too far?
In fact, the two leads don't think there will be a happy ending
While Season 3's ending could be seen as hopeful, there is just so much weighing over their heads. They don't have the best track record of being around each other, and Eve notes that they'd "consume" each other if they tried to live to old age together. And as for the stars of the show, they don't really see butterflies and rainbows for the couple, either.
"I'm not sure I see a true happy ending for Villanelle, because I think her own worst enemy is herself and we all know that's impossible to get away from," Comer told The Toronto Sun on May 29. 
And as for Eve's side, Oh also thinks their tension and turmoil will win out in the end.
"No [they won't get a happy life together], and I think that's what makes great drama," Oh told Variety on April 17. "I think that's what makes great romance. It's the yearning that brings people in. It's that dramatic storytelling."
Seeing as Killing Eve might actually kill Eve, there's a lot to stew over before Season 4.