Does 'Today' Co-Anchor Savannah Guthrie Have a Law Degree?
The Today Show co-anchor Savannah Guthrie has been a legal correspondent on the morning program since 2011, and that was before she assumed co-hosting duties from Ann Curry a year later.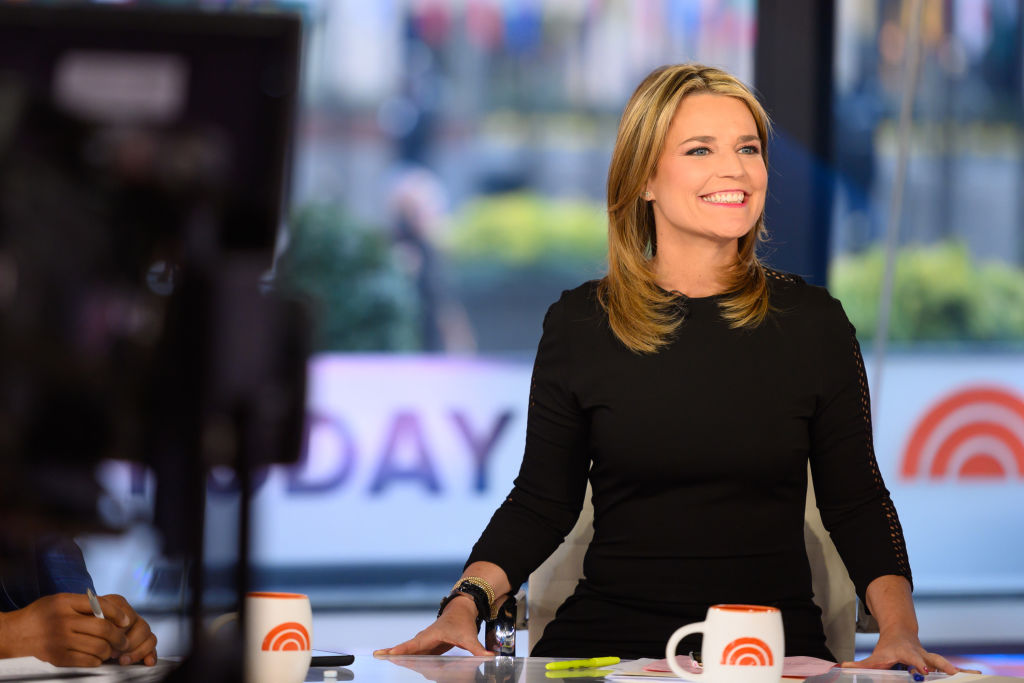 Find out more about the legal eagle's background, where she went to college, and how she went from dreams of working in a courtroom to sitting in front of a TV camera.
Where Guthrie earned her law degree
Guthrie was born in Australia and raised in Tucson, Arizona. After earning her journalism undergraduate degree from the University of Arizona in 1993, she began working as a freelance reporter at a local TV station in Columbia, Missouri. She worked there for two years before accepting a job with an NBC affiliate in her Tucson hometown.
She left her freelance reporting job to devote herself to working on a law degree from the Georgetown University Law Center. She graduated magna cum laude in 2002, receiving the highest score on the Arizona bar exam.
Speaking to Georgetown University's website in 2012, Guthrie said, "It was a gamble to quit this television career and start a new path and go to law school full time, because I wasn't sure I was done with TV. On the other hand, I felt like it was worth the risk … I thought, well, I'm going to walk down this path and see where it leads me. Of course, I'm thrilled at how it ended up."
Guthrie's arrival at 'Today'
Guthrie began her career in television with her first job after college at ABC affiliate KMIZ, in Missouri. She moved to Washington, DC a few years later, where she covered 9/11, the Pentagon attack and the 2001 anthrax attacks.
Once she had her law degree, Guthrie became a national correspondent in 2004 for CourtTV (now truTV). There, she worked on coverage of high-visibility trials, including Martha Stewart's on tax evasion and Michael Jackson's sexual abuse case.
In 2007, Guthrie became a correspondent for NBC News, eventually was named White House correspondent, and then substitute anchor on NBC Nightly News. Four years later, she joined the Today team as legal correspondent and officially became the show's co-anchor in July 2012.
Guthrie has gained a reputation as a fearless interviewer
Guthrie has grown a reputation on Today as a fierce interviewer.
In 2011, while Guthrie was with MSNBC's The Daily Rundown, she and her co-host Chuck Todd interviewed presidential candidate Michele Bachmann. Guthrie asked the Minnesota Republican congresswoman about remarks she had made about President Obama.
Guthrie pressed Bachmann in the interview, asking, "do you feel the need to be more precise in your statements so that people recognize you are a person of substance?" When Bachmann would not reply more definitively to the question, Guthrie kept at it. She kept interrupting the congresswoman and expressing her frustration with sighs.
Most recently, Guthrie grilled former United Nations Ambassador Nikki Haley. Guthrie and Haley sparred in discussing Haley's former boss, President Trump.
"You said, 'Through it all, we were always placing America first,'" Guthrie read a sentence from Haley's resignation letter and asked, "How is asking a foreign country to investigate your political rival putting America first? Whose interest is that in? Is it in America's interest or the president's personal interest?"
As one Twitter follower said of Guthrie's interview with Haley, "Brava to Savannah Guthrie. She used her claws."
Read more: Kathie Lee Gifford is Back on 'Today!' Find Out What She Revealed to Hoda and Jenna