Does Tom Cruise Really Do All His Own Stunts?
Tom Cruise is one of the biggest movie stars of all time. He has been in the entertainment industry for over thirty years and has weathered many controversies. Even in his fifties, Cruise remains a top talent and continues to appear in big-budget action flicks. Cruise has become famous for his willingness to get physical and never shies away from doing his own stunts, in spite of the fact that many of them are dangerous. 
How did Tom Cruise become famous?
Tom Cruise was born in 1962 in Syracuse, New York. Cruise has three sisters and was raised by strict parents. He spent part of his childhood in Canada after his father accepted a position with the Canadian Armed Forces. It was in Canada where Cruise first became involved in acting and performed in several local theater productions. Cruise was raised Catholic and even briefly considered becoming a Catholic priest.
After graduating from high school, Tom Cruise moved to New York City in order to pursue his dream of becoming an actor. In the early eighties, Cruise quickly became a familiar face to audiences. His early roles included parts in movies like Endless Love, Taps, The Outsiders, Risky Business, and All the Right Moves. In 1986, Cruise became a breakout star when Top Gun was released. That film would set the standard for much of Cruise's career and launched him into an action-movie career.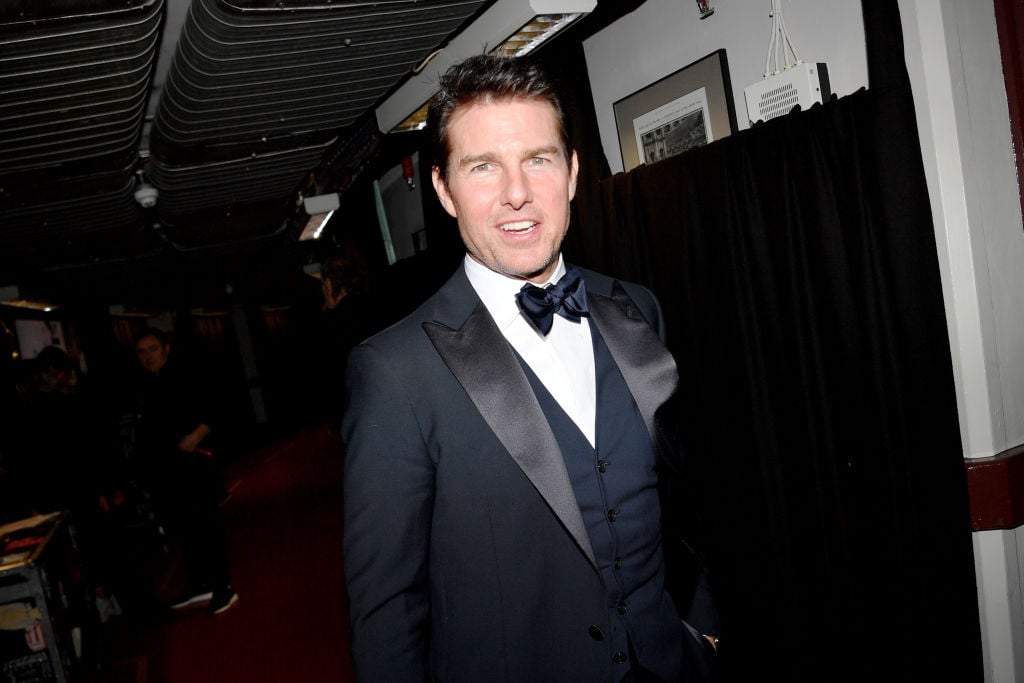 Tom Cruise is famous for doing his own stunts
After the massive success of Top Gun, Cruise went on to appear in many other major films. Some of these included The Color of Money, Days of Thunder, Interview with a Vampire, and the Mission: Impossible series. He has also earned acclaim as a dramatic actor, expanding his range with movies like Rain Man and Vanilla Sky. Although his personal life has often made headlines, and he has been married to actresses like Nicole Kidman and Katie Holmes, Cruise has kept the focus on his career and rarely speaks out about his personal life.
Far and away, Cruise is most famous for his propensity for doing his own stunts. Over the years, he has become notorious for doing many of the most dangerous stunts required for a film himself. Some of these stunts included actually driving the car during a high-octane car chase scene, sword-fighting in The Last Samurai, and doing a dangerous deep-water dive in Mission: Impossible – Rogue Nation. Most top actors prefer to rely exclusively on stunt doubles, but Cruise seems to really enjoy the element of risk involved in performing his stunts.
Does Tom Cruise use a stunt double?
The "Tom Cruise" effect has definitely impacted Hollywood. There are a few top stars who have decided to follow Cruise's example of performing his own stunts, including Daniel Craig and Jason Statham.
Even in his fifties, Tom Cruise continues to wow audiences by doing dangerous stunts. Still, he doesn't go "all the way" in many cases; he does have a stunt double, whom he has worked with on several major action films including Jack Reacher and Knight and Day. Casey O'Neill is Cruise's stunt double and takes over for the actor when something becomes a bit too risky for the veteran star to attempt. 
Tom Cruise is showing no signs of slowing down. With a big new movie set to release this summer, it seems likely that people will continue to flock to Cruise's movies for years to come.